This delicious Matcha Green Smoothie is Pegan-diet compliant, dairy-free, and high in protein, which makes it an ideal post-workout snack!
What ingredients are contained in the Matcha Green Smoothie?
This Matcha Green Smoothie is jam-packed with super-foods. Let's see which are the main ones.
First is matcha powder, a Japanese green tea powder made from finely powdered dried tea leaves. Matcha does have a full range of unique health benefits, which are mainly due to the high proportion of antioxidants contained in it. Indeed, antioxidants can help stabilize harmful free radicals, which are compounds that can damage cells and cause chronic disease.
On the other hand, be aware that matcha tea is also richer in caffeine than regular green teas. Therefore, try to avoid consuming it close to bedtime, as it may interfere with your regular sleep schedule. In addition, more is not always better: the maximum tolerable intake of matcha powder is unclear and depends on the individual. In order to be safe, make sure to consume matcha in moderation.
Second, kale leaves. Adding kale to your smoothies does not impact the taste, but provides you with a whole range of nutrients and vitamins, helping you reach your suggested daily dose of greens.
Avocado is another key ingredient contained in this Matcha Green Smoothie. The good fats contained in this fruit are not only useful for the overall functioning of our body but they also give creaminess and thickness to the smoothie.
If you want to know more about the amazing benefits of avocados, here is an article for you! Top 5 Benefits of Avocado For Women's Health -and Why Should Men Eat it Too!
Last, the Vanilla Protein Powder helps to boost the protein content of the smoothie, which in turn is key for keeping us fuller for longer and for building and repairing our muscle mass. Opt for dairy-free protein powder if you want a fully plant-based smoothie.
Great for weight loss, and general nutrition, you will love this Matcha Protein Smoothie!
See if the Pegan Diet is right for you, here. I did a 30-day challenge and you'll see my opinion on my experience as well!
Social Media Channels

Ingredient Selection Tips
Matcha
Good quality matcha should be bright green and not present brown hues, which usually indicate oxidation or low chlorophyll content. Fresh matcha, made with young leaves, should have an aroma that reminds of pine, with hints of cream, chocolate, and nuts. If the leaves are shaded properly and are from an earlier harvest, the result will be a bright green beverage with a smooth taste; on the contrary, old leaves bring a stronger and more bitter taste.
Kale
Choose kale with fresh, green, and plump leaves. Try to avoid vegetables with yellow leaves or a strong odor.
Noteworthy Health Benefits
Matcha
Matcha is rich in antioxidants, which can help stabilize harmful free radicals, therefore preventing cell damage. The caffeine contained in matcha may help improve concentration, memory, and reaction time. Drinking matcha is also beneficial to reduce bad LDL cholesterol and may lower the risk of heart strokes and diseases.
Kale
Kale is rich in vitamins and minerals, such as Vitamin A, C, B6, B1, B3, iron, phosphorus, manganese, calcium, copper, potassium, and magnesium. It also contains very little fat, while at the same time is loaded with precious Omega 3 fatty acids. By keeping bad cholesterol under control, these fatty acids can help reduce the risk of heart disease. The vitamin K contained in this vegetable is good for preventing blood clotting, and for activating certain proteins that have the ability to tie down calcium.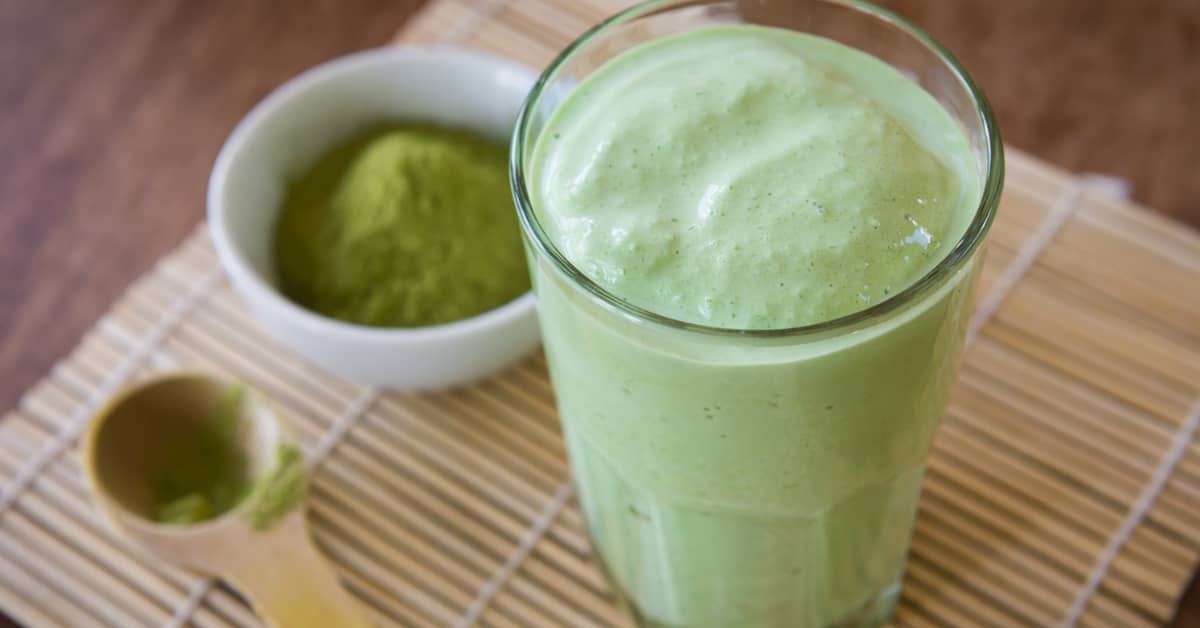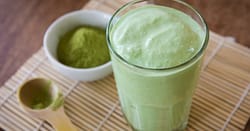 Matcha Green Smoothie
Yum
This delicious Matcha Green Smoothie is Pegan-diet compliant, dairy-free, and high in protein, which makes it an ideal post-workout snack!
Instructions
Put all the ingredients into a blender.
Notes


Nutrition
Nutrition Facts
Matcha Green Smoothie
Amount per Serving
% Daily Value*
* Percent Daily Values are based on a 2000 calorie diet.