Do you love spicy stuffed peppers, but want to avoid all the fat in traditional stuffed peppers with meat and cheese? I have recently made the decision to try and modify most of my diet to be plant-based to see how it makes me feel and recover from my running workouts. I also found the research at nutritionfacts.org compelling as far as the health benefits, and it just so happens I have fun coming up with vegan / vegetarian recipes anyway!
I've lost six pounds passively with a plant-based diet over the last few months, and I was fit to begin with!
Frequently, I go to a local farmer's market stand down the road or order produce to be delivered. I always load up with lots of fruits and vegetables. The challenge then is to use all of it before it goes bad. This is a great weight loss technique too, by the way. I've lost six pounds passively over the last few months, and I was fit to begin with!
So yesterday for lunch, I came up with this very tasty, easy, plant-based, whole food, and at least partially locally sourced Vegan Mexican Spicy Stuffed Peppers. Enjoy, and let me know how it goes in the comments!
With These Mexican Spicy Stuffed Peppers, You Won't Miss the Junk
In addition to satisfying your craving for Mexican food, these spicy stuffed peppers are totally plant-based, whole food, dairy-free, meat-free, gluten-free, and guilt-free! They are low calorie and loaded with nutrition. Peppers contain lots of Vitamin C, Vitamin A, fiber, and more according to WebMD. Hot peppers also have Capsaicin which aids in weight loss by boosting your metabolism. The cumin in this recipe is also known to aid in weight loss and immunity, says Healthline. Update: Coronavirus has made its way into the U.S. this week (early March 2020). Recipes like this one help with immunity!
If you want to know more about the amazing benefits of avocados, here is an article for you! Top 5 Benefits of Avocado For Women's Health -and Why Should Men Eat it Too!
Please let me know how this recipe goes when you make it! Post a picture and tag one of the below social media accounts:
Processing…
Success! You're on the list.
Whoops! There was an error and we couldn't process your subscription. Please reload the page and try again.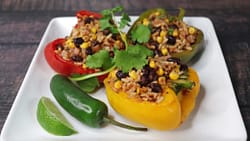 Vegan Mexican Spicy Stuffed Peppers
Yum
These delicious Vegan Mexican Spicy Stuffed Peppers are dairy free, meat free, gluten free, and easy!
Instructions
Make Quinoa and Brown Rice according to package instructions

Preheat the oven to 350 degrees.

Half the Poblanos whichever direction makes a nice "boat" for the filling. Remove the seeds.

Bring a large pot of water to a boil and boil the peppers for 5 minutes. Remove and rinse with cold water or put in an ice bath to stop them from cooking.

Meanwhile, mix the cooked Quinoa and Brown Rice in a bowl with the Black Beans, Corn, Salsa, most of the fresh Cilantro, Red Onion, Jalapeños, Lime Juice, and all of the seasonings.

Put the halved Poblano peppers in a casserole dish and fill with the mixture.

Garnish with Avocado, Roasted Red Pepper Hummus, and more Cilantro. Enjoy!
Nutrition
Calories:
294
kcal
Carbohydrates:
46.4
g
Protein:
9.7
g
Fat:
12.1
g
Saturated Fat:
1.4
g
Sodium:
342
mg
Potassium:
543
mg
Fiber:
14.4
g
Sugar:
7.9
g
Calcium:
59
mg
Iron:
3
mg
❤️❤️Read About Me for details about my health journey; and, make sure you remember to sign up for my Newsletter and follow me on social❤️❤️!

Supporting me is appreciated as I create content to support your health journey.