Two of my favorite breakfasts came together and had a baby!! Who likes Eggs Benedict and who likes Huevos Rancheros!? You no longer have to choose with this Mexican Eggs Benedict! This is a healthy and vegetarian Mexican recipe my fiancé wanted twice in one week. This is far easier than you think with an easy muffin tin egg poaching trick and a quick Hollandaise made in the food processor.
Hold all the unnecessary fat by skipping the butter in the Hollandaise (you don't need it!) and making a healthier version of "chorizo". I used tofu for the chorizo but I've also had great success with ground turkey. Use avocado or my guacamole recipe to top it as well.
There is no easier way to immerse yourself in the colors and scents of Mexico and feel the taste of colorful and rich cuisine than to prepare this simple breakfast This breakfast will become a favorite among everyone in the family!
Social Buzz
Avocado
Originating from central-south Mexico, the avocado tree has a long history of cultivation in central and south America. Avocado is a subtropical species, a fruit with a creamy texture.
Nutrition information for approx ⅕ of an avocado (40gr)
 64 calories
 almost 3 grams of fiber                                                                                                                                                          
almost 6 grams of fat
3.4 grams of carbohydrate
less than a gram of sugar
Avocado is very nutritious, containing vitamin K, vitamin C, B5, B6, potassium, iron, zinc, and phosphorus… Avocado is loaded with monosaturated fatty acids and powerful antioxidants.
If you want to know more about the amazing benefits of avocados, here is an article for you! Top 5 Benefits of Avocado For Women's Health -and Why Should Men Eat it Too!
Eggs
Eggs have been a valuable food since prehistory times, and are very important staples in much of today's food. Classified as a superfood, eggs are full of nutrients, containing vitamins A, B2, B5, B12, vitamin D, vitamin E, calcium, and zink.
Nutrition information (single-boiled egg):
Energy: 62.5 calories
Protein 5.5 grams (g)
Total fat: 4.2 g, of which 1.4 g are saturated
Sodium: 189 milligrams (mg)
Calcium: 24.6 mg
Iron: 0.8 mg
Magnesium 5.3 mg
Phosphorus: 86.7 mg
Potassium: 60.3 mg
Zinc: 0.6 mg
Cholesterol: 162 mg
Selenium: 13.4 micrograms (mcg)
Lutein and zeaxanthin: 220 mcg
Folate: 15.4 mcg
Eggs contain antioxidants that have major benefits for eye health. They are high in protein with all essential amino acids, and they raise HDL (the good) cholesterol.
Tofu
Tofu is a high-protein food product obtained by coagulating protein in soy milk. For centuries, it has been a major ingredient in many Asian cultures. Unlike many other protein products, tofu has no cholesterol at all.
Nutrition information (100gr):
Protein: 8 grams
Carbs: 2 grams
Fiber: 1 gram
Fat: 4 grams
Manganese: 31% of the RDI
Calcium: 20% of the RDI
Selenium: 14% of the RDI
Phosphorus: 12% of the RDI
Copper: 11% of the RDI
Magnesium: 9% of the RDI
Iron: 9% of the RDI
Zinc: 6% of the RDI
Health benefits: soy isoflavones may help reduce bone loss and increase bone mineral density, reduce the risk of diabetes, and have a positive influence on memory and brain functions.
Want to know more about the amazing benefits of tofu? Here is an article for you!
Please let me know how this recipe goes when you make it! Post a picture and tag one of the below social media accounts:
Processing…
Success! You're on the list.
Whoops! There was an error and we couldn't process your subscription. Please reload the page and try again.
https://www.healthline.com/nutrition/what-is-tofu#other-benefits
https://www.healthline.com/nutrition/12-proven-benefits-of-avocado#TOC_TITLE_HDR_9
https://www.medicalnewstoday.com/articles/270406#benefits
https://www.medicalnewstoday.com/articles/283659#risks
https://www.medicalnewstoday.com/articles/278340#benefits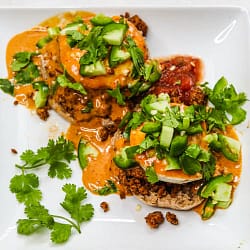 Easy Mexican Eggs Benedict w/ Tofu Chorizo & Chipotle Hollandaise
Yum
Who likes Eggs Benedict and who likes Huevos Rancheros!? You no longer have to choose with this Mexican Eggs Benedict! This is a healthy and vegetarian Mexican recipe, and is far easier to make than traditional eggs benedict.
Ingredients
CHIPOTLE Hollandaise Ingredients
Instructions
Easy Poached Eggs
Preheat oven to 350 degrees.

Add a tablespoon of water to each muffin tin mold.

Crack an egg into each mold. Set aside.

Place muffin tin with eggs on center rack in oven for 10 minutes.
Tofu Chorizo
For Tofu Chorizo: Add a tablespoon oil to pan and heat over medium-low.

Ring out the extra water in the tofu with a towel or napkins.

Add 3 cloves of minced garlic to pan. Heat until fragrant.

Add Tofu to pan and break apart into small pieces.

Blend seasonings into Tofu: oregano, chili powder, pepper, ground red peper(or cayenne), ground cloves, smoked paprika, cumin, and salt. Reduce heat.
Chipotle Hollandaise
Meanwhile, make "hollandaise". Separating and saving eggs white for later, add 4 yolks to a processor.

Add 2 heaping tbsp Chipotle in adobo sauce.

Process Chipotle "hollandaise" until smooth.
Mexican Hollandaise Assembly
Toast halved English muffins.

Remove eggs from the oven after 10 minutes. You will remove the with a slotted spoon.

Plate the Mexican Benedict: Top muffins with Tofu Chorizo.

Spoon on top guacamole or fresh avocado.

Carefully add egg by removing from muffin tin mold with a slotted spoon.

Drizzle Chipotle hollandaise on top with a spoon.

Garnish with diced Jalapeno and roughly chopped cilantro.

Optional: serve with a side of salsa.
Nutrition
Calories:
575
kcal
Carbohydrates:
40.4
g
Protein:
24.8
g
Fat:
37.5
g
Saturated Fat:
8.4
g
Cholesterol:
548
mg
Sodium:
962
mg
Potassium:
902
mg
Fiber:
11.9
g
Sugar:
8.1
g
Calcium:
276
mg
Iron:
5
mg
❤️❤️Read About Me for details about my health journey; and, make sure you remember to sign up for my Newsletter and follow me on social❤️❤️!

Supporting me is appreciated as I create content to support your health journey.