Refreshing, nourishing, and super delicious: in just three words, Carrot Cake Smoothie! Lately, I have been making this super creamy smoothie so often, that I think it has to be included in the list of my top five favorite snacks ever! Making it is extremely straightforward and quick: in less than ten minutes, you can have a balanced snack or breakfast that will actually make you feel light and energized after consuming it!
---
Carrot Cake Smoothie: Pegan, Packed with Proteins, and Simply Delicious!
Are you looking for a plant-based smoothie recipe that is actually high in protein and easy to make, but also extremely tasty? You are in the right place! This healthy Carrot Cake Smoothie is fully plant-based, super creamy, and contains around 20 grams of protein per serving. To make it Pegan-diet compliant (a combination of paleo and vegan eating principles), just swap the tofu with some dairy-free protein powder.
Another thing I love about this creamy plant-based smoothie is made with wholesome and beneficial ingredients, which contribute to its excellent nutrition profile. From the vitamin C and A contained in carrots, two highly powerful antioxidants, to the iron and calcium in tofu, and the Omega-3 fatty acids in flax seeds, this healthy recipe truly ticks all of my boxes! Plus, the proteins and fiber, respectively from the ground flax seeds and tofu, and from the carrots, make this smoothie also great to promote weight loss or management!
But the best part about it is that it truly tastes like carrot cake! 🥧 It blows my mind every time I make it! I don't know if it is the combination of naturally creamy and sweet ingredients or the spices in it, but all I can say is that you really need to try it. I love consuming it as an on-the-go snack, but it is also great as a post-workout meal or breakfast!
Carrot Cake Smoothie: 3 Tips to Make it Creamy and Thick
One thing I particularly love about this smoothie is its creaminess! Unlike some other popular smoothie recipes, I managed to achieve this consistency without the use of bananas!
Here are three ingredients I used for achieving a creamy and thick banana-less smoothie:
1. Tofu
This soybeans-derived product is not only an excellent plant-based source of protein, but has a neutral flavor and a creamy texture, making it a versatile ingredient for smoothies. When blended, tofu adds thickness and creaminess to the smoothie without the need for bananas or any artificial thickeners. It also provides a good amount of protein, which helps make the smoothie more satisfying and can be especially beneficial for those looking to boost their protein intake in a plant-based diet.
2. Flax Seeds
Flax seeds are a popular egg replacement in vegan recipes, thanks to their ability to act as a natural thickening agent. When mixed with liquid, flax seeds form a gel-like consistency that contributes to the thickness of the smoothie. Additionally, their nutty flavor complements the other ingredients in the smoothie, enhancing the overall taste of this creamy plant-based smoothie.
3. Almond Milk
Creamy and delicious, it is the perfect ingredient to add natural sweetness to the smoothie and recreate the traditional carrot cake flavor! Plus, I love to choose milk with a higher ratio of almonds to water as it allows me to have an even more thick and rich smoothie. Just be mindful of the additional calories and fats contained in it!
Before jumping down to my amazing carrot cake recipe, here are some useful selection tips and the main properties of the ingredients I used in it!
Ingredient Selection Tips
Cinnamon
You can buy two different types of cinnamon: Cassia cinnamon and Ceylon cinnamon. One very important distinction between them is the presence of coumarin. If you are looking for a sweeter and more delicate flavor, Ceylon cinnamon would be a perfect choice, as the concentration of coumarin is lower. On the contrary, Cassia cinnamon has a higher concentration of coumarin, and therefore a more strong and more pronounced taste.
Maple Syrup
Maple syrup should have a nice natural color, close to the shade of amber. The syrup should not contain any artificial color or corn-based syrup. The best type for cooking is A-grade syrup, as it has a lighter taste.
Noteworthy Health Benefits
Cinnamon
This superfood spice has great medicinal properties: it is loaded with antioxidants and has great anti-inflammatory properties. For instance, it can help lower the risk of heart disease, improve insulin sensitivity, and decrease blood sugar levels. It is also beneficial in case of bacterial and fungal infections.
If you want to know more about the amazing benefits of cinnamon, here is an article for you! 5 Health Benefits of Cinnamon, The Most Loved Autumnal Spice!
Maple syrup
Maple syrup is a great source of vitamin B2 – or riboflavin -, which is responsible for promoting eyes, skin, and nervous system health. In addition, maple syrup is considered to be healthier and more nutritious than sugar, as it contains calcium, zinc, potassium, and iron. However, it is also high in sugars. Therefore, consume it in moderation, as with all sweeteners.
If you liked this recipe as much as I do, make sure to share it with your family and friends! And don't forget to follow me on my socials. All the links are down below. 💗

Social Media Channels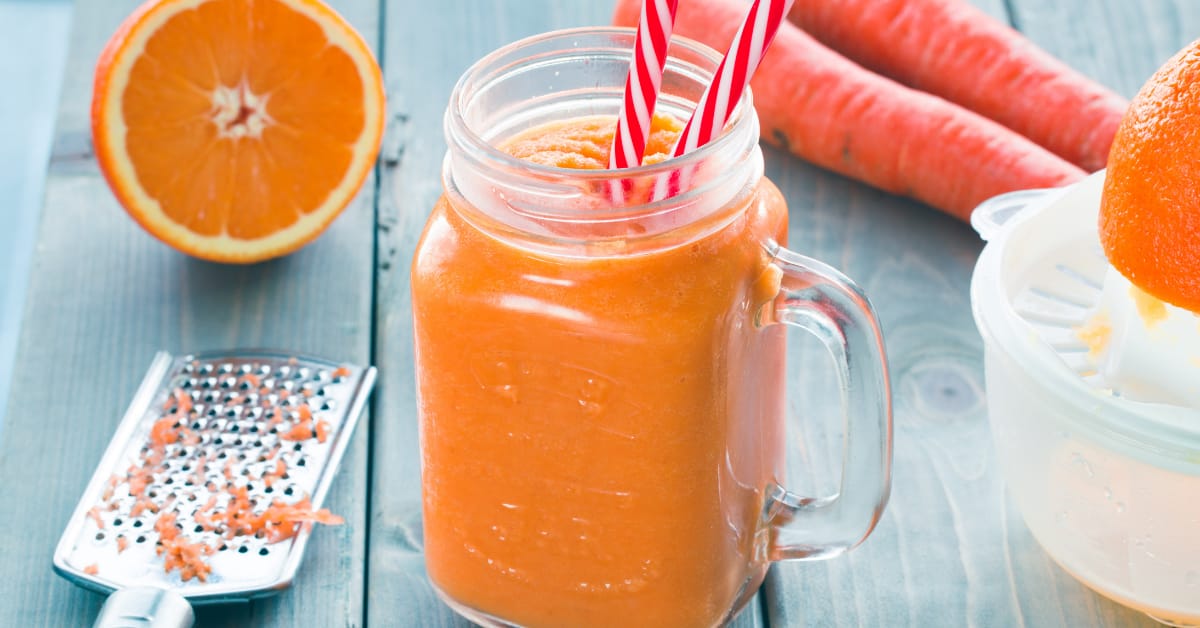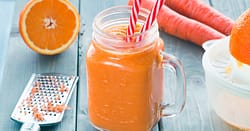 Carrot Cake Smoothie
Yum
This healthy and delicious Carrot Cake Smoothie is Pegan-diet compliant, super creamy, and packed with proteins. This smoothie is also great to help support weight loss and to improve your daily nutrition!
Instructions
Put all the ingredients into the blender.

Blend it until becomes smooth.
Notes


Nutrition
Nutrition Facts
Carrot Cake Smoothie
Amount per Serving
% Daily Value*
* Percent Daily Values are based on a 2000 calorie diet.
❤️❤️Read About Me for details about my health journey; and, make sure you remember to sign up for my Newsletter and follow me on social❤️❤️!

Supporting me is appreciated as I create content to support your health journey.