On Cinco de Mayo this year, I did a live chat with my Instagram and Facebook followers making tamales for the first time and having a couple margaritas. I made this tasty guacamole with tomatoes before making vegan tamales with chili lime jackfruit carnitas with my kitchen sidekick (boyfriend) and I to eat as we cooked. This was a good idea, because me + margaritas + cooking = very late dinner. I talked so much on the live and was pretty unorganized to be honest, so they weren't done until 11pm that evening! However, they were quite delicious and so was this tasty guacamole with tomatoes!
I was thinking this recipe might be a little over simplistic to add to my blog, but then again, I remember that most of the time we are all looking for simple recipes. I also am avidly opinionated in saying this is the only way to do guacamole right!
me + margaritas + cooking = very late dinner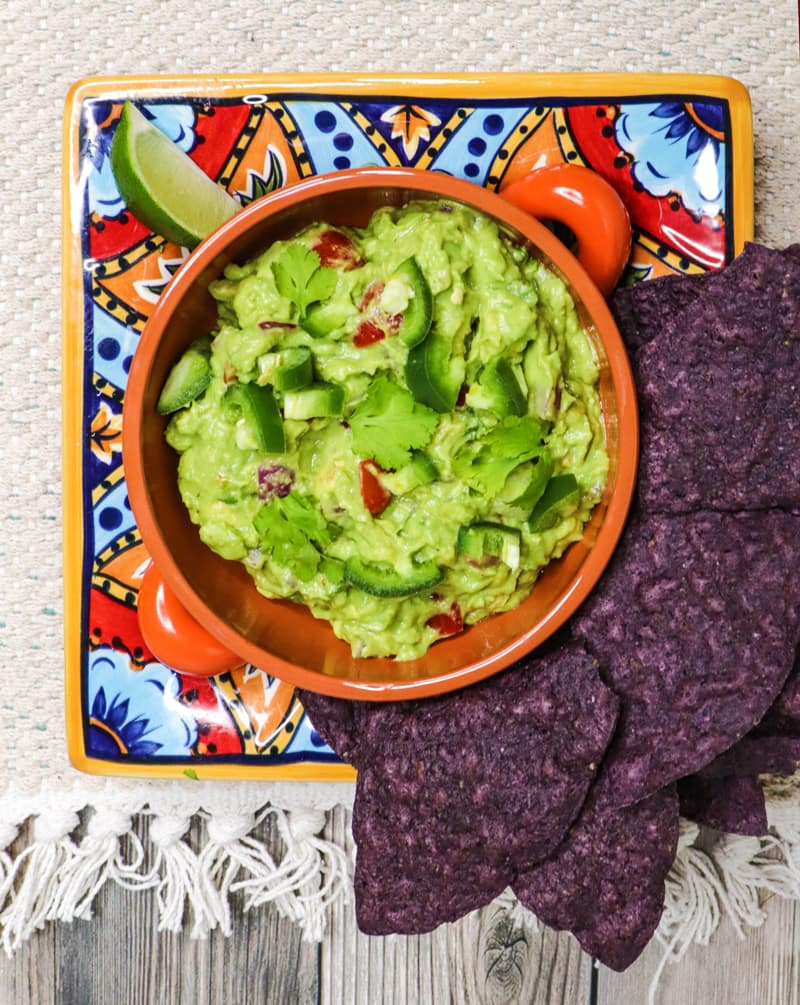 Tasty Guacamole with Tomatoes Nutrition
Avocado Guacamole: The Rich and Healthy Mix of Refreshing Mashed Avocado with Fresh Onions and Tomatoes
Have you ever wondered about all the different ways you can enjoy guacamole? This refreshing low carb, fiber-rich, and nutritious mix of mashed avocado offers a wide range of serving options. You can spread this guacamole on toasts or serve it in guacamole sandwiches, or with chips as a delicious side dish or snack. "Is guacamole gluten-free? "- "Is guacamole keto?" These are some concerns that people commonly express about this delicious meal enhancer. Well, truth be told! Guacamole contains all low carb (no refined carbs) and gluten-free ingredients. So, people living on any health-oriented diet can best use this guacamole as their go-to dip or spread. Serve it fresh or keep it ready in your refrigerator.
Nutrient Rich Avocados
Guacamole is all about avocados! The flesh of this exotic fruit is filled with several nutrients. The answer to the commonly asked question, "Is guacamole good for you?" lies in the avocado health benefits. Avocados are naturally rich in fiber and healthy fats, which are often extracted from its pit, as well as is low in carb and contain less sugar. It is a rich source of vitamins C, B-6, E, and K, along with several minerals. Beta cholesterol present in guacamole can aid heart health. Its high vitamin K dose is great for bone health, whereas the antioxidants present in an avocado can help prevent cancer, reduce depression, improve digestion, and detoxify the body [[i]].
If you want to know more about the amazing benefits of avocados, here is an article for you! Top 5 Benefits of Avocado For Women's Health -and Why Should Men Eat it Too!
Juicy and Ripe Tomatoes
It is the combination of mashed avocado with vegetables like these that make it a healthy and low carb meal. Tomatoes are among those everyday ingredients whose importance has often been overlooked. But let me tell you that tomatoes are also a rich reservoir of fiber, vitamins, and minerals. From Vitamin C to Potassium, Vitamin K1, and Folate, all these micronutrients are naturally present in tomatoes, and they ensure improved heart health, prevention from cancer, and better skin [[ii]].
Red onion: For a Crunchy Mix
The impressive health benefits of red onion make it just the right match for this nutritious guacamole. Onions not only ensure all these health benefits, but it also gives the guacamole a perfect crunch and texture to the smooth mashed avocado. Onion is known for its antibacterial properties and is packed with phytonutrients like flavonoids, that can reduce the risk of cardiac diseases and cancer [iii].
Lime Juice for a Refreshing Twist
Whether you are serving guacamole with toast or in tacos, adding lime juice can easily add a refreshing twist to any meal. Lime juice comes with its own set of health benefits, which makes it an important ingredient for the recipe; it can improve your digestion, controls blood glucose levels, and rejuvenates the skin[iv].
So every time you treat yourself with a bowl of tasty guacamole with tomatoes or guacamole toast, just remember its endless health benefits, and hold the margaritas until you are done preparing it!
References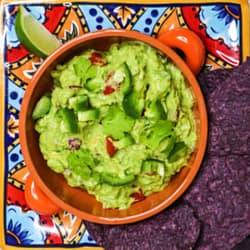 Guacamole
Yum
This fresh and savory guacamole is a healthy way to enjoy avocado. It can be spread on toast and sandwiches, or dipped into with chips. It is a simple plant-based vegan-friendly recipe, easy to make without any fillers, additives, or processed ingredients!
Instructions
Cut and depit the avocados. Scoop the inside of the avocado into a bowl.

Add the lime juice and garlic powder, and mash with a fork to your desired consistency (I like mine a little chunky).

Mix in the tomatoes, red onion, cilantro, and jalapeno.

Salt and pepper to taste! Enjoy!
Notes
Nutrition
Nutrition Facts
Guacamole
Amount per Serving
% Daily Value*
* Percent Daily Values are based on a 2000 calorie diet.
❤️❤️Read About Me for details about my health journey; and, make sure you remember to sign up for my Newsletter and follow me on social❤️❤️!

Supporting me is appreciated as I create content to support your health journey.