These jackfruit tacos add unique and exotic flavors to your plant-based diet with the Korean BBQ sauce that nicely complements the jackfruit filling. The juicy jackfruit flesh with this sauce makes irresistible sweet and savory tacos. In this jackfruit tacos recipe, we will add some coleslaw as well to give them a creamy and crunchy taste.
Ever since I was inspired to add vegan jackfruit tacos to my plant-based diet, I kept looking for the perfect sauce, condiment, combination of seasonings, and veggies to complement the banana pineapple like jackfruit flavor. When I concocted this Korean BBQ sauce, I knew it was amazing enough to share with all of you! So, let's see how these ingredients add value to the nutritional profile of your vegan / plant-based menu.
Sweet and Ripe or Canned Jackfruit
Since jackfruit is the essential ingredient in these Korean BBQ Jackfruit tacos, it took most of my attention as I wanted to keep an ideal balance between the savory and sweet flavors of the filling. So, I tried using both the fresh and canned varieties of jackfruit, yet decided on young canned jackfruit as the right fit for this vegan taco recipe. It is important to drain the fruit first to get rid of all the excess water. The reason that I prefer using jackfruit for this recipe (in addition to its versatility) is that it comes with several health benefits [1]. Like other tropical fruit, it is loaded with water, vitamins, minerals, and antioxidants, which are great to prevent skin aging! Jackfruit also helps to keep your mind and body fresh, hair and muscles healthy, and improve immunity, digestion, and cell metabolism [2].
The Sweet and Savory Korean BBQ Sauce
Though you can easily find bottle packed Korean BBQ sauce in the market, this homemade BBQ sauce is made with whole food ingredients and low sugar yet is comparable in taste and quality. For this reason, I prepare my own Korean BBQ sauce not for just this vegetarian jackfruit tacos recipe but for other meals as well. The recipe that I use to make this sauce is a bit different from the commercially available Korean BBQ sauce recipes because I wanted to keep it as healthy as possible. So, there is no brown or refined sugar used in this sauce. Rather I have used a very small amount of grade A Maple Syrup, which adds more antioxidants, riboflavin, and minerals like calcium, magnesium, zinc, and potassium. It is sweet, but it has fewer calories than sugar and honey [3].
Consider checking this article if you would like to find out more about the benefits of peanut butter!
---
[1] https://www.practo.com/healthfeed/12-reasons-why-the-jackfruit-is-super-healthy-3765/post
[2] https://food.ndtv.com/health/6-remarkable-benefits-of-jackfruit-seeds-1667345
[3] https://www.foodnetwork.com/healthyeats/2014/11/pour-it-on-maple-syrup-is-good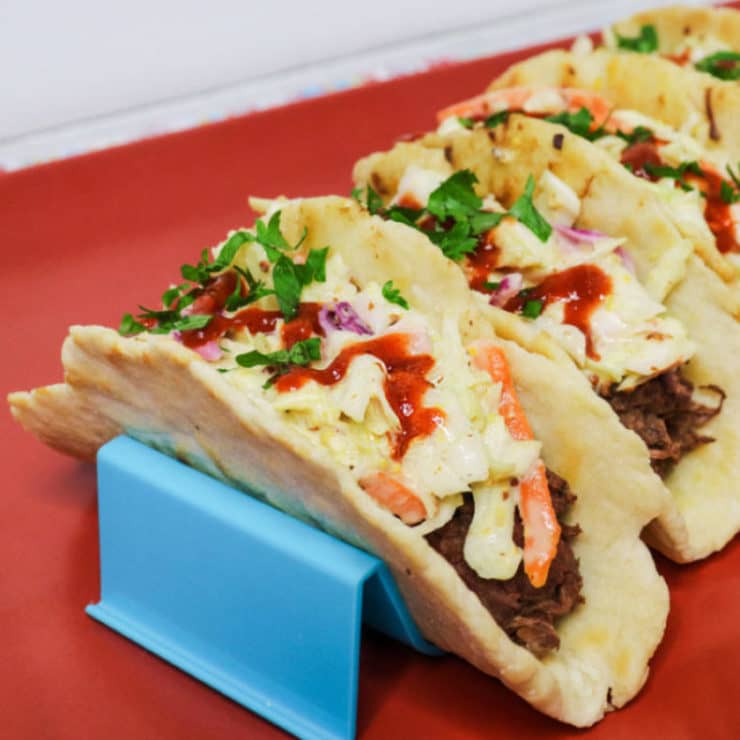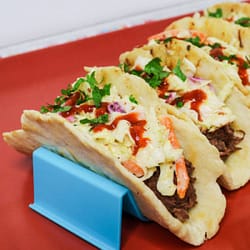 Jackfruit Korean BBQ Tacos
Yum
These tangy, spicy, and a little sweet jackfruit tacos are 100% plant-based vegan and super easy to make!
Instructions
In a small bowl, mix all the BBQ ingredients.

Drain the jackfruit and set aside.

Saute the garlic until fragrant with a tablespoon of the sesame oil.

Add the jackfruit to the pan and brown, stirring occassionally, for about 5 minutes.

Add the sauce into the pan and incorporate with the jackfruit. Turn the pan off.

Mix all coleslaw ingredients in a seperate bowl.

Serve with taco shells and top with Sriracha and cilantro (optional).
Nutrition
Nutrition Facts
Jackfruit Korean BBQ Tacos
Amount per Serving
% Daily Value*
* Percent Daily Values are based on a 2000 calorie diet.
❤️❤️Read About Me for details about my health journey; and, make sure you remember to sign up for my Newsletter and follow me on social❤️❤️!

Supporting me is appreciated as I create content to support your health journey.