Picky eaters! Listen up close as I am about to share with you an amazing and unique maple syrup recipe. You can make healthy and nutritious Chia Berry Maple Syrup at home, and the kids will love it! I always like to think of new ways to top my Fluffy Whole Wheat Vegan Pancakes and waffles. When I came up with this recipe, it simply made everyone's day in the house! I even use this syrup to garnish a number of my favorite vegan desserts and vegan snacks – such as toast or chia pudding. With this syrup, you can enhance all your favorite vegan treats. So, before we start making this quick and easy chia berry maple syrup, let me tell you about the ingredients I used to make it both delicious and healthy.
Berries-Low Glycemic Fruits
Whenever I am making a healthy meal or breakfast, I always find ways to add berries. You can have berries on any health-oriented diet – whether it's a low carb diet, a vegan diet, or a weight loss diet. All berries are an excellent source of fiber and they carry many essential vitamins, minerals, and antioxidants. Berries are also low glycemic fruits that can reduce the risks of cancer development in the body [1].
Grade A Maple Syrup
Usually known as pancake syrup, Grade A maple syrup is the dark shaded- medium amber in color syrup. Because it is a natural maple syrup (unlike processed maple syrup alternatives), it is the best maple syrup to use for this recipe. It has a light yet distinct aroma, and it has an intense and authentic maple taste. Good maple syrup comes with its own set of health advantages. It is a good alternative to table sugar, as it has a comparatively lower glycemic index. It is loaded with phenolic compounds, which are antioxidants that combat free radicals from the body [2].
Chia Seeds – How healthy are they?
I'm sure you are aware of chia seeds if you are a health nut like me! Chia seeds are used in many detox drinks because they are abundant in antioxidants. They are also commonly found in healthy puddings and desserts because they form a gel-like consistency when paired with a liquid. The fiber content of these seeds is 40 percent of the total nutritional content. The best part about chia seeds is that they are low on carbs and high in protein. Naturally, chia seeds contain 14 percent proteins. Due to all these nutrients and the omega fatty acids, chia seeds are effective against cancer, obesity, high cholesterol, heart diseases, and inflammation in the body [3].
And if you want to know more about the amazing benefits of chia seeds, here is an article for you!
[2] https://mainemapleproducers.com/blog/nutrition-the-9-health-benefits-of-maple-syrup-
[3] https://www.healthline.com/nutrition/11-proven-health-benefits-of-chia-seeds#section11
Processing…
Success! You're on the list.
Whoops! There was an error and we couldn't process your subscription. Please reload the page and try again.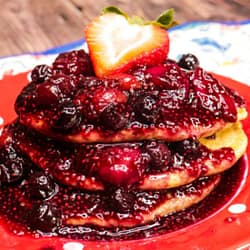 Chia Berry Maple Syrup
Yum
This chia berry maple syrup is a healthier version of the berry sauce my mom used to make for us when I was a kid!
Instructions
Combine all ingredients in a small pan and cook on medium high heat until simmering.

Turn the temperature down to a medium-low and simmer for 20 minutes or until berries have popped and sauce has thickened. Stir occassionally, and smash berries with a spoon.
Nutrition
Nutrition Facts
Chia Berry Maple Syrup
Amount per Serving
% Daily Value*
* Percent Daily Values are based on a 2000 calorie diet.
❤️❤️Read About Me for details about my health journey; and, make sure you remember to sign up for my Newsletter and follow me on social❤️❤️!

Supporting me is appreciated as I create content to support your health journey.


Enable Notifications
OK
No thanks