Thai Tempeh Lettuce Wraps – A Delicious Accident
This Thai tempeh lettuce wraps recipe was a totally delicious accident! I had a bunch of leftover chicken and tempeh that had to get used and an overabundance of lettuce, so I figured I would make some Asian peanut chicken and tempeh wraps. This recipe is inspired by Damn Delicious' recipe which is similar to the PF Chang's Chicken Wraps – chicken for the meat-eaters in the house and tempeh for those of us that are almost completely plant-based (me). When I decide to cave to the peanut gallery (AKA my children) over their desire for meat, their recipe is made first and theirs is the guinea pig. Luckily, the chicken version was good too but I prefer the Tempeh, both for health reasons as well as preference.
WFPB-ed it!
As usual though, when inspired by someone else's recipe, I immediately conspire to change it and make it whole food plant-based. I decided to put a Thai spin on it with pineapple and sriracha and create my own hoisin sauce without all of the sugar it comes with if you buy it in the bottle. Voila! A light, spicy, and sweet 100% whole food plant-based (WFPB) clean recipe that is frankly as easy as it is impressive! This recipe is also full of a fermented plant-based protein source – great for both your gut and to build and repair body muscle and tissue.
Also, consider checking this article if you would like to find out more about the benefits of peanut butter!
I Was Ranked #60 out of 100 Best Healthy Recipe Blogs!
Side note – one I am so excited about it warranted butting into the middle of this text. I was ranked 60th on the Top 100 Best Healthy Recipe Blogs on Feedspot – not bad for my first year! I am so thankful for all of the support I have gotten – including my kickass global team 😍. Feel free to share this list!
Asian is My Second Language
Do you love Asian inspired recipes? So do I… I wonder if I have some Asian heritage I am not aware of or lived in Thailand in a past life. If you love them too, check out my other asian-inspired recipes here. I love to dabble with Chinese, Thai, Korean, Vietnamese and many other international flavors. 😋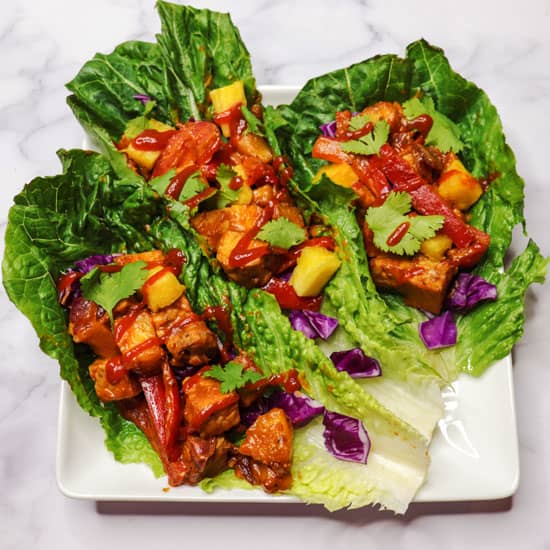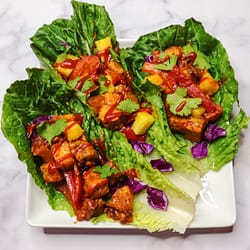 Thai Tempeh Lettuce Wraps
Yum
These sweet and spicy thai tempeh lettuce wraps are light and satisfying with an abundance of plant based protein and all whole food ingredients.
Instructions
Mix minced garlic, soy sauce, peanut butter, rice wine vinegar, ginger, and sriracha in a small bowl. Set aside.

Heat sesame oil or a little vegetable broth in a pan over medium high heat.

Add diced onion and red pepper to the pan. Cook until the onions start to become translucent and peppers soften, about 3 minutes.

Turn the stove temperature down to a medium low. Add the diced tempeh, pineapple, and sauce mix to the pan. Stir and cook until everything is hot and sauce is fragrant, about another 3 minutes.

Serve in leaves of lettuce. Garnish with cilantro and more sriracha (if you want it hot).
Nutrition
Nutrition Facts
Thai Tempeh Lettuce Wraps
Amount per Serving
% Daily Value*
* Percent Daily Values are based on a 2000 calorie diet.
❤️❤️Read About Me for details about my health journey; and, make sure you remember to sign up for my Newsletter and follow me on social❤️❤️!

Supporting me is appreciated as I create content to support your health journey.


Enable Notifications
OK
No thanks