We Eat A Lot of Pizza 🍕
Growing up my father worked for corporate Domino's Pizza and later owned his own stores. Throughout the years, I worked as a customer service representative, delivery driver, and administrative assistant for my dad's Domino's Pizza stores. To say I've eaten a lot of pizza 🍕 may be an understatement. Back in those days though, I didn't care that pizza for breakfast, lunch, and dinner wasn't in the best interest of my health. 😂 I'm trying to teach my niece that too, but you know teenagers!
Statistics say that the average American eats 46 slices of pizza a year.

The Sauce by Slice
Pizza – Rated #1 Food on Planet Earth!
I think everyone can agree though that pizza is just about the most d*mn delicious food on the planet (as judged by my taste buds, that is). Statistics say that the average American eats 46 slices of pizza a year. However, another statistic said we eat 40 pies a year, so now I'm left confused about how they came up with that statistic.
Pizza Friday's
Nevertheless, we eat a lot of pizza. This is clearly evidenced in our current household as well. In our house we try to have pizza and watch a movie every Friday of the week. It has become a much anticipated weekly tradition for the kids (and us adults love having a night off from cooking and dishes).
When Possible, Make A Whole Food Plant-based Pizza
Since pizza is most often laiden with dairy and animal fat, sodium, oil, refined flour, and preservatives – the health benefits of the tomatoes and vegetable toppings are overshadowed. While I succumb to the greasy stuff sometimes, I have been working on fine tuning my own 100% whole food plant-based (WFPB) pizza so I can enjoy pizza on friday as well, while feeling good about it. I have two other recipes that go with this pizza that you will want to do as well to keep it WFPB : Crispy Thin Chickpea Flour Pizza Crust and Oil-free Pizza Sauce.
My favorite pizza is a Hawaiian with jalapenos, but since I avoid meat, I dressed up this version with more hot peppers 😉 . I don't always go completely cheese free, but I like to avoid dairy as it makes me break out! I have noticed even when I put light cheese on a pizza, it really isn't even worth it if the sauce and other toppings are top notch. With this recipe, even carnivores won't mind that the recipe is vegan. 😋
I don't always go completely cheese free, but I like to avoid dairy as it makes me break out!
Habanero Heat – Only If You Dare!
The way I have topped this plant-based pizza yields a sweet and very spicy flavor! If you want to reduce the heat, do not use Habanero peppers and use less Jalapeno. Don't feel limited to the peppers I have listed here. I reckon this plant-based pizza would taste pretty good with sweet peppers as well. However, if you can eat it the same way, you are certain to get a nice hot pepper buzz! Be ready to drink some water…
Please let me know how this recipe goes when you make it! Post a picture and tag one of the below social media accounts:
Processing…
Success! You're on the list.
Whoops! There was an error and we couldn't process your subscription. Please reload the page and try again.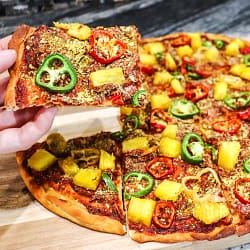 Pineapple Pepper Plant-based Pizza Recipe
Yum
This vegan pineapple pepper pizza is SPICY, only use Habanero if you dare! Includes a 100% whole food plant-based (WFPB) pizza sauce recipe and chickpea flour crispy thin crust recipe!
Instructions
Prepare Oil-free Pizza Sauce (see recipe in notes).

Prepare Crispy Thin Chickpea Pizza Crust (see recipe in notes). Bake crust ten minutes prior to adding toppings.

Add diced pineapple and peppers to pizza.

Bake an additional 10 minutes in center rack of oven at 450 degrees.

Remove from oven and sprinkle nutritional yeast on top.
Notes
Recipes that go with this one: 
Crispy Thin Chickpea Flour Crust 
Oil-free Pizza Sauce
Nutrition
Calories:
356
kcal
Carbohydrates:
54.1
g
Protein:
38.2
g
Fat:
4.8
g
Saturated Fat:
0.6
g
Sodium:
323
mg
Potassium:
2245
mg
Fiber:
23.2
g
Sugar:
12
g
Calcium:
82
mg
Iron:
17
mg
❤️❤️Read About Me for details about my health journey; and, make sure you remember to sign up for my Newsletter and follow me on social❤️❤️!

Supporting me is appreciated as I create content to support your health journey.