There are so many reasons to fall in love with these easy to prepare spelt waffles. They are crispy outside, and fluffy inside, and overall they are a healthier version than traditional ones. There are 10-12g of plant-based protein in each serving, depending on your brand of spelt flour. Add some nuts for a healthy fat to one of these waffles, and you've got a macronutrient balanced meal!
What I love about using spelt flour for these waffles, In addition to its richness in plant-protein, is it's naturally sweet flavor. I love collecting unique flours to experiment with. My niece even made a cake out of spelt flour recently (using the spelt by accident) and I fell in love with its sweet flavor! That cake inspired me to try it with some waffles.
Suitable for different occasions – like weekend breakfast, or weekend brunch – these spelt waffles will delight everyone; your family members, neighbors, anyone who likes simple waffles with the sweet whole grain taste of spelt. They are especially delicious served with fresh fruit (such as blueberries, strawberries, or raspberries), honey, nuts, dates, and/or whipped cream. The options are limitless!
Why Spelt?
Throughout history, spelt has been an important whole grain in different parts of the world. According to Greek mythology, spelt was a gift from the goddess Demetra to the Greek people. Demetra is a goddess of grain and fertility, youth, and land caregiver.
Spelt is a great source of protein, contains vitamins such as B1, B3, B6, and also calcium, iron, zinc, magnesium, manganese. It is high in carbs, and it is a good source of dietary fiber.
Spelt is a type of wheat, and it is not gluten-free.
100gr of unboiled spelt contains:
carbohydrates 70.19g
fiber 10.70g
fat 2.43g
proteins 14.57g
calcium 27 mg
iron 4.44 mg
magnesium 136 mg
phosphorous 401 mg
potassium 388 mg
sodium 8 mg
Consuming spelt has a lot of benefits for our health:
It is high in fiber which is important for lowering cholesterol levels in the blood.
Better digestion.
Reduces blood pressure
Aid in the creation of sex hormones
Healthy bones
Improves blood circulation
Boosts immunity
Reduces risk of diabetes
Keeps you feeling full for a longer time, which can be good if you are trying to lose weight
If you want to find out about the amazing benefits of apples, check out this article!
https://en.wikipedia.org/wiki/Spelt
https://www.healthline.com/nutrition/what-is-spelt#TOC_TITLE_HDR_6
https://www.medicalnewstoday.com/articles/323659#health-benefits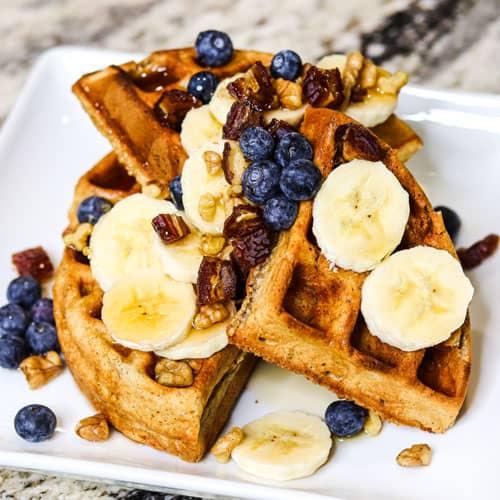 Spelt Waffles
Yum
There are so many reasons to fall in love with these easy to prepare spelt waffles. They are a crispy and fluffy healthy whole grain version of traditional waffles!
Instructions
In a small bowl, beat eggs.

Add remaining wet ingredients and mix.

In a medium bowl, mix all dry ingredients.

Pour wet ingredients into dry ingredients and mix until there are no longer any lumps in the batter.

Spray waffle maker iron with oil. Cook batter in batches. Waffles will be crispy and release easily from the waffle iron when done.
Nutrition
Nutrition Facts
Spelt Waffles
Amount per Serving
% Daily Value*
* Percent Daily Values are based on a 2000 calorie diet.
❤️❤️Read About Me for details about my health journey; and, make sure you remember to sign up for my Newsletter and follow me on social❤️❤️!

Supporting me is appreciated as I create content to support your health journey.


Enable Notifications
OK
No thanks