When I made this delicious Beet Date Carrot Cake the other day, I left some of you hanging with the plant-based protein icing. It takes a while to write these posts, and I wanted to get the carrot cake to you before Easter! I do highly recommend that you put this frosting on your cake. It is a perfect complement to the Beet Date Carrot Cake. This protein frosting is great for all cakes and cupcakes really!
What Kind of Protein for Protein Frosting?
You can use all kinds of unflavored or vanilla protein powder for this recipe. I chose to use an unflavored 100% pea protein isolate because I prefer plant protein and like to avoid ingredients I am unfamiliar with in the flavored ones. Vanilla protein tends to hide the protein taste a little better though. Unflavored worked just fine in this recipe, but I can smell a hint of the pea protein in it. Not one of my children complained about it though and my boyfriend said it was amazing! If you choose a vanilla-flavored protein powder, you can skip adding vanilla extract.
If you're shopping around for a protein powder brand, you should check out my friend and running coach Erica Weitz's protein powder. Her protein powder is made with plant-based ingredients grounded in science and clinical research with high standards for safety and sustainability. I've tried it and it's yummy! Her other products are amazing too. I use and love mineral makeup!
Protein Frosting is a Healthy Alternative
It's worth noting that just because protein powder is in this frosting, it doesn't make it a "healthy" recipe. I would label this recipe as a "healthy alternative" as it is lower in sugar than typical frosting recipes and contains much simpler, less processed ingredients than store-bought icing. Another added benefit is that adding protein slows the digestion of simple carbohydrates (sugar)1. This will help reduce the blood sugar spike you will experience when eating a frosted cake!
Vegan Cream "Cheese"
This recipe is built on an excellent cream cheese recipe I found online, so I can't take credit for that part. I've made this Vegan Cream Cheese recipe for the bagels I have been eating the past couple of weeks as well. Vegan cream cheese is expensive at the store, and this recipe is just as good! You just have to wait until unsalted cashews are on sale or get them in bulk, as they can be pricey. Make sure to add a teaspoon of white vinegar to the frosting. It's part of that small bite the protein frosting needs to taste like a cream cheese frosting. I've included Loving It Vegan's recipe below within my recipe. You should consider following her as well!
How Does Eating Affect Your Blood Sugar? – Healthline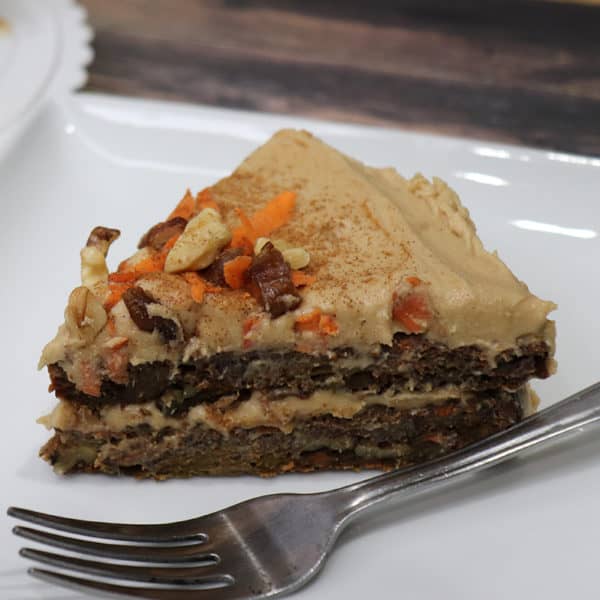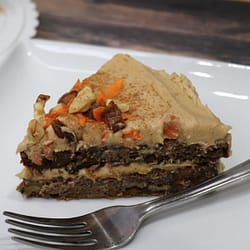 Protein Frosting – Dairy-free Cream Cheese Icing
Yum
This vegan plant-based cream cheese protein frosting is a deliciously healthy alternative to traditional icing!
Instructions
Add the soaked cashews (drained) to the blender jug along with the lemon juice, coconut cream, white vinegar, and salt and blend. If needed, stop and regularly scrape down the sides. Process until very smooth.

Add the remaining ingredients: protein powder, confectioner's sugar, vanilla extract, and soy milk. Process until smooth. Add more soy milk if the frosting is too thick or you would like a thinner consistency.
Nutrition
Nutrition Facts
Protein Frosting – Dairy-free Cream Cheese Icing
Amount per Serving
% Daily Value*
* Percent Daily Values are based on a 2000 calorie diet.
Nutrition Facts

Servings

16.0

Amount Per Serving
calories

132

% Daily Value *
Total Fat

6

g

10

%

Saturated Fat

2

g

11

%

Monounsaturated Fat

3

g

Polyunsaturated Fat

1

g

Trans Fat

0

g

Cholesterol

0

mg

0

%

Sodium

152

mg

6

%

Potassium

10

mg

0

%

Total Carbohydrate

15

g

5

%

Dietary Fiber

0

g

2

%

Sugars

12

g

Protein

4

g

8

%

Vitamin A

0

%

Vitamin C

0

%

Calcium

2

%

Iron

4

%

* The Percent Daily Values are based on a 2,000 calorie diet, so your values may change depending on your calorie needs. The values here may not be 100% accurate because the recipes have not been professionally evaluated nor have they been evaluated by the U.S. FDA.
❤️❤️Read About Me for details about my health journey; and, make sure you remember to sign up for my Newsletter and follow me on social❤️❤️!

Supporting me is appreciated as I create content to support your health journey.