This Berry Watermelon Fruit Salad is a refreshing meal that can help you endure the heat this 2022 Summer!
This Summer Salad is one of my favorite whole-food plant-based –wfpb summer recipes and offers you all the right nutrients that you need for healthier living. The thing I like the most about this recipe is that it only takes a few minutes to prepare. All you need to do is prepare the fruit and the lemon maple vinaigrette!
This Berry Watermelon Fruit Salad's amazing ingredients
Super Hydrating Watermelon
First is watermelon. Known for its hydrating effects; it has a very high water and fiber content and is very low in calories. Whenever you are eating a watermelon, you are consuming more food in volume without as many calories. Moreover, the melon's flesh is loaded with Vitamin C, A, B1, B5, and B6, which makes it great for skin, hair, muscle, heart, and cellular health.
In addition, the lycopene present in the watermelon is proven to help prevent or beat cancer, and Cucurbitacin E in the watermelon is a plant-based antioxidant that helps reduce inflammation.[1].

Click here for more information about this amazingly refreshing fruit!
The Berry-Berry Duo in this Berry Watermelon Fruit Salad
Second, are the strawberries and blueberries that help to make this Berry Watermelon Fruit Salad a complete meal. Berries are abundant in Phyto-nutrients, minerals, and vitamins. In addition, blueberries contain Vitamin K, calcium, manganese, zinc, and magnesium, which help keep the bones strong.
Moreover, the antioxidants like polyphenols present in the berries are good for lowering blood pressure, inflammation, and risk of cancer[2]. Whether you are on a low-carb diet or looking for a diabetic diet, a salad with berries is an awesome meal to include[3].
Lemon Maple Vinaigrette: I Love Citrus!
Finally, is the refreshing lemon maple vinaigrette. It contains a good amount of citrus juice and lemon zest, mixed with thyme, olive oil, maple, and mustard. Lemon juice help improves digestion, skin, and heart health due to the antioxidants present[4].
References
1. Top 9 Health Benefits of Eating Watermelon – Healthline
2. Everything you need to know about blueberries – Medical News Today
3. Nutritional Benefits of the Strawberry –WebMD
4. How can lemons benefit your health? – Medical News Today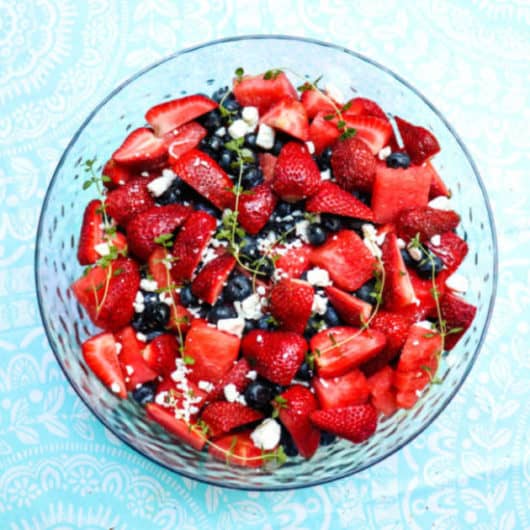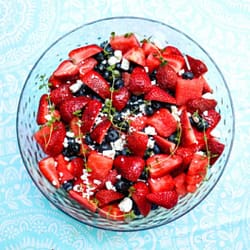 Watermelon Berry Salad with Lemon Maple Vinaigrette
Yum
This watermelon berry fruit salad is a refreshing treat that can help you endure the heat this summer. It's easy to make, and very refreshing!
Instructions
Combine the cubed watermelon, quartered strawberries, blueberries, and crumbled feta into a bowl.

In a seperate bowl, whisk together the fresh thyme, lemon zest, lemon juice, honey, olive oil, dijon mustard, and a light amount of salt to taste.

Pour the vinaigrette over the salad and toss to combine.
Nutrition
Nutrition Facts
Watermelon Berry Salad with Lemon Maple Vinaigrette
Amount per Serving
% Daily Value*
* Percent Daily Values are based on a 2000 calorie diet.