Kudos to all the Dads who go a long way to keep their kids happy and protected. It's a great time to celebrate their lifelong struggle on this Father's Day. I always take this day as a great chance to spend some quality time with family and the man of the house. A BBQ night out sounds like a perfect plan to surprise all the dads, as they just love grilling or relaxing around a fire. And I think that amid this pandemic, it is nice to cook delicious, clean, and healthy food all by yourself!
Since going out is not a wise thing to do during this worldwide health crisis, you can plan a backyard barbecue picnic with a little campfire. It can be a small family reunion to help relieve stress and anxiety. You can plan some really fun activities, like camping in the backyard or in a nearby park where you can BBQ as well. You can set up a born-fire and sit around the fire with your camp buddies, sharing music and stories. You can invite some friends as well. Setting up music and lights is my way of making the BBQ night special.
For this Father's Day, I have planned some really tasty grilling and BBQ recipes, picked from our very own favorite plant-based munchies menu. In this menu, there are several easy recipes for a summertime picnic. The following five recipes make a perfect combination for a Father's Day special dinner. There is a salad that can be enjoyed by vegans and non-vegans as well. And there's some crispy buffalo cauliflower on the menu which are equally as delicious as the Korean BBQ tacos.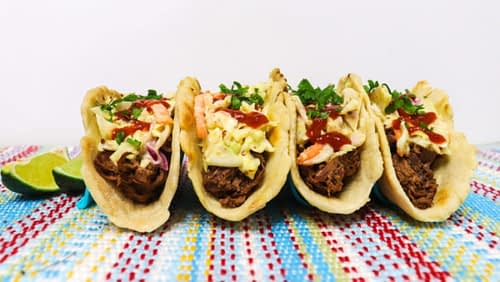 Korean BBQ tacos
If you want to make an easy, yet impressive outdoor BBQ recipe, then this Jackfruit Korean BBQ tacos recipe is worth a try. If you are familiar with the unique Korean beef taste, you will get the idea of how delicious these tacos will turn out to be. However, they are also vegan and low fat! The jackfruit is seasoned with a spicy, savory, and slightly sweet marinade, made out of a combination of soy sauce, Sriracha, and other Korean ingredients. The jackfruit is then assembled into a taco shell with the tangy coleslaw and topped with more Sriracha. Spicy and delicious – a healthy version of a street food favorite!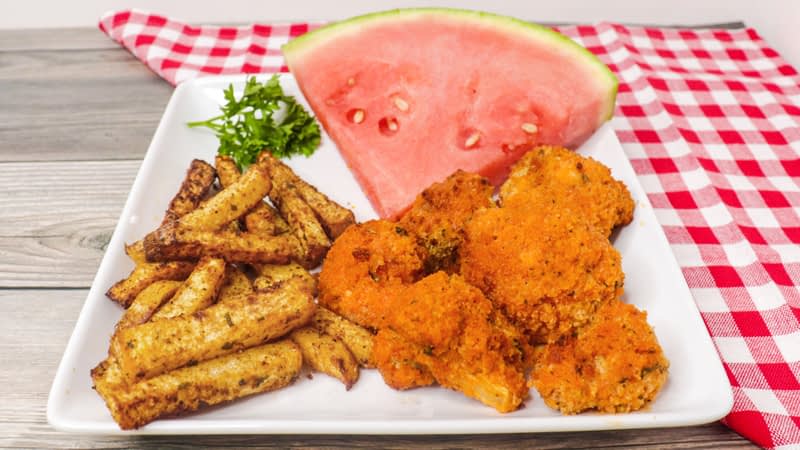 Crispy Buffalo Cauliflower
So, just because buffalo chicken wings aren't on a vegetarian menu, doesn't mean you can't serve crispy buffalo cauliflower at the table. The best part is that the recipe is equally delicious as it is healthy. These spicy cauliflower florets make a great crowd pleaser and are budget-friendly. If you are not 100% plant-based vegan, blue cheese would be excellent to serve these with. Roll up any leftovers into a delicious buffalo cauliflower wrap the next day!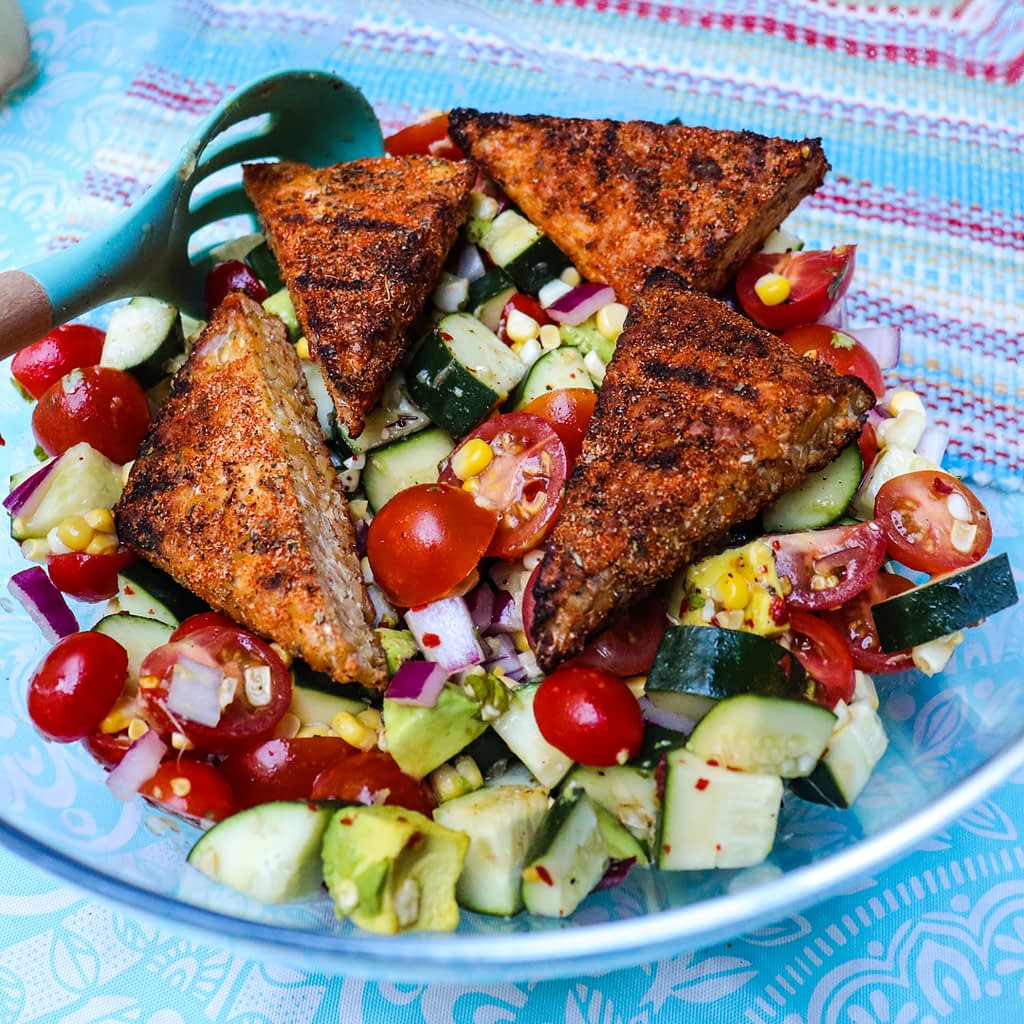 Grilled Cajun Chicken or Tempeh Salad
Here comes a salad that you can try on your outdoor BBQ night. It is loaded with rich and healthy ingredients and perfectly suited for a vegan, vegetarian, or non-vegetarian menu. If you love to enjoy grilled chicken, then cook the Cajun-spiced chicken in your outdoor grill along with the corn husks and then toss it and the cut grilled corn with the other fresh vegetables into this salad. Or you can replace chicken with tempeh slices and grill them until they are lightly charred. If you use tempeh, I suggest you soak the slices in some of the salad dressing first to retain some moisture.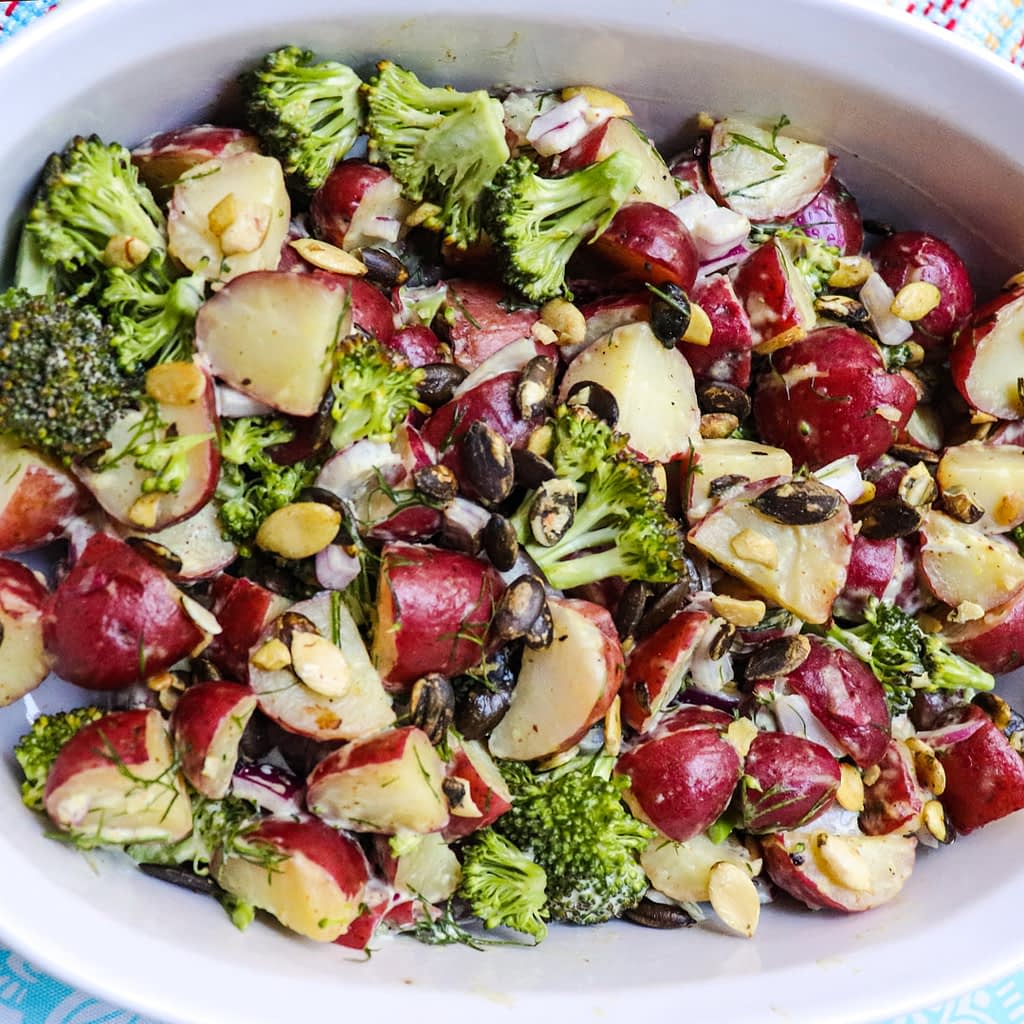 Vegan Red Potato Broccoli Salad Recipe
Add some flavorsome twist to the same old traditional potato salad with fresh broccoli chunks and sunflower seeds. You can prepare its dressing with vegan mayonnaise as well to keep it purely vegan. The vegan mayonnaise I usually use contains aquafaba, sunflower oil, salt, distilled vinegar, white pepper, organic kombu seaweed, and organic lemon juice, and trust me – together they taste great without the use of any additives!
Vegan Red Potato Broccoli Salad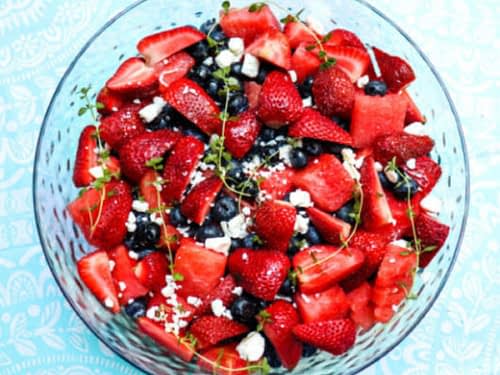 Watermelon Berry Fruit Salad with a Lemon Thyme Vinaigrette
If you want to beat the heat of summer, then nothing seems more delightful than this watermelon berry fruit salad. If you are not up for a heavy and carb-rich dessert, then try this sweet and savory salad to manage your sweet tooth. Toss watermelon cubes with fresh blueberries and strawberries then serve them with lemon-thyme vinaigrette and feta or vegan feta cheese on top.
Watermelon Berry Fruit Salad with a Lemon Thyme Vinaigrette
Please let me know how this recipe goes when you make it! Post a picture and tag one of the below social media accounts:
Don't forget to sign up for my newsletter so you don't miss any future posts:
Processing…
Success! You're on the list.
Whoops! There was an error and we couldn't process your subscription. Please reload the page and try again.