All-in-one Vegan Salad
At barbecues, parties, picnics, and at home, a vegan red potato broccoli salad like this can be a wholesome, healthy lunch, dinner, or side dish when you need one. The key to a tasty and nourishing vegan recipe is the diversity of nutrients. This summer salad is a prime example. It is very nutritious – containing fiber, potassium, vitamins, and monounsaturated and polyunsaturated fats. It also contains a vegan dressing that makes it similar to traditional potato salad – only better! What's also great is that it doesn't take more than 20 minutes to make it, including the time needed to cook the potatoes. Let's take a closer look at the ingredients.
Red Potatoes – The Healthy Carbs in Your Red Potato Broccoli Salad
Carbs are usually considered the bad guys, but they truly are the preferred fuel for your body. The complex, unprocessed carbohydrates that can be found in some foods such as red potatoes, oats, brown rice, quinoa, and banana are high in fiber. That makes them more nutritious than simple carbs found in sugars and white potatoes because they provide us with both energy and improve metabolic health by feeding the good gut bacteria. Red potatoes are not only loaded with fiber but also high in potassium and vitamin B6. They even contain more potassium than a banana! It's preferable to not peel off the skin since that's where most nutrients can be found.
Broccoli – a Multivitamin Superstar
When we think of healthy food, broccoli is one of the first vegetables that often come to mind. This green veggie is low in calories, but rich in many vitamins and minerals. Broccoli contains vitamin C, potassium, iron, vitamins A, B1, B2, B3, B6, B9, B12, D, E, and K, zinc, and iron, It's a pretty long list, so no wonder why it is one of the healthiest foods you can eat. This vegan red potato broccoli salad will make it easy to incorporate broccoli into your day. Since boiling can greatly impact the health benefits of broccoli, it is better if you eat it raw, or steam it. I left mine raw in this salad because I love the crunch!
Pumpkin Seeds – Add Some Healthy Fats
I top the vegan red potato broccoli salad with pumpkin seeds. They are a good source of zinc, fiber, amino acids, magnesium, and healthy fats. Beware – if you buy the packaged processed pumpkin seeds, they might be rich in salt and preservatives, too. The only ingredient listed on the package should be "pumpkin seeds".
Want to know more about the amazing benefits of pumpkin seeds? Here is an article for you!
Your Feedback – Another Lovely Ingredient
Do you like this vegan red potato broccoli salad as much as I do? Please let me know if you have any comments or questions, or reach me through Instagram with a photo of your beautiful salad. You can find me at @cleancookingcaitlin. Also, if you are looking for more picnic and barbecue plant-based salads, I have some more here: 3 Easy and Healthy Summer Salads. Check them out!
References
https://www.healthline.com/nutrition/good-carbs-bad-carbs#section3
https://www.livestrong.com/article/417195-are-red-potatoes-healthy/
https://www.webmd.com/food-recipes/health-benefits-broccoli#1
https://www.verywellfit.com/pumpkin-seed-nutrition-facts-calories-and-health-benefits-4114356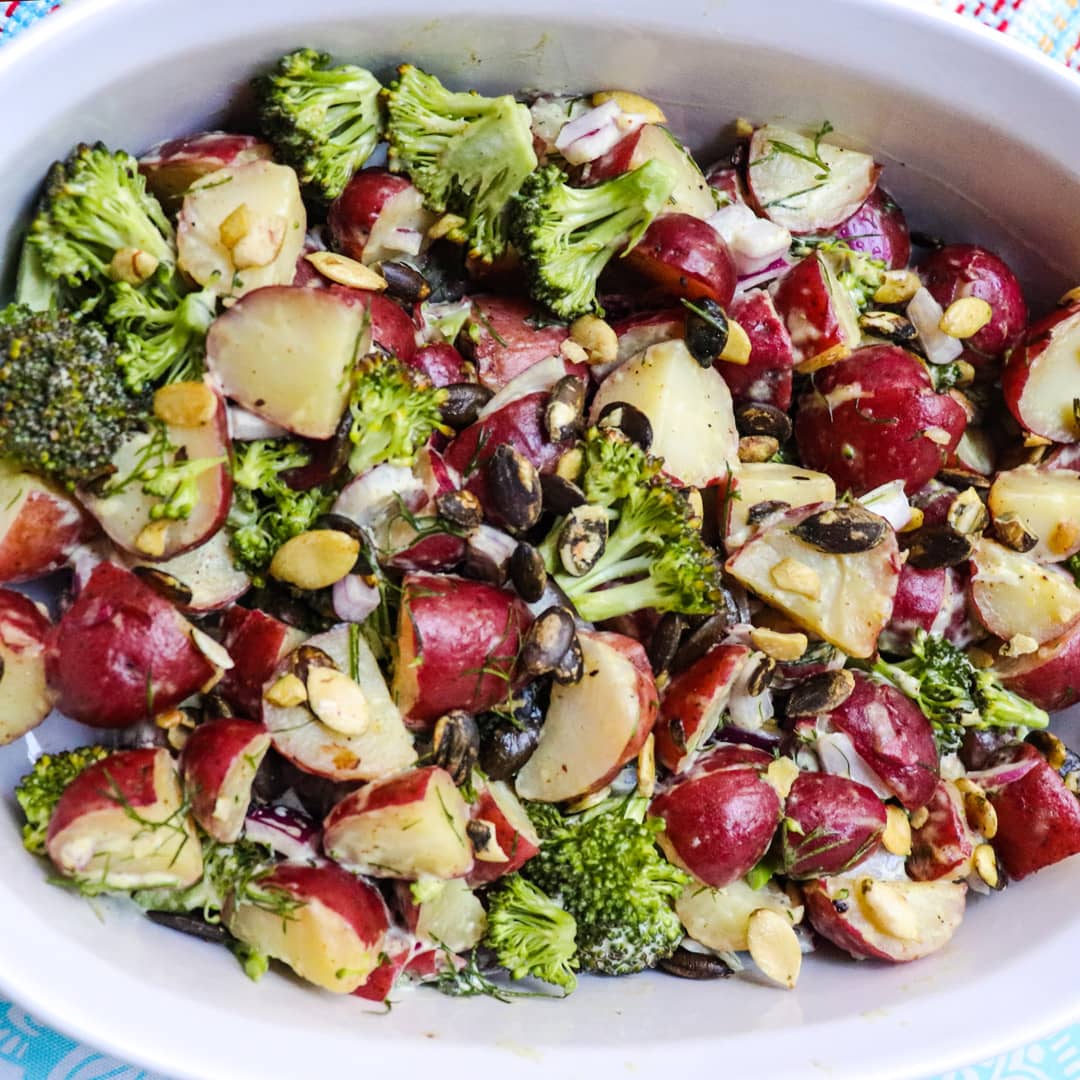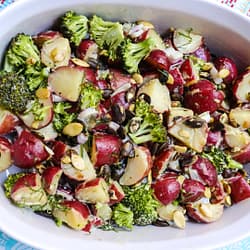 Vegan Red Potato Broccoli Salad
Yum
This red potato broccoli vegan salad is an easy, tasty, and nutritious alternative than traditional potato salad. It is a great side to bring to a party or to make as a side for a picnic!
Instructions
Place diced potatoes in a large pot and fill with water until the potatoes are just covered. Bring pot with potatoes to a boil over high heat. Once boiling cook the potatoes ~3-5 minutes or until potatoes are easy to pierce with a fork.

Drain the potatoes and cool. Add them into a large bowl along with the broccoli florets and diced onion. Set aside.

Mix the mayo, mustard, apple cider vinegar, dill, salt, and pepper in a small bow. Stir to combine.

Combine the dressing with the potatoes, onions, and broccoli. Top with pumpkin seeds just before serving. Enjoy!
Nutrition
Nutrition Facts
Vegan Red Potato Broccoli Salad
Amount per Serving
% Daily Value*
* Percent Daily Values are based on a 2000 calorie diet.
❤️❤️Read About Me for details about my health journey; and, make sure you remember to sign up for my Newsletter and follow me on social❤️❤️!

Supporting me is appreciated as I create content to support your health journey.