Almond Crusted Cod with Tropical Salsa: one of my favorite Jamaican fish recipes! In just 30 minutes, you will enjoy the taste of Caribbean food in the comfort of your own home.
These Almond Crusted Cod fillets are, as usual, easy to make, healthy, and lower in calories and fats compared to the original Jamaican fish recipe. Indeed, instead of frying the fish, I opted for an oven-broiled cod recipe. If you worry that the result will be a bland fish fillet…well, you are in the wrong place!
Indeed, my Almond Crusted Cod fillets are packed with flavors. The biggest merit goes to the Tropical Salsa, which is a bomb of different tastes: from the tanginess of the pineapple and lime juice to the sweetness of the mango, without forgetting the spicy contribution of the jalapenos.
Moreover, I decided to give a twist to the traditional breaded cod recipe, and use instead some almond flour to create a more original crust for the fish. A special benefit of almond flour is that it makes the breading turn out crispy; additionally, the result is a sweeter and lighter breaded fish fillet, certainly perfect for a fancy dinner or a romantic date. But don't worry: your kids will love it too!
And if you still worry that broiled fish has no taste and personality, here are three tips for you!
Three tips for a tasty and healthy baked Almond Crusted Cod…or any baked fish for that matter!
The first tip is to use more spices! Spices and herbs are indeed a greater way of giving more flavor to your dishes, without adding unnecessary fats and calories. For this recipe, I decided to use a mix of nutmeg, cumin, black pepper, and smoked paprika, an amazing seasoning blend with a great personality!
The second tip is to add just a little bit of olive oil to the fish before putting it in the oven. You don't need to drown your fish in the oil: a little bit goes a long way!
Finally, the last tip is to prepare a good salsa to top the oven-baked fish with. As explained before, my Tropical Salsa is a true bomb of flavors and balances well the spices I used in the crust.
What are you waiting for? You have no more excuses for not making a healthy and delicious oven-baked cod!
Check also my Easy Fish Tacos and Grilled Swordfish with Lemon Dill Wine Sauce for other easy and tasty fish recipes!
Want to know more about the amazing benefits of cinnamon? Here is an article for you! 5 Health Benefits of Cinnamon, The Most Loved Autumnal Spice!
Social Buzz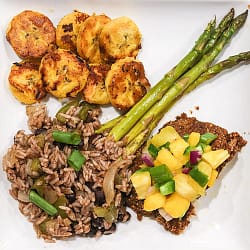 Almond Crusted Cod with Tropical Salsa
Yum
Almond Crusted Cod with Tropical Salsa: one of my favorite Jamaican fish recipes! In just 30 minutes, you will enjoy the taste of Caribbean food in the comfort of your own home.
Instructions
Prepare the ingredients for the tropical salsa, and add them to a bowl. Set aside.

Adjust your oven top rack to be about 4 inches from the heat source. Turn it on high.

Mix all the seasonings and the almond flour in a gallon bag.

Add the cod a filet at a time and then cover it with the flour seasoning mixture.

Spray the grates of a broiling pan with a little bit of oil.

Add the fish to the broiling pan and place it on the top rack of the oven.

Cook until the fish easily flakes with a fork – it will take about 10-12 minutes.

Top the fish with the Tropical salsa.
Notes
Nutrition
Calories:
358
kcal
Carbohydrates:
17
g
Protein:
50
g
Fat:
10
g
Saturated Fat:
2
g
Polyunsaturated Fat:
3
g
Monounsaturated Fat:
3
g
Cholesterol:
98
mg
Sodium:
1215
mg
Potassium:
1314
mg
Fiber:
3
g
Sugar:
11
g
❤️❤️Read About Me for details about my health journey; and, make sure you remember to sign up for my Newsletter and follow me on social❤️❤️!

Supporting me is appreciated as I create content to support your health journey.