Looking for an easy-to-prepare, delicious, and healthy Summer dinner recipe? These easy fish tacos with tropical fruit salsa are both refreshing and nutritious at the same time. Perfect for a summer dinner with your family and friends!
Once you try these super easy fish tacos, you will want to make them time and time again!
They are also great for a pool party combined with some refreshing summer drinks!
What are the main ingredients of these Easy Fish Tacos?
Fish
Fish is one of the healthiest foods. It is loaded with vitamin D, protein, and omega-3 fatty acids. In this recipe, we are using white fish because of its mild flavor. It pairs well with the fruit salsa.
The fish is easy to find, as there is a variety of types you can purchase. For example, sea bass, sea bream, hake… Let's take sea bass.
Sea bass contains a high level of protein, selenium, and omega-3 fatty acids.
Nutrution values, serving size 100gr:
calories 118
sodium 87mg
protein 24gr
calcium 13mg
iron 0,4mg
potassium 328mg
phosphorus 248mg
magnesium 53mg
Health benefits of eating fish:
Fish is loaded with important nutrients, such as protein and vitamin D.
Fish may lower your risk of heart attacks and strokes
It may increase grey matter in the brain and protect it from age-related deterioration
May help prevent and treat depression, making you a happier person
Fish is the only good dietary source of vitamin D
Fish consumption is linked to a reduced risk of autoimmune diseases, including type 1 diabetes
It may help prevent asthma in children
It may protect your vision in old age
May improve sleep quality
Mango, a tasty addition to these Easy Fish Tacos!
They don't call him "the king of fruits" for nothing! Mango is one of the most widely consumed fruits in the world. The mango originated in India around 5,000 years ago.
Mango is not only sweet and juicy but also very nutritious and low in calories, which makes it a great replacement for less healthy snacks.
One cup (165 grams) of sliced mango provides:
Calories: 99
Protein: 1.4 grams
Carbs: 24.7 grams
Fat: 0.6 grams
Dietary fiber: 2.6 grams
Vitamin C: 67% of the Reference Daily Intake (RDI)
Copper: 20% of the RDI
Folate: 18% of the RDI
Vitamin B6: 11.6% of the RDI
Vitamin A: 10% of the RDI
Vitamin E: 9.7% of the RDI
Vitamin B5: 6.5% of the RDI
Vitamin K: 6% of the RDI
Niacin: 7% of the RDI
Potassium: 6% of the RDI
Riboflavin: 5% of the RDI
Manganese: 4.5% of the RDI
Thiamine: 4% of the RDI
Magnesium: 4% of the RDI
It also contains small amounts of phosphorus, pantothenic acid, calcium, selenium, and iron.
Health benefits:
It may boost your immunity
Supports Heart Health
Improves Digestive Health
Supports Eye Health
May Help Lower Your Risk of Certain Cancers
May Improve Hair and Skin Health
Improves Cell Function
Provides Anti-Inflammatory Benefits
Protects Against Cell Damage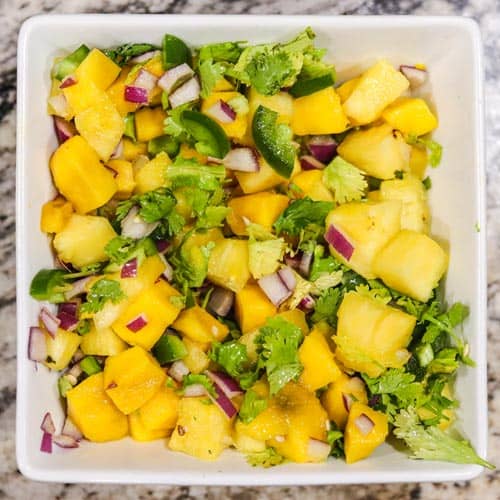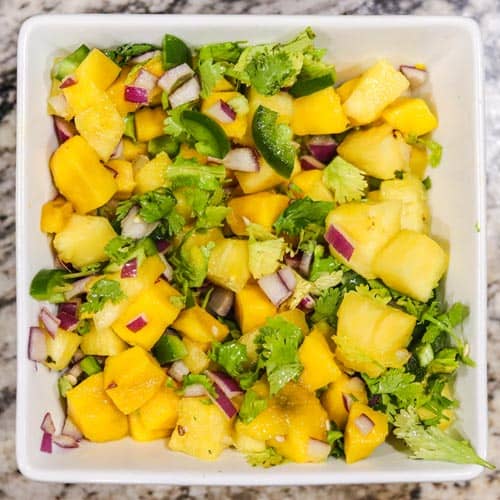 If you want to know more about the amazing benefits of avocados, here is an article for you! Top 5 Benefits of Avocado For Women's Health -and Why Should Men Eat it Too!
Nutrition facts for sea bass, cooked, recommended daily values, and analysis.
11 Amazing Health Benefits of Eating Fish – SeaBass Fish
11 Evidence-Based Health Benefits of Eating Fish – Healthline
Mango: Nutrition, Health Benefits, and How to Eat It
Mango Nutrition Facts and Health Benefits Reviewed by Jonathan Valdez, RDN, CDE, CPT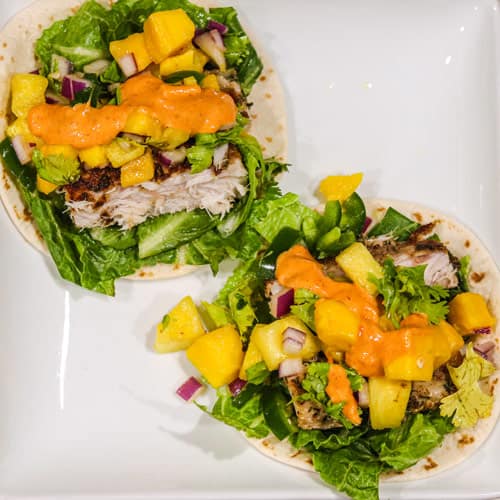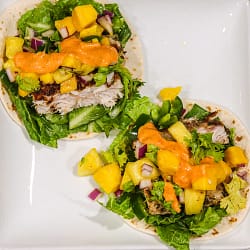 Easy Fish Tacos
Yum
Super easy to prepare and perfect for a summer night with family or friends! The sweet tropical fruit salsa pairs well with the broiled white fish and siracha mayo!
Instructions
Prepare the Salsa
Dice a quarter of a pineapple and add to medium bowl.

Dice mango and add to the same bowl.

Dice a quarter of a red onion and add to bowl.

Dice an avocado and add to bowl.

Quarter and dice a Jalapeno and add to bowl.

Remove stems from a handfull of cilantro, roughly chop and add to bowl.

Add juice of one lime to bowl.
Prepare Fish
Combine all seasonings for fish rub and mix: salt, pepper, garlic, cumin, parsley, and coriander.

Lay out fish on a broiling pan.

Glaze fish with a couple teaspoons of olive oil. Sprinkle and rub seasonings evenly on fish.

Set boiler on high. Let it preheat for about 5 minutes.

Place fish on a middle rack in oven.

Meanwhile mix Sriracha and mayo in a small bowl.

Fish is ready when it flakes – about 5 minutes.

To assemble tacos: add broiled fish to taco shell, top with tropical salsa, and then a dollop of siracha mayo. Enjoy!
Nutrition
Nutrition Facts
Easy Fish Tacos
Amount per Serving
% Daily Value*
* Percent Daily Values are based on a 2000 calorie diet.
❤️❤️Read About Me for details about my health journey; and, make sure you remember to sign up for my Newsletter and follow me on social❤️❤️!

Supporting me is appreciated as I create content to support your health journey.