Post-run cooling and carb-restoring homemade Blackberry Mint Lemonade 🍋 ! Are you hitting the streets and trying to beat the heat!? This refreshing homemade lemonade recipe will cool you off and tastes like an amazing mocktail!
At a tablespoon of honey per serving – this homemade blackberry mint lemonade is ideal for those who need the carbs like endurance athletes (and you'll probably need even more!). You can half the honey though if you're not active and/or watching your sugar intake!
Tested after a HOT run 🏃‍♀️ in our midday Florida heat!! ☀️Stay cool my friends with this refreshing Blackberry Mint Lemonade!
Click here for my Strawberry Detox Lemonade, another great homemade lemonade recipe!
Social Buzz

Ingredient Selection Tips
Lemon
A nice-looking yellow lemon, with a characteristic "lemonade" smell, guarantees that you are looking at fresh, mature fruit. Avoid tinges of green as these are probably underripe, and also very pale ones. The best lemons for juicing are those with smooth, thin skin.
Blackberries
Dark blue almost black looking fruit, with a sweet and sour taste, is a perfect choice and can be found in your local grocery store during summer. Fruit with more red berries than black has a more sour taste. If the fruit is softer, and darker in color it is sweeter and more mature.
Honey
Be sure to look for honey that is only one ingredient, and raw is most preferable as pasteurized honey likely removes antioxidants, antibacterial properties, and more.
The recommendation below is local to me in Central Florida. You will want to try to find honey that is local to you.
Noteworthy Health Benefits
Lemon
This yellow fruit is widely used throughout the world, primarily for its juice. Lemon peel can also be used for culinary and non-culinary purposes. Fruit with a beautiful floral scent is rich in vitamin C, fiber, and various plant compounds. Lemons are often promoted as a weight-loss food and can prevent kidney stones. Lemons contain some iron, and because they contain vitamin C and citric acid, they protect against anemia by ensuring that you absorb as much iron as possible from your diet.
If you want to find out more about the benefits of incorporating lemon into your everyday diet, check out this article!
Blackberries
Blackberries are full of essential nutrients and antioxidants. Rich in vitamin C, they provide almost 35% of an individual's recommended daily intake of this vitamin. Vitamin K, along with vitamin A supports the immune system, bone, and eye health. Consuming blackberries can improve cognitive and motor skills.
Blackberry Mint Lemonade: some nutritional tips
Carb-restoring Honey
Honey is the largest container of carbs in this Frozen Blackberry Lemonade, followed by blackberries and lemon. Honey is still metabolized as sugar, though there are more nutritious benefits to honey. Even with its high sugar content, it is far better than most store-bought lemonade. With its high quick releasing carbohydrate content, this drink is best suited for endurance athletes and active individuals with sugar tolerance.
Additional Meal Tips for Weight Loss
While this may not be the best choice beverage for weight loss, it is a much better alternative to most other caloric, sugary drinks such as soda and store or restaurant-bought lemonade. While you should aim for more weight loss conducive foods (foods that are as nutritious and filling as possible), having less than ideal foods and beverages on occasion is totally okay! This Frozen Blackberry Lemonade is low in calories as well, so as long as you drink it in moderation and do not have a sensitivity to sugar, it should not impede your efforts.
Additional Meal Tips for Endurance
This Frozen Blackberry Lemonade is an excellent source of quick sugars before and/or after moderate to intense workouts. It's also very cold, helping you cool down. The lemon juice is full of electrolytes to help hydrate you! Be sure to have a little protein as well to help you aid in recovery.
Additional Meal Tips for Building Muscle
This recipe isn't very conducive to building muscle (it is lacking protein), but that doesn't mean you can't enjoy this beverage to cool off after a great workout! It is definitely better to aid cardio workouts, versus strength training.
Additional Meal Tips for Improving Health
The best health benefits from this beverage are from fruit, but raw honey has many benefits as well. However, like most sugar (honey breaks down into sugar), you should consume it in moderation. The American Heart Association's recommendation is to limit your sugar to 25 – 36 grams daily, while the USDA has a higher recommendation.
Diet Preference Tweaks
Vegan / Fully Plant-Based
You can easily turn this drink into a vegan by replacing the honey with some other healthy sweetener like Agave or Grade A Maple Syrup.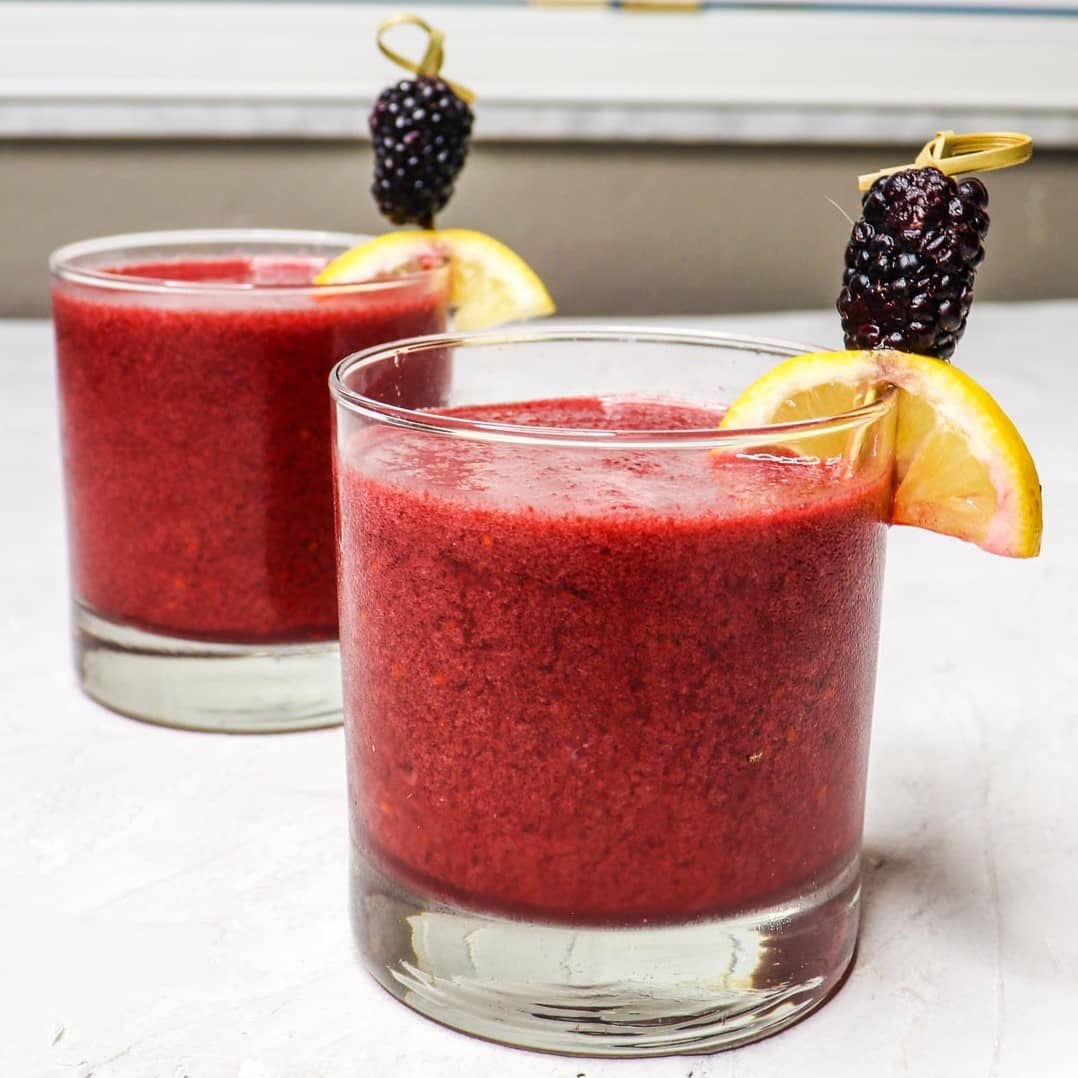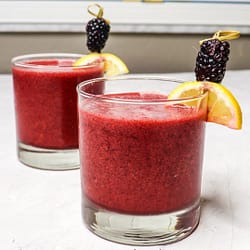 Blackberry Mint Lemonade
Yum
Post-run cooling and carb-restoring homemade Blackberry Mint Lemonade 🍋 ! Are you hitting the streets and trying to beat the heat!? This refreshing recipe will cool you off and tastes like an amazing mocktail!
Instructions
Blend in blender and serve!

Decorate with fresh mint leafs! (optional)
Notes


Nutrition
Nutrition Facts
Blackberry Mint Lemonade
Amount per Serving
% Daily Value*
* Percent Daily Values are based on a 2000 calorie diet.
❤️❤️Read About Me for details about my health journey; and, make sure you remember to sign up for my Newsletter and follow me on social❤️❤️!

Supporting me is appreciated as I create content to support your health journey.


Enable Notifications
OK
No thanks