Vegan Pineapple Tofu Curry *: the perfect healthy comfort food! This recipe is super nourishing, fresh, simple, and quick to make, with just 10 minutes to prep all the ingredients (click here for other quick dinner recipes). Plus, this recipe does not require curry paste!
You can enjoy this sweet and spicy Thai recipe whenever you want, as it is ideal for both a fancy Summer dinner and also for a quick and fresh lunch!
* For a fully vegan recipe, swap the fish sauce with soy sauce, and use agave syrup in place of honey.
Vegan Pineapple Tofu Curry: a balanced plant-based recipe
Not to toot my own horn, but this Vegan Pineapple Tofu Curry is one of the best Curry recipes you can find out there! Let's see why.
First of all, it is -as with all my other recipes- macro-balanced and complete with all the micro-nutrients our body needs to thrive. The crispy tofu is rich in proteins, the coconut milk is full of good fats, and the different types of veggies added to the dish help us to "eat the rainbow" and reach our daily intake of minerals and vitamins.
Second, I managed to achieve the perfect balance of sweet and spicy in this Thai-inspired recipe. The pineapple and agave syrup (or honey) add sweetness and tanginess to the dish, while the combination of dry seasonings (herbs and spices) balances out the overall flavor of this curry recipe.
Third, for this recipe, you do not need any fancy and expensive curry paste! Indeed, I managed to create my own curry mix, which is not only cheaper, as you can prepare it in bulk, but it is also easier to adapt to our own personal liking.
Finally, this recipe is incredibly versatile: you can swap the veggies according to the seasonality of the ingredients and your own taste, and you can top it with either green onion, diced cashew, or, for a fancier dish, some crispy onion!
You just need to try it and let me know how you liked it in the comments!
Social Buzz

Ingredient Selection Tips
Pineapple
When buying a pineapple, three qualities indicate that the fruit is fresh: these are its color, its smell, and its consistency. Fresh pineapple should have a light brown-yellow color. At the same time, a slightly sweet scent is a good indicator of freshness and maturity. The leaves on top of the pineapple should be bright green. If the fruit is slightly soft to the touch, the pineapple should be ripe and sweet.
Honey
Prefer buying honey from a certified manufacturer, that follows good manufacturing practices. In addition, opt for honey that does not contain any added corn syrup or additives. Different types of honey have different colors and flavors, but one of the characteristics they have in common is crystallization.
A good test for this is to put a small amount of honey in a bowl and pour some cold water over it and then rotate the bowl with a circular motion so that the water and honey mix together. If you have good quality honey, it will form a sort of honeycomb at the bottom of the pot.
Noteworthy Health Benefits
Pineapple
Pineapple is very low in calories and is also loaded with antioxidants and different types of minerals and vitamins. For example, it contains vitamin C, B6, iron, manganese, copper, magnesium, folate, riboflavin, niacin, and the list goes on. Due to all these precious nutrients, pineapple has great anti-inflammatory properties, and it helps to reduce the oxidative stress caused by free radicals. It may also boost immunity, lower inflammation levels, and ease symptoms of arthritis.
Tofu
Tofu contains is rich in proteins and in essential vitamins and amino acids. Among them are vitamin A, iron, magnesium, manganese, phosphorus, selenium, and zinc. Because of them, tofu can lower the risk of heart disease and diabetes. In addition, the isoflavones found in soybeans may increase bone mineral density and improve memory, attention, and brain functioning.
If you would like to find out more about tofu, check out this article!
Curry
Curry powder contains powerful antioxidants, which may help lower blood sugar levels and improve overall brain health. Besides, it has great antibacterial and antifungal properties and can even boost digestive health.
Want to know more about the amazing benefits of cinnamon? Here is an article for you! 5 Health Benefits of Cinnamon, The Most Loved Autumnal Spice!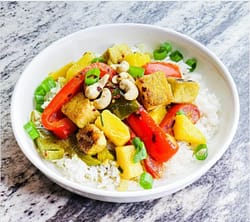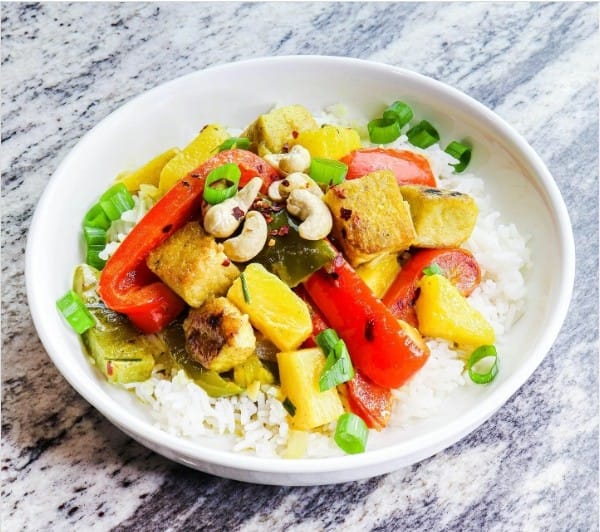 Sweet & Spicy Thai Pineapple Curry with Crispy Tofu
Yum
Vegan Pineapple Tofu Curry: the perfect healthy comfort food! This recipe is super nourishing, simple, and quick to make, with just 10 minutes to prep all the ingredients.
You can enjoy this sweet and spicy Thai recipe whenever you want, as it is ideal for both a fancy dinner and also for a quick lunch!
Instructions
Heat the pan over medium-high with some sesame oil.

Powder the tofu cubes with some arrowroot. Add them to hot pan.

Cook until the tofu is easy to flip. Brown as many sides as you want.

Remove the tofu and wipe out pan.

Add more sesame oil to the pan. Saute the bell peppers, jalapenos, garlic, and until the latter is translucent.

Turn the heat down to low.

Add the coconut milk, dry seasonings, fish sauce, lemon grass, pineapple, and honey. Bring to a simmer, and simmer for a few minutes.

Add the tofu to the pan and simmer a few more minutes.

Serve with optional diced green onion and/or cashews.
Notes

Nutrition
Calories:
316
kcal
Carbohydrates:
25
g
Protein:
13
g
Fat:
19
g
Saturated Fat:
4
g
Polyunsaturated Fat:
8
g
Monounsaturated Fat:
6
g
Sodium:
410
mg
Potassium:
593
mg
Fiber:
5
g
Sugar:
10
g
❤️❤️Read About Me for details about my health journey; and, make sure you remember to sign up for my Newsletter and follow me on social❤️❤️!

Supporting me is appreciated as I create content to support your health journey.