Did you know that the "golden root" (a.k.a. turmeric) is an excellent anti-bloating food? Let's discover what is the connection between turmeric and bloating, and how to make a foolproof anti-bloating drink using turmeric powder! But first, let's unpack the main health benefits of this incredible ingredient!
5 Amazing Health Benefits of Turmeric: fight inflammation and improve your memory!
Lessening inflammation, fighting free radicals, and relieving pain: the health benefits of turmeric are truly amazing, to the point that this spice can be considered a real superfood. Much of the credit for this goes to a powerful active compound that is abundantly found in the turmeric root, curcumin.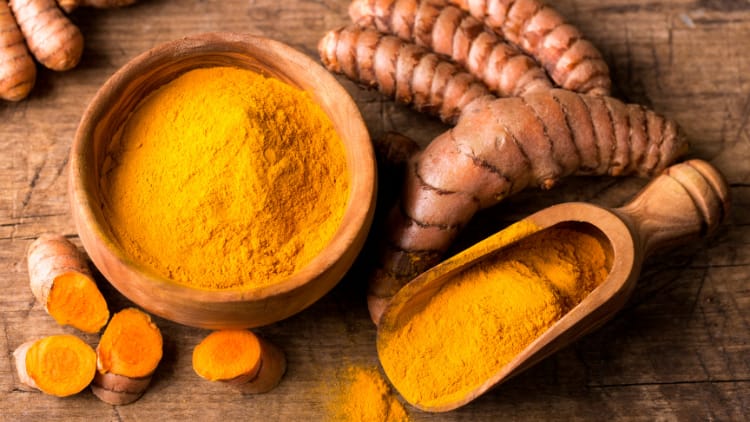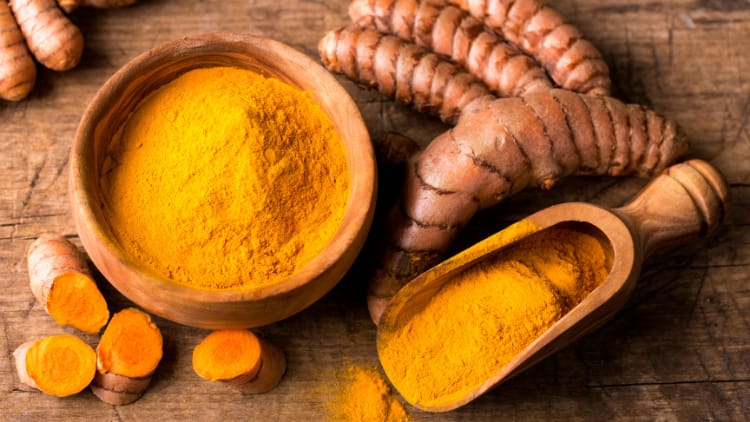 How to boost the bioavailability of curcumin 💛 📈
Although curcumin is renowned for its excellent anti-inflammatory and antioxidant properties, always keep in mind that curcumin is generally poorly absorbed into our bloodstream. This is why, in order to fully experience all the health benefits of curcumin we will see in a while, we need to improve its bioavailability (the rate at which the body absorbs an active compound).
In order to do that, we can either add a pinch of black pepper to our food, as the piperine contained in it can enhance the absorption of curcumin up to 2,000%, or consume turmeric with a meal high in healthy fats. The reason for this is that the molecules in curcumin break down and dissolve faster in oils or fats, and this is key to maximizing their absorption.
The same recommendations are true also in case we decide to consume turmeric supplements. Although the concentration of curcumin in them is generally higher than in turmeric root, these tricks can massively help with its absorption!
Having said that, let's have a look at the 5 amazing health benefits of turmeric!
1. The incredible anti-inflammatory properties of turmeric
Curcumin in turmeric has been shown to inhibit cyclooxygenase-2 (COX-2), lipoxygenase (LOX), and inducible nitric oxide synthase (iNOS). COX-2, LOX, and iNOS are important enzymes that mediate inflammatory processes. In turn, chronically high levels of inflammation in the body might lead to severe health conditions, such as heart disease, metabolic syndrome, Alzheimer's disease, and even several types of cancer. This is why regular consumption of turmeric might reduce – to different degrees – the probability of suffering from any of these chronic conditions.
2. The role of turmeric in fighting oxidative stress
Turmeric can improve the body's ability to fight the action of free radicals, i.e. highly reactive molecules that can speed up the oxidative processes in our cells, leading to the much-feared premature aging. In addition, studies suggest that curcumin may also facilitate the activity of other antioxidant compounds naturally present in food and in our organisms.
3. Boost your memory with turmeric
Few people know that turmeric can actually be a wonderful aid in boosting memory and fighting degenerative processes in the brain. Indeed, studies have shown how curcumin might increase levels of the brain hormone BDNF (brain-derived neurotrophic factor). This is, in turn, responsible for promoting the growth of new neurons and fighting various neurodegenerative diseases. Not surprisingly, many common brain disorders – including Alzheimer's disease – have been linked to decreased levels of BDNF protein. Although the effects of turmeric on brain functioning seem highly promising, more studies on humans are needed to confirm this positive link.
4. Lower the risk of suffering from heart diseases
Did you know that curcumin might significantly reduce the risk of suffering from heart disease and, at the same time, reverse pre-existing coronary conditions? Among the main reasons for this is the fact that curcumin might improve the function of the lining of blood vessels, the endothelium. Indeed, endothelial dysfunction might lead to blood clotting, and high blood pressure, both of which are major drivers for heart diseases. Moreover, as said above, curcumin can help reduce inflammation and oxidation in the body, both of which play a significant part in chronic diseases, including heart-related ones.
5. A glowy and plump skin using turmeric powder
When applied topically, the antioxidant and anti-inflammatory compounds in turmeric can contribute to fighting skin conditions, such as acne and psoriasis, heal and lighten wounds, and even add glow to the skin. For an illuminating and plumping face make, all you have to do is mix 2 tablespoons of Greek yogurt, with a teaspoon of honey, and one of turmeric. Apply to the face, leave it on for at least 10-15 minutes, and then rinse the face carefully! Keep also in mind that turmeric might temporarily stain the skin but this should not be an issue as long as you are not allergic to it!
Last but not least, turmeric might significantly relieve stomach bloating and speed up digestion. Let's dig deeper into this!
Turmeric and Bloating: here is why curcumin can help with stomach bloating and slow digestion!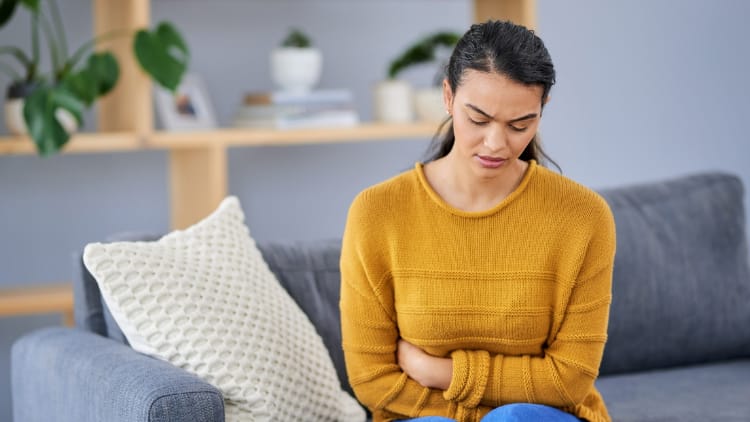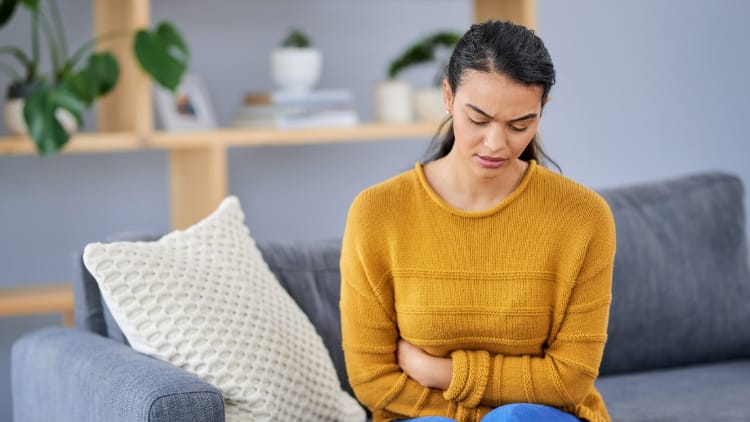 Among the most incredible health benefits of turmeric is certainly its role in alleviating stomach bloating, especially if this is associated with chronic inflammatory conditions such as IBS (irritable bowel syndrome). The reason for this is that curcumin in turmeric contributes to regulating the mediators of cellular inflammation. In particular, curcumin might reduce the levels of interleukin-6 (IL-6) in IBS patients.
Similarly, turmeric might also help with bloating related to hormonal imbalances – first and foremost the bloating linked to the menstrual cycle – by hindering the estrogen signaling pathways. This translates into less fluid retention, less bloating, and less abdominal discomfort. In addition, the curcuminoids can act as natural pain delivers against the most common PMS symptoms (such as bloating, headaches, breast tenderness, and cramping).
Lastly, turmeric might help speed up digestion by stimulating the production of bile in the liver. In turn, bile covers a pivotal role in promoting faster digestion, breaking down fats, alleviating stomach cramps, and stimulating the natural detoxifying processes in the body.
As you can see, regular consumption might effectively reduce the bloating caused by different health conditions, including IBS, hormonal imbalances, and slow digestion.
How to make a foolproof debloating turmeric and ginger tea 💛
Here is my recipe for a foolproof debloating turmeric and ginger tea.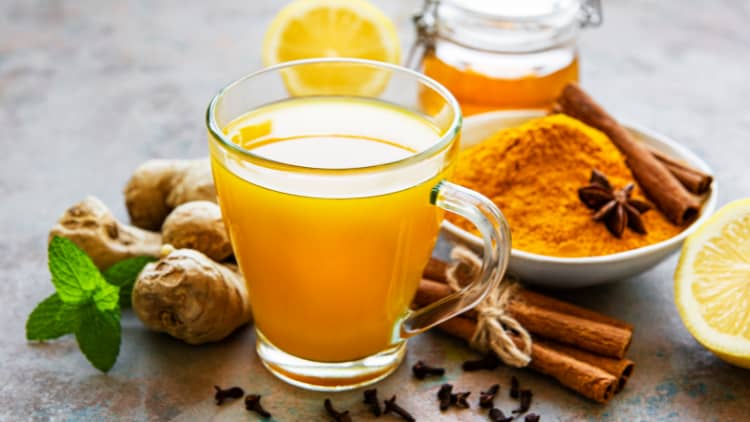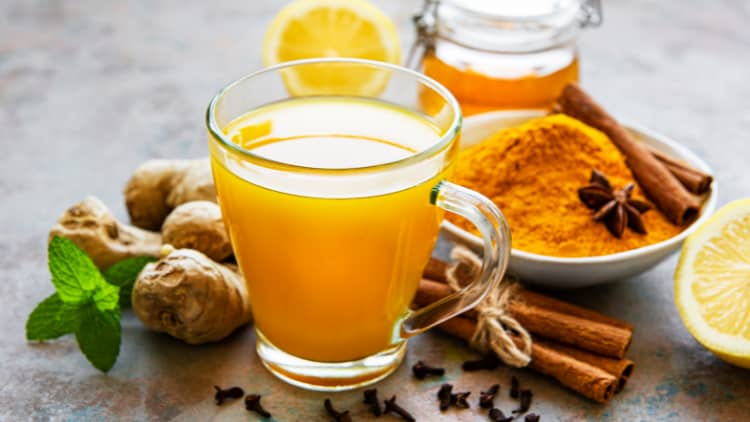 All you need for 4-5 servings of this debloating turmeric drink is:
3 c water
1 chunk fresh ginger, peeled (or 1 tsp ginger powder)
2 cinnamon sticks (or 1 tsp ground cinnamon) – cinnamon is another great anti-inflammatory and antioxidant ingredient
1 tsp ground turmeric, better if organic (or 1 chunk of turmeric root, peeled)
½ tsp black pepper
3 fresh lemons (freshly squeezed)

Once you have these ingredients at hand, all you have to do is:
Slice the peeled ginger into thin slices. Add the ginger and water into a large pot and bring it to a boil. Then turn to low heat and let everything simmer for about 10-15 minutes.
Add the cinnamon sticks (or ground cinnamon), the powdered turmeric (or peeled root), and the black pepper. Let everything simmer on low heat for another 10 minutes.
Remove from the heat, let the drink cool down, and strain with a fine-mesh strainer or cheesecloth.
Drink it as a shot, or add some hot water (or lemon juice) to enjoy this debloating beverage as tea!
Mouthwatering recipes containing turmeric
Are you looking for some easy and delicious ways to incorporate more turmeric into your diet and reach the recommended daily dose of 0.5-1 gram? Here are some mouthwatering recipes for you!

Hope you have found this article on turmeric and bloating useful and insightful! If yes, make sure to share it with your family and friends, and follow me on my socials. All the links are down below! 💗💗
Social Buzz