Anti-inflammatory, high in protein, and energizing: boost your health with this Blueberry Kale Smoothie! A Pegan recipe (i.e. paleo plus vegan) with a great taste and all the micro and macronutrients that support our long-term health. 🌸
This anti-inflammatory smoothie is also completely sugar-free, as the bananas and dates in it are naturally sweet. Plus, it is rich in fiber (almost 22 grams, which is more than half of the recommended daily intake). In turn, fiber is essential for promoting regular bowel movements (IYKYK 🤣), as well as preventing glucose spikes in the blood.
But there is more! Introducing more anti-inflammatory foods into our diet can improve and prevent several health conditions, such as diabetes, certain forms of cancer, as well as coronary diseases. Indeed these are all caused by a general state of inflammation in the body. In addition, this blueberry kale smoothie is quite high in protein (almost 46 grams) and healthy fats. Both of these contribute to making us feel fuller for longer, which is key in promoting weight loss and management.
I personally love to consume this smoothie in the morning, as it helps me to start the day on the right foot! 🌞 However, it can also make for a satisfying mid-afternoon snack or an excellent post-workout. If you prefer a thicker consistency, just reduce the quantity of almond milk and serve the kale blueberry smoothie in a bowl. Then top it with some goji berries, rich in antioxidants and vitamin C. And if you are wondering whether you need a super professional -and expensive- blender for making this smoothie, don't worry, I got you. Here is a low-budget blender that actually works very well!
Blueberry Kale Smoothie: the magic anti-inflammatory ingredients in it!
Don't trust who tells you that you need some expensive supplements to support your immune system and reduce inflammation in the body! Indeed, food is our first medicine and has a pivotal role in preventing several diseases and supporting our overall well-being. This anti-inflammatory smoothie is a primal example of this. Let's see why!
Kale.
One of the greatest health benefits of kale is its action against free radicals. These are among the leading cause of cell aging, and many other degenerative diseases, including cancer. Indeed, like all the other types of dark green leafy veggies – such as spinach, watercress, and Chinese cabbage – kale is rich in powerful antioxidants, i.e. substances that help counteract oxidative damage by free radicals in the body. In addition, kale is rich in calcium, a mineral that can help promote stronger bones and teeth and prevent osteoporosis. To learn more about the amazing health benefits of kale, consider reading this article.
Blueberries.
Blueberries are packed full of antioxidants, which play a key role in preventing oxidative stress and inflammation in the body. Moreover, they are high in several vitamins and minerals. Among them are vitamin C, known for boosting the immune system, vitamin K, which plays a key role in blood clotting, and manganese, which is essential for the normal functioning of the brain and nervous system.
Turmeric.
Tumeric is a true superfood, as it contains curcumin. This is a substance with powerful anti-inflammatory and antioxidant properties. Indeed, it has the power to suppress some molecules that can play a major role in creating inflammation in the body. However, don't forget that to increase the bioavailability (i.e. the actual absorption) of the curcumin found in turmeric, you have to pair it with a small dose of black pepper. This is why I highly suggest doing the same with this smoothie! A teeny tiny sprinkle is more than enough! If you want to know more about Turmeric, I have an excellent article for you! Check it out here!
Protein powder.
Protein is an essential macronutrient that helps build muscle, repair tissue, and make enzymes and hormones. However, some of us might struggle to reach the recommended daily dose of this critical macronutrient. (which is around 0.8-1.0 grams per kg of body weight). This is where protein powder can come in handy!
Almond butter.
Natural almond butter (i.e. made with just almonds and without the addition of salt, preservatives, or any type of sugar) is a true powerhouse of nutrients! First of all, it contains healthy monounsaturated fats. These can help to lower LDL ("bad") cholesterol and raise HDL ("good") cholesterol. In addition, it is rich in Omega-3 fatty acids, which can improve heart health and lower the risk for heart disease, as well as vitamin E, overall great in reducing inflammation in the body.

I hope you will try this amazing anti-inflammatory Blueberry Kale Smoothie! If yes, please let me know and tag my socials (all the links are down below)! 💗.
And if you liked this smoothie recipe, you might also be interested in trying these. Coconut Smoothie Bowl, Coconut Lime Smoothie. Berry and Beet Smoothie, and Matcha Green Smoothie. As well as my 9 Pegan Diet Smoothies Recipes.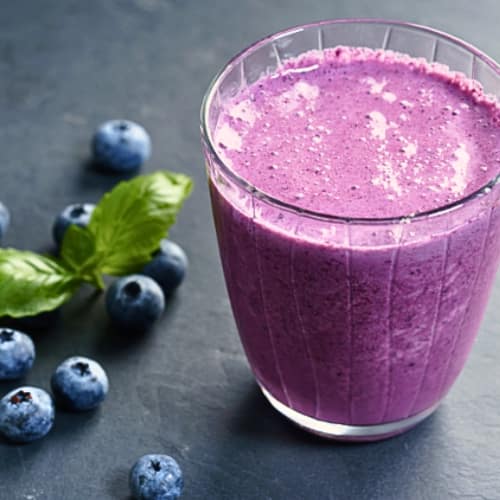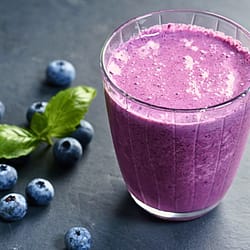 Blueberry Kale Smoothie
Yum
Anti-inflammatory, high in protein, and energizing: boost your health with this Blueberry Kale Smoothie! A Pegan recipe (i.e. paleo plus vegan) with a great taste and all the micro and macronutrients that support our long-term health. 🌸
Instructions
Blend all the ingredients and enjoy!
Notes

Nutrition
Nutrition Facts
Blueberry Kale Smoothie
Amount per Serving
% Daily Value*
* Percent Daily Values are based on a 2000 calorie diet.
❤️❤️Read About Me for details about my health journey; and, make sure you remember to sign up for my Newsletter and follow me on social❤️❤️!

Supporting me is appreciated as I create content to support your health journey.


Enable Notifications
OK
No thanks