This Berry and Beet Smoothie is Pegan-diet compliant, nutrient-dense, and great for weight loss. With minimal effort, you will have a healthy and delicious breakfast or snack!
Why is the Berry and Beet Smoothie Good for You?
This amazing Berry and Beet Smoothie contain some of the most nutritious and wholesome ingredients for our overall health.
Berries are one of the greatest sources of antioxidants – such as anthocyanins, ellagic acid, and resveratrol – next to pomegranates, which are likewise present in this smoothie. In addition to protecting your cells, these plant compounds may also reduce disease risk. I then opted for frozen berries, as they are better for texture and, most importantly, more nutrient-dense than fresh ones.
Another key ingredient of this smoothie is beets. Similar to berries, they are rich in antioxidants and vitamins and can help us to reach our daily suggested veggies intake.
Besides, the chia seeds contained in the smoothie are packed with Omega3 in the form of alpha-linolenic (ALA) fatty acids. These fatty acids are essential for optimal brain functions and for the health of our skin, hair, and nails. Beauty truly comes from what we eat! If you want to know more about the amazing benefits of chia seeds, here is an article for you!
Last, is tofu, which not only improves the smoothie's texture but also boosts its protein content. Among other very important functions, proteins are essential for both weight loss and muscle building and repair.
Therefore, I cannot wait for you to try one of my most nutrient-dense and easy smoothie recipes!
See if the Pegan Diet is right for you, here. I did a 30-day challenge and you'll see my opinion on my experience as well!
Social Media Channels

Ingredient Selection Tips
Beet
If possible, opt for firm beets with unblemished skin and bright green leaves. Prefer those with small or medium size, smooth and colorful roots and without any cuts. If properly stored, beets can last to 15 days.
Avocado
The rich, dark green color indicates that the avocado is mature and ready to use. If the avocado yields by the gentle touch of your fingers, it means that it is ripe and ready to use. Instead, if you are planning to use fruit in the next 4 to 6 days, select the greener and firmer ones.
Noteworthy Health Benefits
Beet
Beets are low in calories while at the same time being full of nutrients, valuable vitamins, and minerals. They are particularly rich in folate, essential for heart health, and copper, a mineral required for the synthesis of certain neurotransmitters. They also have the ability to decrease elevated blood pressure levels and improve digestive health. The nitrates contained in beets can promote the dilation of blood vessels and increase blood flow to the brain, thus improving brain health and function.
Avocado
Avocado is rich in many nutrients, including healthy fats, vitamin E, vitamin C, vitamin B6, magnesium, potassium, and fiber. The nutrients contained in avocados are essential for the immune system, for gut health, and for reducing the risk of heart disease. This fruit is also a concentrated source of healthy fats, essential for optimal health and the overall quality of our diet.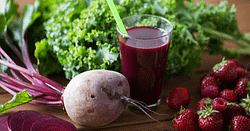 Berry and Beet Smoothie
Yum
This Berry and Beet Smoothie is Pegan-diet compliant, nutrient-dense, and great for weight loss. With minimal effort, you will have a healthy and delicious breakfast or snack!
Instructions
Put all the ingredients into a blender.
Notes

Nutrition
Calories:
497
kcal
Carbohydrates:
57
g
Protein:
22
g
Fat:
23
g
Saturated Fat:
3
g
Polyunsaturated Fat:
5
g
Monounsaturated Fat:
8
g
Sodium:
204
mg
Potassium:
886
mg
Fiber:
19
g
Sugar:
34
g
❤️❤️Read About Me for details about my health journey; and, make sure you remember to sign up for my Newsletter and follow me on social❤️❤️!

Supporting me is appreciated as I create content to support your health journey.