I'm cherry 🍒 excited about this Cherry Gorgonzola Salad w/ Lemon Mustard Vinaigrette! Cherry season is fastly approaching and you certainly don't want to be caught off guard!
This healthy salad is an alternative way to consume this amazing fruit, rich in powerful antioxidants, potassium, magnesium, and calcium. Plus, juicy cherries along with creamy gorgonzola are certainly a match made in heaven! Additionally, the shaved almonds give a crunchy element to the mix! My mouth is literally watering as I am writing. 😋
As far as the base of the salad is concerned, I opted for a mix of spinach, arugula, and lettuce. Indeed, I love to combine different types of green veggies in my dishes, as they all have different textures and flavors. As you might all know by now, I hate boring salads! 🤣
Goes without saying that also the dressing of this cherry gorgonzola salad is a true bomb! Lemon, mustard, and honey are the key ingredients for a sour-sweet vinaigrette that goes so well with the sweetness of the cherries and the tanginess of the arugula and gorgonzola. A true explosion of flavors (of course well-balanced)! 🍋 In case you want to learn more about my easy salad dressing formula, click here!
Of course, this vegetarian cherry gorgonzola salad can be easily made fully plant-based with a couple of easy swaps. For example, the honey in the vinaigrette could be replaced with an equal amount of maple syrup. Similarly, a great substitute for the gorgonzola is plant-based feta cheese.
Finally, if you want to amp up the protein content of this cherry gorgonzola salad, some chickpeas, or tempeh could easily help you do that!
The Amazing Ingredients of this Cherry Gorgonzola Salad
As I have said, this healthy salad is full of amazing ingredients. Let's have a look at some of them.
1. Cherries 🍒
Cherries are a great source of vitamin C, which is very important for maintaining our immune system. All varieties are very nutritious, rich in fiber, and full of vitamins and minerals. In particular, potassium is essential to promote the health of the nervous system and maintain good levels of blood pressure. Finally, cherries are also a good source of copper, manganese, and vitamin K.
2. Salad Greens 🥗
Salad greens are full of vitamins that support a healthy body. Rich in calcium, vitamin D, and vitamin K, these kinds of salads are associated with bone strength, preventing vision loss, and supporting heart health. In addition, green salad mix contains about 15% of the daily recommended dose of folate. This is essential in supporting a healthy pregnancy.
3. Almonds 🥜
Almonds are a great source of vitamins and minerals, such as iron, manganese, zinc, and calcium. In addition, they contain a good amount of antioxidants such as flavonoids and vitamin E, great for promoting skin elasticity and preventing wrinkles. Lastly, unsaturated fatty acids can help reduce triglyceride levels, total cholesterol, and bad (LDL) cholesterol.
4. Lemon 🍋
Lemon is a fruit rich in vitamin C, which plays a vital role in iron absorption. Indeed, pairing food rich in vitamin C with iron-rich food accelerates the body's ability to absorb iron, thus preventing anemia (iron deficiency). In addition, lemon juice is a great alkaline drink, which helps to counteract overly acidic body pH. This is incredibly important, as having a constant acid PH could lead to inflammations. In turn, inflammations can contribute to the insurgence of several health conditions, such as metabolic syndrome and cardiovascular diseases.
Overall, this salad is great for general health and weight loss goals. However, as noted above, make sure to eat some sort of lean protein on the side as well, especially if your goal is losing weight or gaining muscle! Great examples of lean protein are tofu, tempeh, grilled chicken, or tuna.
In conclusion, if you liked this recipe, make sure to share it with your family and friends! Also, let's connect on my socials. All the links are down below. 💗
Social Buzz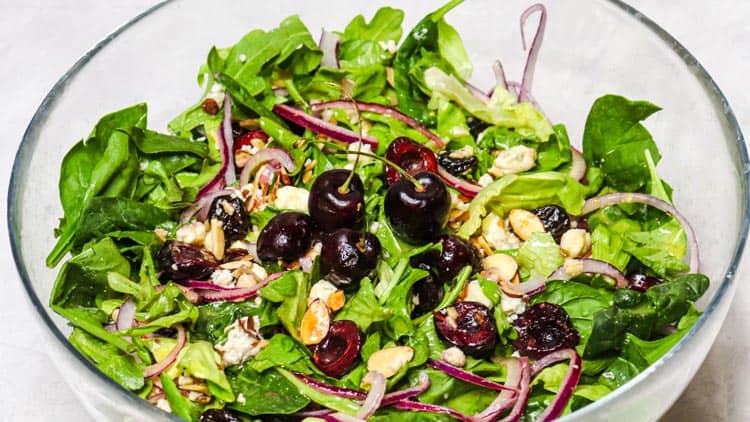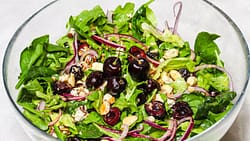 Cherry Gorgonzola Salad 🍒
Yum
This unique Cherry Gorgonzola Salad is one of my favorite salad recipes. Juicy cherries along with creamy gorgonzola are a match made in heaven! 😇 And the almonds give a crunchy element to the mix!
Ingredients
For the lemon mustard dressing:
Instructions
For the vinaigrette:
Put all the ingredients in a small bowl and mix them very carefully with a whisker. The end result should a very smooth and silky vinaigrette.
For the salad:
Wash and coarsely chop with your hands the salad, spinach, and arugula.

Add the pitted cherries (cut in quarters), the dried sugar-free cherries, the shaved almonds, and the gorgonzola.

Cover everything with the lemon mustard vinaigrette, and mix very well! Enjoy 😋
Notes

Nutrition
Nutrition Facts
Cherry Gorgonzola Salad 🍒
Amount per Serving
% Daily Value*
* Percent Daily Values are based on a 2000 calorie diet.
Social Buzz
❤️❤️Read About Me for details about my health journey; and, make sure you remember to sign up for my Newsletter and follow me on social❤️❤️!

Supporting me is appreciated as I create content to support your health journey.