Are you looking for a high in protein, gluten-free, and simply scrumptious vegan pasta recipe? Look no further! This Lemon Herb Pasta with Chickpeas and Veggies is super quick to make, kid-friendly, and can be easily adapted to any dietary requirement! 🍋🍝
---
Aromatic and flavorful, this lemon chickpea pasta is made with simple and wholesome ingredients, rich in fiber and antioxidants. Among them are lemon, lemon thyme, mushrooms, spinach, chickpeas, cherry tomatoes, and artichokes. The precious minerals contained in them will help you feel full, yet energized after your meal. No more sluggishness after eating a mouthwatering bowl of pasta!
In addition, my lemon herb pasta is a great way to load up on plant protein! The chickpea pasta (I love this one from Banza) contains around 20 grams of protein for 100 grams (less than 4 oz) and almost four times the amount of fiber found in regular, white pasta. Plus, it's gluten-free and quite low in carbs. A true bang for the buck!
To complete this balanced lemon and herb chickpea pasta dish, extra-virgin olive oil (or EVOO). Rich in vitamin E and polyphenols -i.e. antioxidant compounds that can counteract the damaging effects of free radicals on our cells-, EVOO is one of the best sources of healthy fats!
Optional, but strongly suggested, is the addition of some grated cheese on top of the pasta. This is rich in calcium and some extra protein. Alternatively, for a plant-based version, some nutritional yeast will do its job and give this lemon chickpea pasta an incredible cheesy taste!
Lemon Thyme Chickpea Pasta: 3 tips to boost its nutritional value! 💣
Did you know that, with some small tweaks, it is possible to tremendously increase the nutritional value of this lemon chickpea pasta (and of any pasta recipe for that matter)? Let's discover how! 🤗
Bulk up on veggies 🍅.
Choosing chickpea pasta is a great starting point for a healthier pasta bowl. However, this might not be enough if you are exceeding the quantities or using extra-fatty sauces. An easy solution to this? Load your pasta with lots of different veggies. Here I opted for mushrooms, spinach, and artichokes. But you can use whatever veggie is in season or left in the fridge. As far as the proportion between pasta and veggies is concerned, I would suggest aiming for a plate containing more vegetables than pasta. (Note that this might vary according to your own personal health goals). In addition, remember that the more color in your veggies, the more vitamins, minerals, and antioxidants you will consume! As I like to say: eat the rainbow! 🌈
Use fresh herbs 🌿.
I've already spoken about the importance of using more herbs and spices in the kitchen, as these are a great way to cut the amount of salt and unhealthy fats needed in your dishes. But did you know that fresh herbs are way more flavorful and packed with precious nutrients than dried ones? In this case, I opted for some fresh lemon thyme. Thyme is widely appreciated for its anti-inflammatory, antimicrobial, and antiseptic properties, and is also rich in potassium, magnesium, and vitamin C. Even if it's used in small amounts, it's a great way to boost the nutritional value of your pasta dish!
Mind the condiments (and opt for extra-virgin olive oil) 🍝.
Did you know that, with the "wrong" condiments, an otherwise nourishing bowl of pasta could become a pretty unhealthy meal? My suggestion is to always opt for light condiments, made with lots of veggies and, most of all, healthy sources of fats. Among them are, for example, extra-virgin olive oil and avocado. If consumed in moderate amounts, these are good, among other things, for balancing our hormones and having shinier hair and stronger nails. Plus, they are a great source of vitamin E and antioxidants! Did you know that healthy fats can help improve your overall health?
I cannot wait for you to try my lemon herb chickpea pasta! If you do, please tag my socials (all the links are down below). 💗 And if you are looking for other healthy plant-based pasta recipes, try this: Creamy Chickpea Pasta with Sautéed Veggies, and Creamy Lemon Zucchini Pasta.
Social Buzz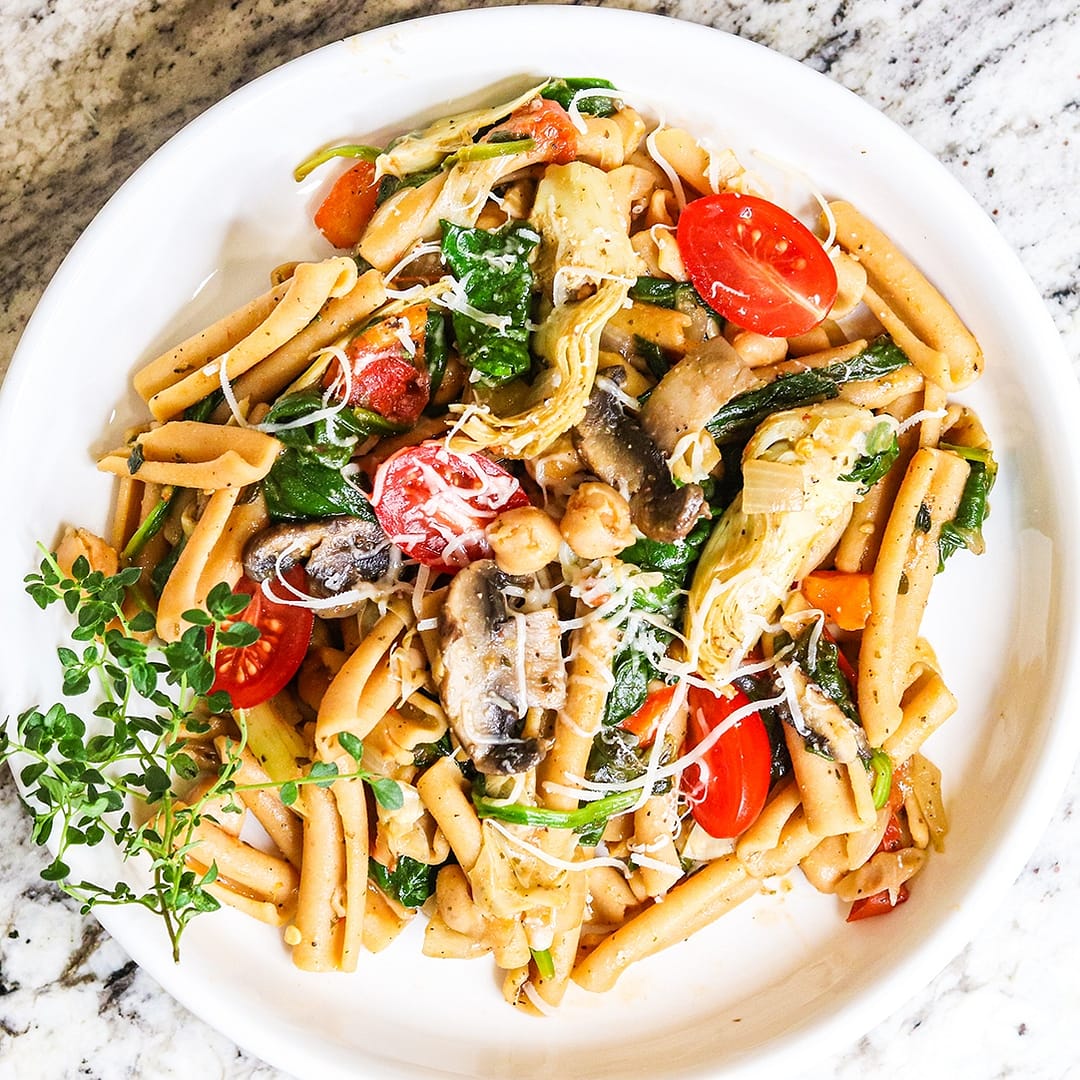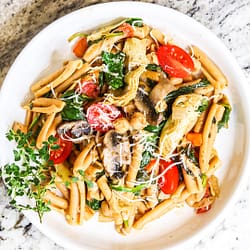 Lemon Herb Pasta with Chickpeas and Veggies
Yum
Are you looking for a high in protein, gluten-free, and simply scrumptious vegan pasta recipe? Look no further! This Lemon Herb Pasta with Chickpeas and Veggies is super quick to make and can be easily adapted to any dietary requirement! 🍋🍝
Instructions
Cook the chickpea pasta, following the instructions on the package.

Add the olive oil to the pan and heat over medium-high.

Add the artichokes and cover. Cook for about 5-6 minutes -or until the veggies start to soften (not totally cooked!)

Remove the cover and add the garlic and mushrooms. Cook until the mushrooms start to soften.

Stir in the rest of the ingredients: chickpeas, fresh lemon thyme, diced cherry tomatoes, spinach, and salt and pepper to taste.

Cook for a few more minutes to let the flavors combine together.

Serve over the pasta, garnish with some lemon thyme and a sprinkle of Parmesan cheese (or nutritional yeasy), and enjoy!
Nutrition
Nutrition Facts
Lemon Herb Pasta with Chickpeas and Veggies
Amount per Serving
% Daily Value*
* Percent Daily Values are based on a 2000 calorie diet.