Did you know that the health benefits of eating strawberries might range from improving your skin's condition to reinforcing your immune system? And that strawberries are the perfect food for pregnant women? Learn this and more in this article!
Moreover, in the end, you will find some incredible healthy dessert recipes made with strawberries! Are you ready to learn everything about this beautiful red fruit?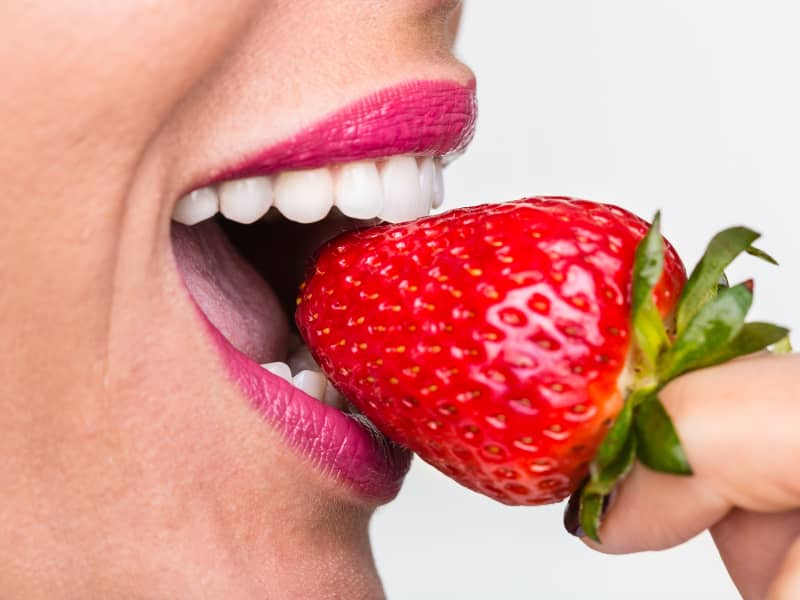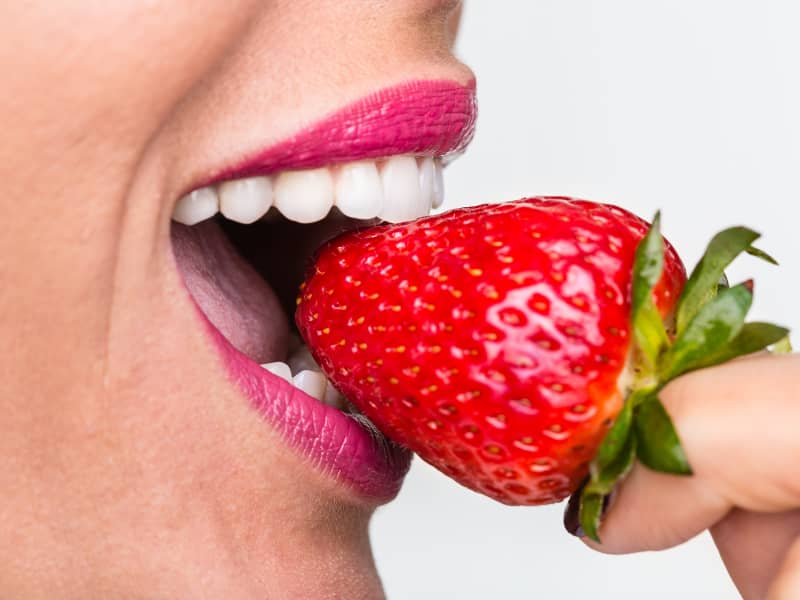 The Incredible Health Benefits of Eating Strawberries!
The health benefits of eating strawberries are so many that, by the end of this article, you will run to buy a package of this delicious fruit!
First of all, strawberries are a powerful immunity booster! This is mainly due to their high content of vitamin C – one serving contains 97 mg of vitamin C, which is more than our recommended daily intake. Indeed, Vitamin C is a potent immunity booster, as well as a powerful, fast-working antioxidant.
The antioxidant properties in strawberries may also help to prevent cataracts — the clouding over of the eye lens — which can lead to blindness in older age. Vitamin C also plays an important role in strengthening the eye's cornea and retina.
Strawberries also contain a phytochemical called ellagic acid. Ellagic acid has yielded anti-cancer properties like suppressing cancer cell growth. In addition, strawberries are also a good source of lutein and zeathancins, which have shown to be particularly effective in neutralizing the potentially negative effects of free radicals on our cells.
According to a new study, eating strawberries every day for four weeks may help improve endothelial functioning and systolic blood pressure. This result is in line with different studies confirming a consistent association between the consumption of a diet rich in strawberries and a lower risk of chronic and cardiovascular diseases, due to their positive effects on lowering LDL cholesterol levels.
The vitamin C contained in strawberries is also vital to the production of collagen, which helps to improve skin elasticity and resilience. Since we lose collagen as we age, eating foods rich in vitamin C may result in healthier, younger-looking skin. In addition, also the ellagic acid visibly prevented collagen destruction and inflammatory response — two major factors in the development of wrinkles — in human skin cells, after continued exposure to skin-damaging UVB rays.
And if this is not enough, strawberries are also a great source of folic acid. Indeed, 250 g of strawberries contain approximately 125 mg of folate, which is around 30% of the U.S. recommendation (400 mg/day). Folic acid helps the body make healthy new cells. This is why it is particularly important for women that are pregnant or want to conceive. Getting enough folic acid before and during pregnancy can prevent major birth defects in the baby's brain or spine. Strawberries are really the perfect food for pregnant women!
Last but not least, among the health benefits of eating strawberries is also weight loss and management. Strawberries are naturally low in calories (around 28 calories per serving), fat-free, and low in both sodium and sugar. This makes them a perfect snack, especially if combined with a source of protein and fats -an example could be Greek yogurt with strawberries and almond butter.
Nutrition Facts:
The nutrients in 3.5 ounces (100 grams) of raw strawberries are:
Calories: 32
Water: 91%
Protein: 0.7 grams
Carbs: 7.7 grams
Sugar: 4.9 grams
Fiber: 2 grams
Fat: 0.3 grams
Calcium: 27 milligrams (mg)
Iron: 0.68 mg
Magnesium: 22 mg
Phosphorus: 40 mg
Potassium: 254 mg
Vitamin C: 97.60 mg
Interesting Facts About Strawberries
Have you ever eaten a double strawberry? Legend holds that if you break it in half and share it with a member of the opposite sex, then you will soon fall in love with each other.
Currently, China is the world's largest producer of strawberries covering 126,000 ha producing 3 million tons of strawberries.
Did you know that strawberry leaves are edible? What's more, is that they've even been proven to relieve gastrointestinal discomfort and joint pain.
Strawberries are the only fruit with seeds on the outside. Indeed, each seed is considered by botanists to be its own separate fruit. The average strawberry has 200 seeds.
Ingredient Selection Tips
Strawberries should be consumed immediately after picking, or they can stay in the refrigerator for at least a few days. Another tip is to not leave the fruits under the water for too long when washing them, otherwise, they might become too soggy. My suggestion is to quickly wash them and immediately use a dry linen towel to remove excess water.
Ready-to-eat strawberries are soft to the touch. in addition, they have a strong red color with no traces of mold and have a sweet smell.
How to Cultivate Strawberries in Your Garden
Growing strawberries in your garden should be pretty easy. Strawberry seeds are often the easiest to start indoors. If you are starting them outdoors, start with a few strawberry seedlings. They will eventually spread to the space you give them.
Strawberries are planted from seedlings in August and early September. For the 10 days after they have been planted, it is necessary to make sure to provide them with sufficient amounts of water. Strawberries like sunny places, and flat places and tolerate compacted soil well.
The strawberries should be planted in furrows at a depth of about 7 cm, and the distance between the plants should be about 20-40 cm, depending on the lushness of the plants. Strawberries can also be planted in flower beds and the inter-row space can be covered with mulch.
Some Healthy Dessert Recipes with Strawberries
Strawberries are the perfect ingredient for nutritious breakfasts and snacks, and they are also great for making mouthwatering, but still healthy, desserts.
Check out my Strawberry Chia Seed Pudding and Strawberry Rhubarb Baked Oats

And if you want a refreshing and flavorful drink, try my Strawberry Detox Lemonade.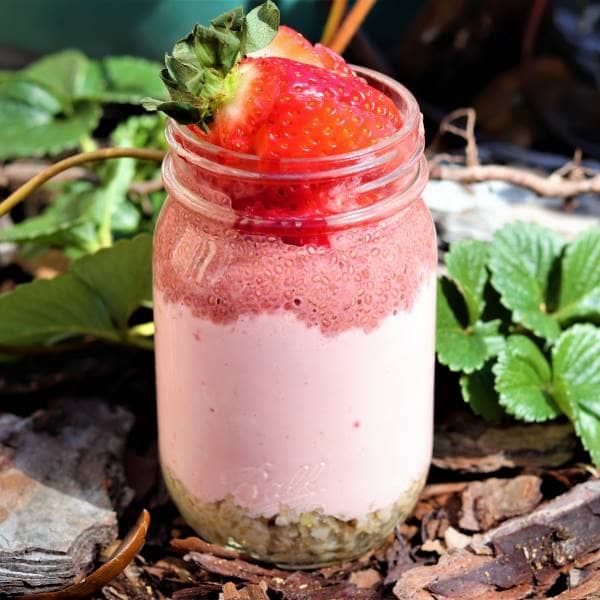 Social Buzz
Strawberry Chia Seeds Pudding
Summer is finally here and what better way to celebrate it than with this delicious Strawberry Chia Seeds Pudding!This healthy Summer parfait is super easy to make and can be prepared ahead of time for an on-the-go snack or breakfast.
Check out this recipe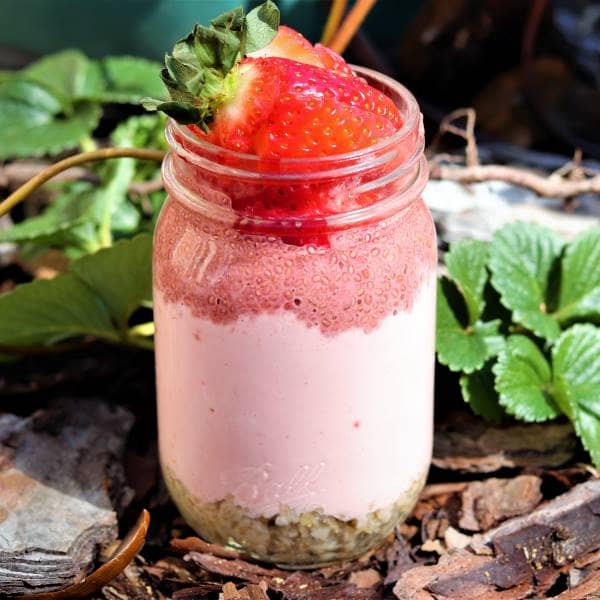 Strawberry Rhubarb Baked Oats – Breakfast Meal Prep
Gluten-free, fully plant-based, and super easy and quick to make! Plus, this recipe is low in fats and calories and has no added sugar. Prep it ahead and enjoy it on-the-go all week!
Check out this recipe
Strawberry Detox Lemonade
This strawberry detox lemonade is as delicious and refreshing as it is detoxifying for your body. Enjoy it on a hot summer Saturday, or whenever you need to detox from the night before!
Check out this recipe

❤️❤️Read About Me for details about my health journey; and, make sure you remember to sign up for my Newsletter and follow me on social❤️❤️!

Supporting me is appreciated as I create content to support your health journey.