Are you often caught in the morning rush or just find yourself in situations where cooking isn't an option? I have been there, especially when dashing to events with limited food options. It's not fun being stuck with a lackluster salad when you crave a hearty, plant-based meal. While fresh fruits are my go-to, they don't replace a well-rounded meal. That's where a prepared meal delivery service like Splendid Spoon comes in handy. In this Splendid Spoon review, I'll share my experience with their offerings and how it compares to another popular service, Daily Harvest, for those who need nutritious, vegan-friendly meals on the go.
While I often carry fresh fruit with me where I go, a meal takes a little more planning. If you don't always have time to pack a lunch or whole food plant-based leftovers from the night before, a prepared plant-based, vegan friendly meal delivery service like Splendid Spoon is both an excellent time saver but also ensures you will get some high quality nutrition.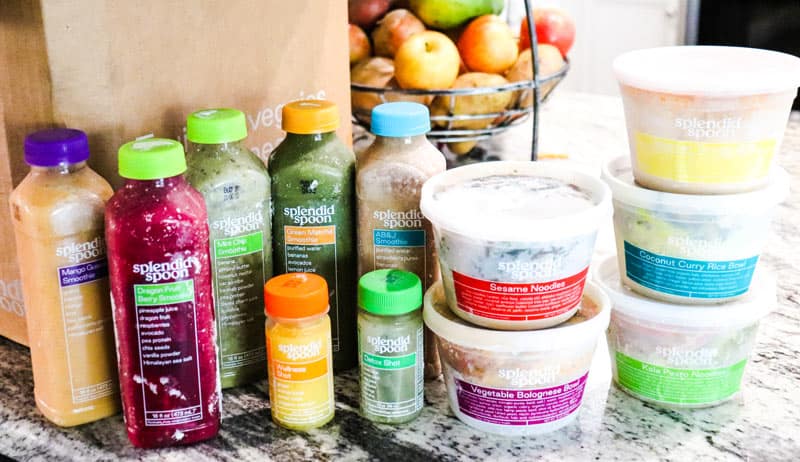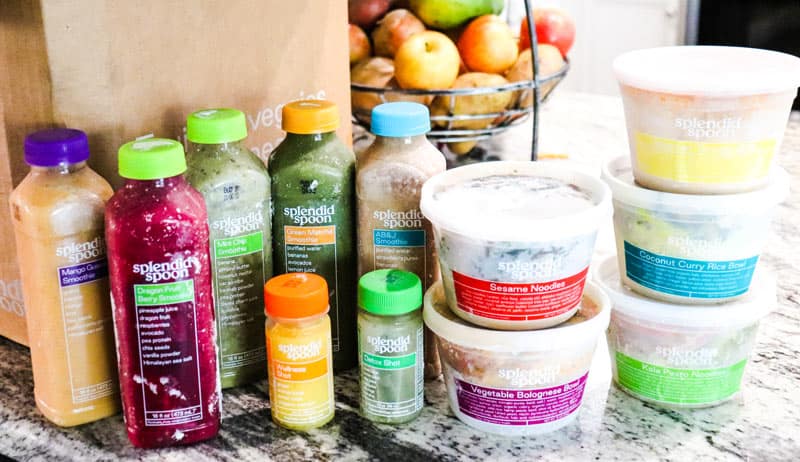 What's Included in a Splendid Spoon Box
When I received my box, I opened it and found an exciting mix of organic smoothies, bowls, and wellness shots. Everything was still frozen and was delivered in good shape. My box included five smoothies, two wellness shots, and five bowls. I see on their website you can get other delicious soups, noodles, and bowls as well!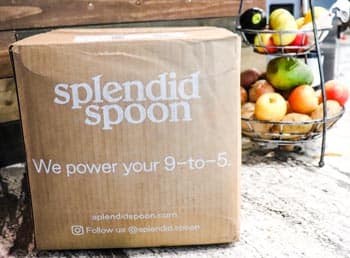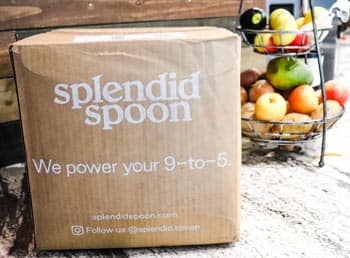 Satisfying Smoothies
Mango Guava Smoothie
The Splendid Spoon mango guava smoothie contained organic guava, banana, mango, lime, flax seeds, camu camu powder, and himalayan salt. I had never heard of camu camu powder before! Apparently, it is a superfood berry high in Vitamin C and antioxidants as well as other benefits.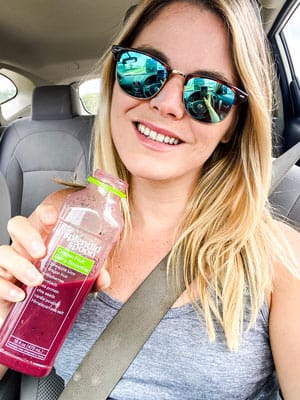 Dragon Fruit Berry Smoothie
The Splendid Spoon dragon fruit berry smoothie was one of my favorites! It contained organic pineapple juice, dragon fruit, raspberries, avocado, pea protein, chia seeds, vanilla powder, and himalayan salt. I had to look up the benefit of himalayan salt too. It says on Healthline, that it could potentially include rich mineral content and lower sodium among other benefits.
Mint Chip Smoothie
This Splendid Spoon mint chip smoothie was another one of my favorites, perhaps because it contained an ingredient I'm obsessed with… chocolate! This smoothie was full of nutrients from banana, almond butter, coconut nectar, cacao nibs, baobab powder, pea protein, swiss chard juice, vanilla, spirulina, peppermint, and himalayan salt. I love spirulina! Spirulina is a seaweed and superfood full of protein, B vitamins, copper, and iron among many other benefits. It has a very pungent seaweed flavor though, so I was impressed they were able to hide the taste of it and the swiss chard juice in this smoothie.
Green Matcha Smoothie
This Splendid Smoothie green matcha smoothie contained bananas, avocados, lemon juice, dates, hemp protein, vanilla powder, matcha powder, and spirulina. Matcha is amazing if you haven't tried it. It's basically condensed green tea powder, so it's full of antioxidants, is proven to help with weight loss, and has almost as much caffeine as coffee. This one was another one of my favorites, as I love green smoothies that taste great!
PB&J Smoothie
This peanut butter and jelly smoothie was good, but probably my least favorite. I accidentally threw away the bottle, so I only know that there is strawberry puree and bananas in this one! It's probably a safe assumption to say there is likely peanut butter or some other nut butter as well.
Delicious and Convenient Bowls
Sesame Noodles
I'm a sucker for all Asian dishes so I definitely liked this one. My husband threw the container away so I don't have a list of the ingredients. I gave him such a hard time for that!
Vegetable Bolognese
I loved the vegetable bolognese bowl! It was full of so many tasty mushrooms and veggies! It contained tomatoes, shiitake mushrooms, quinoa, onion, celery, carrots, cashews, wild rice, hemp seeds, nutritional yeast, and several spices. It was very delicious and savory.
Mexican Tomato Chili
Surprisingly, though I'm a sucker for Mexican food, the Mexican tomato chili was my least favorite. It was my least favorite only because it tasted a little bland. I added a little hot sauce though, and then it tasted great! This bowl contained tomatoes, red peppers, kidney beans, sweet potatoes, onions, carrots, celery, quinoa, ancho and chipotle peppers, and various Mexican spices.
Coconut Curry Rice Bowl
I love Indian food and I definitely love any dish with turmeric added. Turmeric is an excellent anti-inflammatory! This tasty bowl contained brown rice, kale, chickpeas, coconut milk, onion, cashews, ginger, garlic, and various other spices, which included turmeric and curry powder.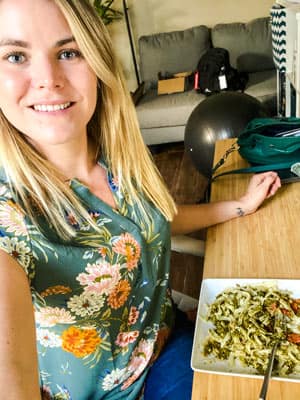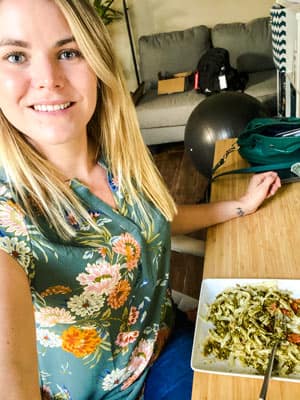 Kale Pesto Noodles
Pesto noodles are always amazing, and the addition of kale made this bowl excellent. If you love pesto as much as I do, check out this Brown Rice Quinoa Pesto Pasta recipe of mine. That recipe contains chicken sausage (my first recipe I posted in fact), but you can omit the meat if you want the dish to be fully plant-based, vegan, or vegetarian. This bowl contains kale, roasted tomatoes, almonds, cashews, hemp seeds, nutritional yeast, and several spices.
Healthy Shots
Detox Shot
This healthy shot was full of some great stuff, including organic apple juice, lemon juice, aloe juice, kale juice, moringa, and spirulina. Moringa is an Indian tree that has been used in traditional medicine for thousands of years. It is highly nutritious and full of antioxidants, as well as other good stuff. Unfortunately though, this shot did not cure my hangover last weekend. 😂
Wellness Shot
This healthy shot included organic orange juice, lemon juice, ginger juice, oregano extract, and himalayan sea salt. What I am just now learning, is that oregano is a natural antibiotic! Just now tasting this shot, I can see why it was put in a shot. The oregano flavor is quite pungent!
Splendid Spoon Review: Pros vs Cons
I really didn't have any problem with my box. However, I want you all to trust my review, so I'm going to nitpick a little bit.
Pros
Convenient, ready to heat up prepared plant-based meals
Easy to grab on-the-go
Would last a long time in the freezer
Easy to heat up the bowls – just pop in the microwave for a couple minutes
Plant protein in each meal helps keep your appetite at bay
Most of the ingredients are organic, and none of them are processed
All packaging is recyclable
Cons
Smoothies will have to sit out or in the fridge for a while to defrost before drinking, so you'll have to plan on this
Ingredients easily separate (this is natural), so you'll have to shake the smoothies up really well
I supplemented the bowls with an apple to fill me up for lunch. I have a big appetite though!
This one is really nitpicky. There wasn't any sort of note in the box. In subscription boxes, there is usually some sort of cute letter. I know this might be silly, but I really appreciate small details!
Splendid Spoon vs. Daily Harvest
When diving into the realms of Splendid Spoon and Daily Harvest, it's like embarking on a culinary adventure, but each takes you down a slightly different path. Here's a friendly little breakdown of what you might encounter along the way with each service:
Menu Offerings
With Splendid Spoon, it's like having a cozy, little nook of meal and snack options waiting for you. They keep it simple yet delightful with a selection of meals and snacks to fill your days.
On the flip side, Daily Harvest is akin to a bustling market full of varied choices. Beyond meals, they entice with desserts, non-dairy milk, and flatbreads. It's a haven for those with a penchant for exploring a bit more on the culinary spectrum.
Preparation
Both these culinary pals make life easy with minimal prep for their soups and bowls. Yet, when it comes to smoothies, Splendid Spoon hands you a ready-to-sip delight, while Daily Harvest invites you to blend a personalized concoction with their smoothie ingredients. It's a tiny bit of DIY that could be fun or cumbersome, depending on how you swing.
Meal Plans
Splendid Spoon is like that well-organized friend who helps you plan your meals with three neat options. It's a snug fit for anyone who likes a bit of structure in their meal routine.
Daily Harvest, however, is more of a free spirit, offering an a la carte style that lets you pick and choose to your heart's content, each time you order. It's all about spontaneity and variety here!
Extra Sips and Bites
Oh, and Daily Harvest has a little more up its sleeve with offerings like lattes and mylk drinks. It's like having a quaint coffee shop experience right in your own kitchen.
So, whether you're more of a planner or a spontaneous eater, whether you prefer keeping it simple or love a little variety, both Splendid Spoon and Daily Harvest have their own charm. It's all about what tickles your taste buds and fits snugly into your lifestyle!
In wrapping up this Splendid Spoon review, it's clear that this service is a valuable ally for anyone with a busy schedule. I really loved this plant-based prepared meal delivery service. While not every smoothie and bowl knocked my socks off, they were pretty darn good for a healthy meal on-the-go. I hope my Splendid Spoon review was helpful! Have you tried Splendid Spoon yet? Let others know about your experience in the comments! ❤️️