Cheesey, creamy, decadent, yet quick to make and nutritious: this is my Vegan Nacho Cheese Sauce! 🧀 I have been wanting to make my own vegan queso for ages, but the only recipes I could find involved a ton of ingredients and steps. And as a busy mom and entrepreneur, I don't always have the time to spend hours in the kitchen.
Luckily, I found this fantastic 3-ingredient vegan nacho cheese recipe that is quick and easy but never fails to deliver that irresistible nacho-cheesy satisfaction. But the best part is that everything I've used for it is packed with precious nutrients. From the heart-healthy fats of the cashews to the group B vitamins and proteins of the nutritional yeast.
So grab a blender and be ready to discover the best vegan cheese recipe you will ever try! ✨
---
Vegan Nacho Cheese Sauce: 3 ingredients and less than 5 minutes!
This vegan nacho cheese sauce will become one of your go-to recipes! It's wonderfully cheesy without the need to use any dairy, thanks to the magic combination of cashews and nutritional yeast. While cashews are widely used as a neutral base for creamy sweet and salty plant-based sauces and dips, nutritional yeast (a deactivated yeast) provides a cheesy, nutty, and umami flavor while contributing to creating a thicker, yet spreadable dip. Last, but not least, the taco seasoning brings a kick of Tex-Mex flair, making it the perfect companion for tortilla chips, nachos, or even drizzled over your favorite pasta dishes. I personally use this Homemade Spicy Nacho Doritos® Seasoning which is both easy to make and full of flavor!
My suggestion is to use a good high-speed blender for a smoother and creamier dip (I love this Vitamix blender). Also, don't forget to soak the cashews for at least a couple of hours before blending everything. Alternatively, if you forget to do it or are short on time, use some hot water to speed up the soaking process.
If the sauce is too thick, add a little more water and blend again. If it's too thin, add more cashews or nutritional yeast to thicken it up. You can then store any leftover queso sauce in an airtight container in the refrigerator for a few days. It may thicken when refrigerated, so you can reheat it gently on the stovetop or in the microwave. Remember to stir in a little water to restore its creamy consistency.
This vegan nacho cheese is also extremely versatile and can be enriched with different ingredients to create the dip that best suits your cravings. For example, you can add some fresh herbs like cilantro or parsley and some green onions to the blender for a herby and refreshing twist. Or a touch of Dijon mustard for some extra tanginess. I often sneak in some sauteed veggies and my kids won't even notice it! 😉
At this point, the only thing you need to do is make this vegan sauce yourself! And don't forget to let me know how you liked it down below in the comments! 💗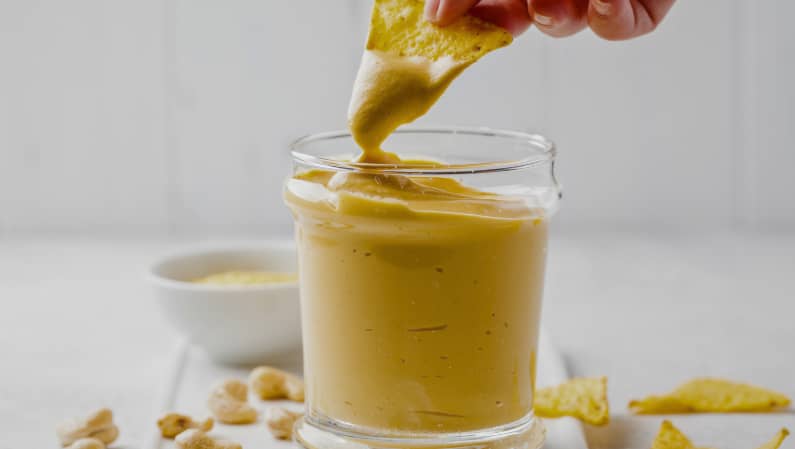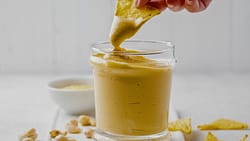 Vegan Nacho Cheese
Yum
Cashews, nutritional yeast, and taco seasoning: only three ingredients for my easy and delicious vegan nacho cheese sauce! Use it as a dip for your favorite chips, or use it as a dressing for your healthy salads and pasta dishes.
Instructions
Soak 1 cup of raw cashews for at least a few hours.

Drain the cashews and add them to a blender with a cup of water.

Blend until the sauce is smooth and creamy (it might take a couple of minutes).

Serve the vegan cheese sauce with your favorite nacho chips, or use it to top your salads or healthy pasta dishes.
Nutrition
Nutrition Facts
Vegan Nacho Cheese
Amount per Serving
% Daily Value*
* Percent Daily Values are based on a 2000 calorie diet.