Are you looking for a meatless meatloaf (a.k.a. "neatloaf") recipe, easy to make, and that does not involve the use of fake meat products? Well, here is a super-rich and flavorful vegan meatloaf, made with chickpeas, lentils, and mushrooms 🍄. This is the perfect recipe to take your plant-based menu to a whole new level!
Packed with plant-based proteins (one portion has around 23 grams of protein, mainly coming from the mushrooms, lentils, and chickpeas), this vegan meatloaf has nothing to envy its meat counterpart. Even the texture of the meatless meatloaf is pleasantly "meaty", thanks to the use of finely diced mushrooms. (Portobello, Shiitake, and Oyster mushrooms are the best ones for recreating that meat "feeling").
Moreover, this vegan meatloaf is packed with antioxidants, dietary fiber, and minerals, while being extremely low in bad (LDL) cholesterol, saturated fats, and processed ingredients. Indeed, unlike most recipes you can find online, I decided to load my meatless meatloaf with loads of veggies (such as kale, carrots, and onions) and whole food ingredients, to give you that extra boost of nutrition. The result is a vegan mushroom meatloaf with a complete nutritional profile, which makes it a great meal for everyone. Even your kids will love it!
Last but not least, this neatloaf is also great the day after. I purposely make it in batches to eat the leftovers during the week (confession time: I love it even more after a night in the fridge! 🙌 ), but you can also freeze it and then consume it later on.
Let's now have a look at the main ingredients I used in this recipe. Then, we will also learn some tricks on how to make the best meatless meatloaf!
Meatless Meatloaf: all the ingredients (+ some tricks)
Chickpeas & Lentils: a great plant-based meat substitute
Chickpeas and lentils are great meat substitutes not only for their texture but also for their nutritional profile. They are rich in protein, but do not contain all the fats and cholesterol contained in red meat. Plus, they are rich in fiber, which is particularly helpful to help us feel fuller and to speed up our digestion.
Pro tip: choose canned chickpeas, as it is easier to get a mushy meatloaf mixture out of them. In addition, the liquid in the chickpea can (i.e. the aquafaba) acts as a sort of "glue" and helps all the ingredients of the meatless meatloaf stick together.
Want to know more about the amazing benefits of chickpeas? Here is an article for you! Also, consider checking this article if you would like to find out more about the benefits of lentils!
The Staple Veggies in the Meatless Meatloaf: kale, carrots, and onions
The combination of vegetables I have used for this meatless meatloaf recipe includes kale, onion, and carrots. These are some of my go-to veggies, mainly because they are quite easy to find, affordable, and, most importantly, super nutritious.

For instance, kale is loaded with phytonutrients, anti-oxidants, pre-biotics, and fiber. All of these are great to promote faster digestion and a more diversified gut microbiome. Moreover, when consumed together, onion, carrot, and garlic can help us meet almost 80 percent of our recommended daily intake of fiber.
Pro tip: be creative with the veggies you are adding to the vegan meatloaf, as they can help to enhance its flavor profile.
Want to know more about the fantastic benefits of kale? Consider checking this article!
Let's Not Forget About the Mushrooms!
Mushrooms are great to increase the nutritional value of the dish. They are rich in immunity booster compounds, such as beta-glucans and vitamins B and D. These are also renowned for their excellent anti-inflammatory properties.
Pro tip: Portobello, Shiitake, and Oyster mushrooms are the best to recreate the "meaty" texture, typical of traditional meatloaf.
I hope you love this recipe as much as I do! If you replicate it, don't forget to tag me in your stories and share the meatless meatloaf with your family and friends 💗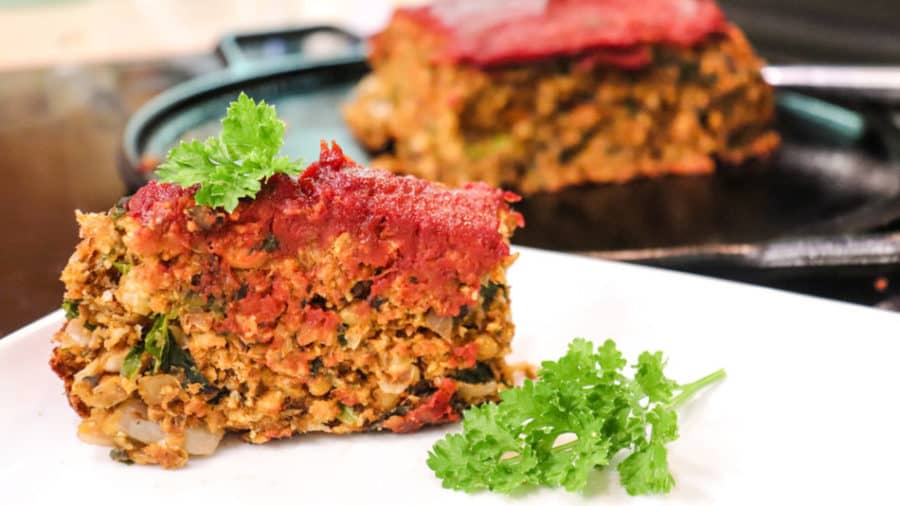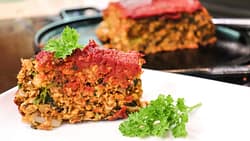 Meatless Meatloaf (Neatloaf)
Yum
This delicious meatless meatloaf (a.k.a. "neatloaf") is packed with minerals, antioxidants, and plant-based proteins!
Instructions
Preheat oven to 400 degrees.

Grease a cookie sheet or baking pan.

Heat a pan over medium high with a tablespoon of olive oil.

Add the diced carrots to the pan. Cook for a minute.

Add the diced onions and minced mushrooms and cook for a couple minutes.

Add the minced garlic and kale and cook until kale is soft and onions are translucent – about five more minutes.

In a small bowl, mix the aquafaba, baking powder, mustard, ketchup, paprika, salt, and pepper. Set aside.

Add the lentils, chickpeas, vegetables in pan, and the mixture in the small bowl to a processor. If your processor is small, you may have to process in batches.

Pulse until beans are able to bind together with the veggies (enough to form a block on the cookie sheet), while still leaving somewhat chunky. This may take about ten pulses. Add the panko and hand mix it the rest of the way to make sure everything is well combined.

Using your hands and a silicone spatula, remove the processed mixture onto the greased cookie sheet and form into a rectangular loaf. It should resemble a traditional meatloaf.

With the silicone spatula, evenly spread remaining ketchup over the top of the loaf. Sprinkle brown sugar over the ketchup.
Notes
Nutrition
Nutrition Facts
Meatless Meatloaf (Neatloaf)
Amount per Serving
% Daily Value*
* Percent Daily Values are based on a 2000 calorie diet.
❤️❤️Read About Me for details about my health journey; and, make sure you remember to sign up for my Newsletter and follow me on social❤️❤️!

Supporting me is appreciated as I create content to support your health journey.