No time to cook but craving a rich and warming pasta dish? Look no further! This one-pot chili mac and cheese is the solution for all your "pasta problems" 🍝
This healthy chili mac is the perfect trade-off between a truly comforting food and a wholesome meal. Indeed, it contains a lot of fiber and antioxidants (from the veggies) whilst being packed with plant-based protein (from the pinto and red kidney beans), which will leave you feeling satisfied but energized. Contrary to your regular pasta dish, you won't feel sluggish after eating this one-pot chili mac and cheese! 🏃‍♀️
Plus, it's super easy to turn this vegetarian one-pot chili mac into a vegan dish. Just swap the cheese with some nutritional yeast (a deactivated yeast with a pleasantly cheesy flavor), or even some slices of avocado. This is also a trick to increase the overall creaminess of this healthy chili mac.
Last but not least, cooking this one-pot chili mac and cheese also means spending less time cleaning your kitchen and pots after dinner. (let's be honest, everyone hates to do it! 🙌). As a matter of fact, all you have to do is wash and chop the veggies. Then add all the other ingredients and cook everything in an instant pot (or a crock pot). Overall, this takes less than 10 minutes… which I bet everyone has!
But how did I come up with such a nourishing and healthy chili mac? Here are all my secrets 🧙‍♀️
One-pot chili mac and cheese: my healthier version
My one-pot chili mac and cheese is not only delicious but also super healthy. Let's see why and learn some tips for making healthier pasta dishes!

High in fiber and plant-based protein

My healthy chili mac and cheese is enriched with lots of plant-based goodness. From cauliflower, a cruciferous veggie rich in antioxidants and anti-tumoral compounds to the pinto and red kidney beans, high in dietary fiber and plant-based proteins.

Adding more whole food ingredients (such as veggies and legumes) to your pasta dish will help you feel fuller for longer, prevent spikes in your blood sugar levels, and have quicker digestion. In turn, all of this is very helpful when you are trying to avoid that post-lunch slump!

For all of these reasons, I would also suggest opting for a type of pasta that is high-fiber. Personally, I love this Barilla Protein+ Elbow pasta, made with lentils, chickpeas, and pea flour – rich in plant protein and fiber.
More veggies, less pasta

A simple trick to cut down your carb intake: Just swap half of your usual portion of pasta with some good veggies. In this way, you will not only increase the overall volume of your meals, which is always great if you are following a weight-loss diet, but you will also boost the nutritional value of your chili mac and cheese!

For this recipe, I only used 100 grams of elbow macaroni pasta, and the recipe makes for 8 servings! This is the power of "volume foods", high in volume but low in calories and carbs 🙌
Low in saturated fats

My healthier chili mac and cheese are lower in saturated fats than the traditional recipe. Indeed, traditional mac and cheese recipes contain lots of high-fat cheese, rich in cholesterol and saturated fats. This is why my recipe contains only a relatively small amount of light cheese (just 2 cups for 8 portions), and you can even skip it altogether.

In place of the cheese, you can use some nutritional yeast (rich in B vitamins and proteins) to give the pasta dish that cheesy flavor. Or some slices of avocado (rich in vitamin E and healthy fats) which are great to improve the overall consistency and creaminess of the chili mac.
Lots of flavor with the right mix of spices

This is not just a regular mac and cheese. This is a chili mac and cheese! 🌶 What this means is that this pasta dish is enriched with lots of different spices and herbs. these not only enrich the overall flavor profile of the dish but also allows us to cut the amount of salt and oil that go into the mac and cheese. This is a great trick for all types of salty dishes!
If you loved this one-pot mac and cheese, consider having a look at these wholesome pasta recipes. Creamy Lemon Zucchini Pasta. Creamy Italian Chickpea Pasta with Sautéed Veggies, Roasted Veggies Chickpea Pasta, Vegan Lasagna with Tofu Ricotta and Veggies. And don't forget to tag me on your socials if you are trying them! 💗
Social Buzz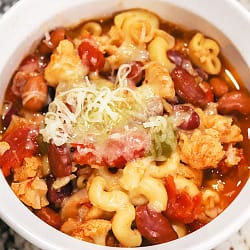 One-pot Chili Mac and Cheese
Yum
No time to cook but craving a rich and warming pasta dish? Look no further! This one-pot chili mac and cheese is the solution for all your "pasta problems" 🍝
This healthy chili mac is the perfect trade-off between a truly comforting food and a wholesome meal. Indeed, it contains lots of fibers and antioxidants (from the veggies) whilst being packed with plant-based proteins (from the pinto and red kidney beans), which will leave you feeling satisfied but energized. Contrary to your regular pasta dish, you won't feel sluggish after eating this one-pot chili mac and cheese! 🏃‍♀️
Instructions
Sautee the garlic, onion, bell pepper, and jalapenos in an instant pot (without the seal) until the onion begins to turn translucent

Turn off and add all the other ingredients (except for the cheese). Add the liquid first and the beans last to avoid burning.

Cook everything on high pressure for 1 minute (with the sealed instant pot)

Add your favorite toppings, such as your favorite light cheese (or nutritional yeast / avocado for a fully plant-based dish)
Notes


Nutrition
Nutrition Facts
One-pot Chili Mac and Cheese
Amount per Serving
% Daily Value*
* Percent Daily Values are based on a 2000 calorie diet.
❤️❤️Read About Me for details about my health journey; and, make sure you remember to sign up for my Newsletter and follow me on social❤️❤️!

Supporting me is appreciated as I create content to support your health journey.