This Chocolate Cherry Oatmeal is one of my favorite breakfasts! Super tasty, ready in less than 5 minutes, and so good for your health! It will keep you full, satisfied, and energized until lunchtime!
In addition, this recipe is part of my 5 Plant-Protein Breakfasts plan (here are more plant-based recipes). Check it out for many other healthy and delicious breakfasts for your whole family, all ready in less than 15 minutes!
How to make the PERFECT Chocolate Cherry Oatmeal?
First of all, I suggest using rolled oats: these are not only less processed than instant oats -and thus better for our health- but they also have a lower glycemic index. This means that they are better to keep you full for longer, and to curb unpleasant sugar cravings. They are also better to create a thicker and more consistent oatmel.
Second, I add a tablespoon of chia seeds. These are not only an awesome source of plant-based Omega3 but they can also be used as a natural thickener, giving a very pleasant consistency to our oatmeal.
If you want to know more about the amazing benefits of chia seeds, here is an article for you!
Last, is the addition of half a scoop of protein powder. This is great to boost the protein content of our breakfast, which is important for maintaining a healthy muscle mass and weight. Plus, it gives our oatmeal a very pleasant chocolatey taste.
Social Buzz

Ingredient Selection Tips
Cacao
Cacao or cocoa? Two similar words, hide one significant difference. Indeed, although both products have the same origin, i.e. cacao beans, the way of processing them is what makes the final products so different.
As a matter of fact, cacao refers to cacao beans that have not been roasted, while cocoa is made from roasted beans. Consequently, cacao is much more nutritious than cocoa, as it is less processed and does not contain any added sugars or preservatives.
Almond Milk
The healthier choice is always unsweetened milk, that does not contain any additives. On the other hand, try to avoid almond milk that contains gums or other thickeners, such as carrageenan. In addition, quality almond milk contains minimal amounts of sodium.
Noteworthy Health Benefits
Cacao
Cacao is rich in polyphenols, which are oxidants linked to numerous health benefits. Among them are the improvement of blood flow, and the lowering of cholesterol levels and inflammation in the body.
In addition, cacao may help improve mood and symptoms of depression, due to cacao flavanols contained in it. These flavanols may also improve the symptoms of type 2 diabetes. Cacao may also be beneficial for people with asthma.
Almond Milk
Almond milk contains fewer calories than cow milk and is a good option for reducing calorie intake. On the other hand, it includes a very high amount of vitamins and minerals, such as A, E, D, calcium, and phosphorus.
As a good source of vitamin E, it may help reduce cell stress and fight inflammation. The sodium content in almond milk helps to promote bone health and strength, by reducing the risk of osteoporosis and bone fractures.
If you want to find out more about the amazing benefits of beetroot powder, I have an interesting article for you! Beetroot Powder: A Natural Boost For Your Health and Fitness!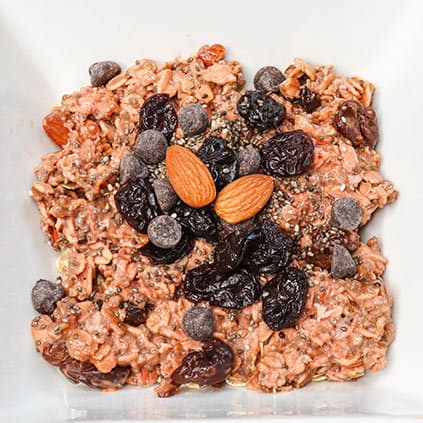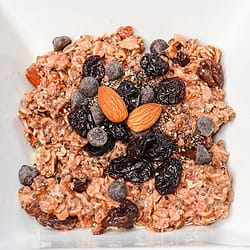 Chocolate Cherry Oatmeal
Yum
Chocolate Cherry Oatmeal: delicious, quick, and good for your health! It will keep you full and energized until lunchtime!
Instructions
Shake it and store it in your pantry.

When you are ready to eat it, add some milk and pop in the microwave for arpund 1.30 minutes. Enjoy!
Notes


Nutrition
Nutrition Facts
Chocolate Cherry Oatmeal
Amount per Serving
% Daily Value*
* Percent Daily Values are based on a 2000 calorie diet.
❤️❤️Read About Me for details about my health journey; and, make sure you remember to sign up for my Newsletter and follow me on social❤️❤️!

Supporting me is appreciated as I create content to support your health journey.


Enable Notifications
OK
No thanks