This Winter Harvest Salad is perfect to just put it into a lunch box and take to work or college. It is vegan and gluten free. It is tasteful, nutritious, and healthy. You can prepare it at the beginning of the week, store it in the fridge, and use it as an amazing side dish with falafels or chicken. You can also add the homemade dressing to this salad to make it taste even more delicious!
If you would like to know more about the amazing benefits of kale which is included in this recipe, here is an article for you! The Top 5 Health Benefits of Kale, and Why You Should Eat it Every Day!

This recipe is part of my Winter Meal Prep series, check it out for more healthy meal ideas!
Social Buzz

Ingredient Selection Tips
Pomegranate Seeds
Sometimes it can be tricky to take out the seeds in a pomegranate, and not make total chaos in the kitchen. You can find the seeds in packets in the grocery store, just make sure they are fresh. They should have bright light-red color and look juicy and firm.
Brussel Sprouts
Look for bright green and firm heads. Avoid any with black spots, as they could be a sign of fungus. Try to choose ones with smaller heads over the large ones, as those could be bitter and hard. The best time for buying and preparing Brussel sprouts is late fall and early winter, although they are available all year round.
Noteworthy Health Benefits
Pomegranate seeds
Pomegranate is a fantastic fruit. It is full of vitamin C, vitamin K, potassium, folate, and fiber. It is low in calories, and rich in antioxidants, and there are numerous health benefits of eating pomegranate regularly:
Can fight inflammation
May help fight prostate cancer
It may prevent breast cancer
May lower blood pressure
May help fight arthritis
May lower risk of heart disease
It may help improve memory
May improve exercise performance
Can help fight fungal and bacterial infec
Brussel Sprouts
Brussels sprouts are packed with fiber, vitamins, and minerals, and are low in calories. They are rich in vitamin K, vitamin A, and vitamin C.
Here are the health benefits of Brussel sprouts:
May support gut health
May reduce oxidative stress
May fight inflammation
May help protect against cancer
Supports digestive health
Supports bone health
It is important for coagulation
Maintains healthy blood sugar levels
Supports immune system
Supports eye health
Protects skin cells
Walnuts
Walnuts are a good source of healthy fats, fiber, and protein. They support our health in so many ways, and here are some of them:
They can fight oxidative stress
May reduce heart disease risk
May decrease inflammation
Promotes a healthy gut
May lower risk of some cancers
Supports weight control
May lower risk of diabetes
May lower blood pressure
Supports healthy aging
Supports brain health
Supports bone health
Thanks to healthline.com and medicalnewstoday.com for extensive information!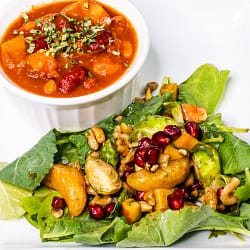 Winter Harvest Salad
Yum
This Winter Harvest Salad is perfect to just put it into a lunch box and take to work or college. It is vegan and gluten free. It is tasteful, nutritious, and healthy.
Ingredients
Dressing:
3

tbsp

Balsamic Vinegar

or apple cider vinegar (if you want to keep the fruit bright colored in the salad)

3

tsp

Honey

or agave

2

tsp

Mustard

2

tbsp

Olive Oil

extra virgin

Salt to taste

Pepper to taste
Instructions
Mix dressing ingredients in a small bowl or mason jar.

Combine all other ingredients in a large bowl.

Drizzle dressing over salad.

If you would like to store, add greens only upon serving.
Notes

Nutrition
Calories:
220
kcal
Carbohydrates:
25
g
Protein:
3
g
Fat:
14
g
Saturated Fat:
2
g
Polyunsaturated Fat:
5
g
Monounsaturated Fat:
6
g
Sodium:
86
mg
Potassium:
299
mg
Fiber:
4
g
Sugar:
18
g
❤️❤️Read About Me for details about my health journey; and, make sure you remember to sign up for my Newsletter and follow me on social❤️❤️!

Supporting me is appreciated as I create content to support your health journey.