These healthy Apple Pie Oatmeal Cookies will make your life easier! Ideal for your meal prep, you can bake them in bulk, store them in an airtight container, and take them with you wherever you go in the morning. Besides, you can freeze these cookies to make them last even longer!
The Apple Pie Oatmeal Breakfast Cookies are fully plant-based and high in protein. Plus, unlike many other healthy cookie recipes, they have no bananas in them. Although these cookies are not gluten-free, you can easily substitute whole wheat flour with almond flour, oat flour (click here to learn why oats are naturally gluten-free), or a gluten-free blend.

This recipe is part of my Winter Meal Prep for Weight Loss. Make sure to check it out for other healthy and delicious recipes, ideal for the colder months!
Social Buzz

Ingredient Selection Tips
Vanilla Protein Powder
There is an extensive selection of protein powders on the market, so you can try the one that suits you best. Always look for the no sugar or unrefined sugar option.
Apple Sauce
Always try to find unsweetened apple sauce, as there is no need for additional sugar.
Noteworthy Health Benefits
Oats
Oats are fiber-loaded, gluten-free, and very versatile in the kitchen. You can use this ingredient for making healthy breakfasts, pastries, cookies, and desserts.
They are rich in zinc, phosphorus, magnesium, potassium, copper, manganese, and iron.
A regular intake of this exceptional food can bring you several different health benefits. Here are some of them:
They can lower bad cholesterol
May lower blood sugar level
Keeps you feeling full, which is good if you are watching your weight
Eases constipation
Lower risk of colon cancer
It may have an anti-inflammatory effect
Apples
Apples contain lots of fiber, antioxidants, and vitamins.
Here are some benefits of eating apples regularly:
Apples may help lower cholesterol
They may do good for bone health
They can help lower the risk of heart disease
Apples are good for gut health
May protect against diabetes
Want to know more about the fantastic benefits of apples? Consider checking this article!
Walnuts
Walnuts are an incredible food. They are rich in omega-3 fats, and antioxidants and they are also low in carbs. 65% of walnuts are fats (polyunsaturated), and 15% are proteins, which means they are pretty high in calories.
Walnuts are also rich in copper, vitamin B6, phosphorus, folic acid, manganese, and vitamin E.
Health benefits:
Walnuts help lower the risk of heart diseases
They are good for brain health
They may prevent some types of cancer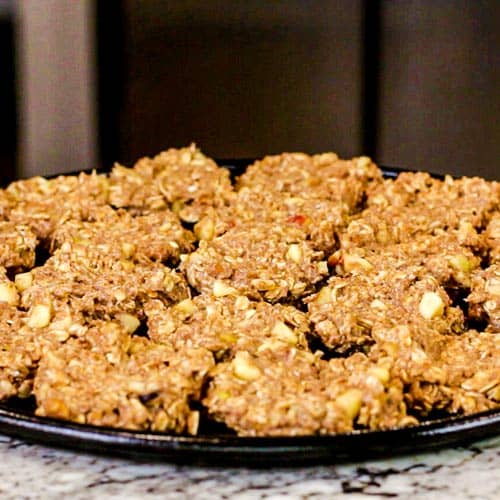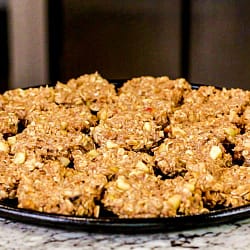 Apple Pie Oatmeal Cookies
Yum
Apple Pie Oatmeal Cookies: a healthy, plant-based breakfast. Plus, unlike many other healthy cookies recipes, they have no banana in them!
Instructions
Preheat the oven to 350° F. Line a baking sheet with parchment paper or spray it with cooking spray.

In a large bowl, add unsweet applesauce and ground flax. Mix well and wait a few minutes to allow the flax seeds to form a gel.

Add the protein powder, salt, baking powder, whole wheat flour, and apple pie spices. Mix until everything is well combined.

Fold the mixture in oats, diced apples, and walnuts.

Place the cookies on the baking sheet.

Bake for ~35 minutes at 350° F, or until the cookies are firm, and the sides and bottom are golden brown.
Notes

Nutrition
Nutrition Facts
Apple Pie Oatmeal Cookies
Amount per Serving
% Daily Value*
* Percent Daily Values are based on a 2000 calorie diet.
❤️❤️Read About Me for details about my health journey; and, make sure you remember to sign up for my Newsletter and follow me on social❤️❤️!

Supporting me is appreciated as I create content to support your health journey.