Check out this fresh and unique Watermelon Shrimp Avocado Salad – like ceviche but with steamed shrimp!
My fiancé thought it was kinda weird but it really exceeded my expectations and was quite tasty! This Watermelon Shrimp Avocado Salad is simple and excellent for a weight loss goal or just for a simple and healthy summer salad recipe, perfect for those hot days!
If you like this recipe, I suggest you try also my delicious Berry Watermelon Summer Salad!
Watermelon Shrimp Avocado Salad: a Balanced Plate for Performance Goals and Weight Loss!
This summer salad recipe is macro-balanced and complete with all the nutrients you need to achieve your health goals! Let's have a look at why it can help you to reach your performance goals and lose weight!
First of all, the lean proteins contained in the shrimps can help you in building and maintaining muscle mass. This is why they are highly suggested both for sportive people and for those who want to lose weight.
Second, are the carbs from the watermelon. Even though it is quite high in carbohydrates, don't worry! Watermelon is also high in its water and fiber content, which helps you feel satisfied for longer. Moreover, it is also very nutritious and full of minerals and vitamins.
Finally, are the healthy fats from the avocado, that can help you feel more satiated and are great to promote skin and hair health. In addition, it is also loaded with minerals and vitamins such as vitamin E, which has noteworthy anti-inflammatory properties. However, keep in mind that avocado is a caloric-dense fruit, therefore be mindful of the quantity you decide to consume, especially if you are on a weight-loss diet!
Social Buzz

Ingredient Selection Tips
Watermelon
Here are some tips on how to buy sweet watermelon:
When buying a watermelon, try not to choose the shiny one, because it is likely underripe. Choose one that looks dull, and has a strong and consistent stripe pattern.
Pay attention to the stem which should be yellow and dry.
Choose the heaviest one for its size, as that means that it is high in water content and sweeter in taste.
Look for rounder vs. oval watermelon.
Consume watermelon during its season -May to September.
Find the field spot and make sure it is yellow and creamy, not green or white. The field spot is the light-colored patch on the watermelon, indicating where it was laid on the ground.
Here is more information about this amazingly refreshing fruit!
Shrimp
The most important thing when buying shrimp (if not frozen) is to eat it as fresh as possible. Like other seafood, shrimps should not have a "fishy" smell. They should have the smell of clean sea and saltwater. If you press their body with your finger, it should bounce back immediately.
Avoid imported shrimp. It is best to buy shrimp caught in America – like from Oregon or British Columbia.
Noteworthy Health Benefits
Watermelon
Watermelon is 92% water which makes it hydrating and helps you feel full. It is one of the lowest in calories among other types of fruit, as it contains only 46 calories per cup.
Watermelon is loaded with fiber and nutrients such as vitamin C, vitamin A, Potassium, Magnesium, vitamins B1, B5, and B6. It is also high in carotenoids such as lycopene and beta-carotene.
The nutrients in watermelon are good for improving your heart health. It may prevent cancer, lower inflammation, and oxidative stress. It is great for your skin and hair, can improve digestion, and help relieve muscle soreness.
Shrimp
Shrimp are low in calories and contain no carbs at all. Around 90% of calories come from protein and 10% from fat. It has a rich nutrition profile with more than 20 different vitamins and minerals like selenium, vitamin B12, iron, niacin, zinc, magnesium, and phosphorus. Shrimp is also a good source of iodine which is important for proper thyroid function and brain health, and is rich in omega-6 and omega-3 fatty acids.
All of this makes shrimp an ally of your health:
It may promote weight loss
Shrimps may have anti-aging properties
May prevent hair loss
May improve bone health and brain health
Shrimp are high in cholesterol, so try to be moderate in your consumption. Though according to Healthline, it raises both "good" and "bad" cholesterol, so there are other factors to consider here if you are worried about your cholesterol levels.
Avocado
Avocado is very nutritious with around 20 different vitamins and minerals including vitamin K, vitamin C, Folate, Potassium, vitamin B5, vitamin B6, and vitamin E. It is low-carb and full of healthy fats and fiber. Eating avocado can lower cholesterol and triglyceride levels. It may prevent cancer and promote eye health, and also it can help you lose weight.
If you want to know more about the amazing benefits of avocados, here is an article for you! Top 5 Benefits of Avocado For Women's Health -and Why Should Men Eat it Too!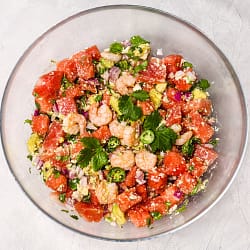 Watermelon Shrimp Avocado Salad
Yum
Check out this fresh and unique Watermelon Shrimp Avocado Salad – like ceviche but with steamed shrimp! A simple and healthy Summer salad recipe, perfect for those hot days!
Instructions
Chop watermelon, parsley, and jalapenos and place in one bowl.

Add the avocado to the bowl.

Pour over with lime juice.

Mix everything well and enjoy!
Notes


Nutrition
Nutrition Facts
Watermelon Shrimp Avocado Salad
Amount per Serving
% Daily Value*
* Percent Daily Values are based on a 2000 calorie diet.
❤️❤️Read About Me for details about my health journey; and, make sure you remember to sign up for my Newsletter and follow me on social❤️❤️!

Supporting me is appreciated as I create content to support your health journey.