Craving Italian and looking for a healthy grilled pasta salad recipe? This tangy Grilled Veggie Antipasta Salad – like pasta and antipasto – is an incredible addition to your grilled entrees! It's also vegetarian and would be great to support your endurance nutrition or general health. It is balanced with a good dose of carbs, healthy fats, veggies, and plant-based protein.
Who wants to try this!?
Makes a large salad!
Social Buzz

Ingredient Selection Tips
Vegetables
Organically grown vegetables are always a better choice, especially the peppers and tomatoes, as they are on the dirty dozen list. Fresh and ripe vegetables, you can recognize by touch and sweet smell.
Chickpeas
If you are watching your sodium (or wallet), it is best to buy dried chickpeas and make them yourself. Though, I often buy them canned. Just look for "low sodium" chickpeas, if you get them canned.
Noteworthy Health Benefits
Yellow Squash
Yellow squash come from the Cucurbitaceae family, and come in many different varieties. Each variety differs in color, shape, taste, and size, and they are edible whole, including the rind of the flesh and seeds. They offer an excellent amount of vitamin C, vitamin A, and B6, protecting cells and skin health; and, they boost immunity and slow down the aging process.
Artichoke
Artichoke is low in calories and has a negligible amount of protein and fat, but is extremely rich in potassium, manganese, phosphorus, and magnesium. The tannic acid in artichokes are responsible for the bitter taste. Artichoke helps with indigestion, is a good antioxidant, protects the liver, and lowers cholesterol.
Chickpeas
Chickpeas are an excellent source of plant proteins, so they are an excellent addition to your plate, especially for vegetarians. They also contain plenty of plant fiber, which is why they are recommended for people with high cholesterol, and because of the low glycemic index, they can also be used by diabetics. Chickpeas also contain a high amount of phosphorus, which is great for everyone!
Want to know more about the amazing benefits of chickpeas? Here is an article for you! Dried Chickpeas vs Canned Chickpeas: main differences and nutritional benefits
Balanced Plate for Performance Goals
While any food can fit into your menu for performance goals, some recipes can contribute to a better strategized menu than others. Below you can see how this recipe can fit into your goal. If this recipe has unique benefits, it is best cut out for the goal(s) with a star next to it.
The chart below changes dynamically based off the goal you have selected.
Goal:
| | | | |
| --- | --- | --- | --- |
| LEAN PROTEIN | HEALTHY FAT | HEALTHY CARBS | VEGGIES |
| | | | |
| --- | --- | --- | --- |
| 1-2 palms | 1-2 thumbs | 1-2 cupped handfuls | 1-2 fists |
More Info
However, everyone is different! Use the Precision nutrition calculator I use with my clients to calculate suggested macros custom for you. For more information on using this hand estimation system, click here.
For more info on types of foods for proteins, fats, carbs, and veggies, read my article Formula for the Perfect Healthy Meal. This article will also help you figure out what foods to eat more and less of.
Protein: Chickpeas
Though chickpeas contain a lot of carbohydrate, they are the best source of protein here and are considered the main protein source for a meat-free meal. Orzo is also especially high in protein, though it is higher in carbohydrates, so it is considered a carbohydrate for the balanced plate.
Fat: Olive Oil, Olives, & Mozzarella
The olive oil and mozzarella pearls are classified as fats in this recipe.
Carbs: Orzo
The orzo in this recipe is considered the main source of carbohydrates.
Veggies: Full of Veggies
There is an ample amount of vegetables in this recipe – yellow squash, zucchini, tomatoes, red peppers, onion, and artichoke hearts. As the olives are high in fat, they are classified as a healthy fat for the balanced plate.
Additional Meal Tips for Weight Loss
While this recipe is abundant in healthy fats – fats are still calorically dense. I would cut back on the olive oil, olives, and/or mozzarella in this recipe. I typically just omit the cheese for weight loss, as it contains saturated fats which are less desirable for your health. I also suggest adding more protein and removing some of the orzo. For example, you can add chicken or more chickpeas for additional protein.
Additional Meal Tips for Endurance
This recipe is perfect for the endurance athlete, as it contains an abundance of healthy carbohydrates and plant-based protein. You don't need to make any changes to this recipe!
Additional Meal Tips for Building Muscle
While there is a lot of plant-based protein in this recipe, there probably isn't enough for sufficient muscle building. I would add chicken or additional chickpeas. If you are vegetarian, you could mix this up and add a different protein source, such as tofu, so that you are combining different protein sources. When you combine different sources, you are more likely to get a more diverse profile of muscle-building amino acids.
Additional Meal Tips for Improving Health
This recipe is excellent for improving health, as it has lots of colors from the vegetables, which means it contains lots of different disease-fighting phytonutrients. The orzo and chickpeas are also excellent fiber sources to feed the good bacteria in your gut, which affects so many processes in your body! The olives and olive oil contain monounsaturated fats that protect against cardiovascular disease.
Diet Preference Tweaks
Vegan / Fully Plant-Based
You can easily make this recipe vegan by omitting or replacing mozzarella with plant-based cheese.
Low Sodium
If you are watching your salt intake, it is best to prepare the chickpeas and orzo from dry. If you are really vivacious, and have access to them fresh, you can prepare olives, artichokes, and pepperoncini fresh as well. For the ingredients you buy canned (olives, beans, artichoke, pepperoncini, etc), look for "low sodium". You may also omit the salt in the dressing.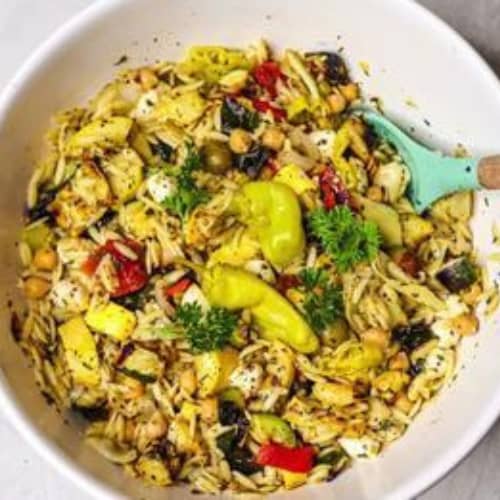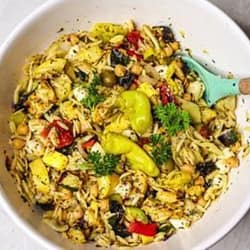 Grilled Veggie Antipasta Salad
Yum
This tangy Grilled Veggie Antipast-a Salad is an incredible addition to your grilled entrees! It's also vegetarian and would be great to support your endurance nutrition or general health. It is balanced with a good dose of carbs, healthy fats, veggies, and plant-based protein.
Instructions
Preheat grill on medium high.

Prep 8oz dried orzo.Set aside to cool.

Turn grill down to medium. Cook prepped veggien on grill rotating frequentely, until easy to pierce with fork and has grill marks. Set aside to cool.

Roughly chop a cup of artichoke hearts and dice 10 pepperocini peppers. Add to large bowl.

Add a cup of green olives to bowl.

Add a can of drained chickpeas to bowl.

Mix all the dressing ingredients.

Once cooled, dice grilled veggies and add to bowl.

Add mozzarella pearls to bowl.

Drizzle dressing over salad.
Nutrition
Nutrition Facts
Grilled Veggie Antipasta Salad
Amount per Serving
% Daily Value*
* Percent Daily Values are based on a 2000 calorie diet.
❤️❤️Read About Me for details about my health journey; and, make sure you remember to sign up for my Newsletter and follow me on social❤️❤️!

Supporting me is appreciated as I create content to support your health journey.


Enable Notifications
OK
No thanks