Fall is approaching, which means we all need some tasty comfort food! But don't worry, I have the right recipe for you: my vegan chickpea dumplings!
Since I discovered and was inspired by this Indian-inspired recipe in the Eating Well magazine, I cannot live more than a couple of weeks without making it! The perfect balance of spiciness and sweetness, this gluten-free vegan recipe does also not contain any processed ingredients, saturated fats, or dairy. This makes my whole-food chickpea dumplings perfect for all of the family, and for all dietary needs.

But this is not all! My chickpea flour dumplings are served over a bed of mouth-watering curried tomato sauce. Obviously, we cannot forget to serve some brown rice on the side… in true Indian style!
Chickpea Dumplings: Macro-Balanced and Extremely Nutritious!
These vegan, plant-based dumplings are not only super tasty and delicious, but they are also extremely nutritious! Indeed, they are not only high in fiber and complex carbohydrates, but also in plant protein, iron, and calcium. All the merits here go to the chickpea flour, which is one of the more complete and macro-balanced flours out there. It goes without saying that I love to use it in my plant-based recipes!
Besides, these whole-food chickpea dumplings are also an easy way to eat more greens! Indeed, I "hid" some fresh spinach both in the dumplings and in the sauce. Actually, this is one of my favorite ways to make my kids eat their veggies 😂
Finally, as these vegan chickpea dumplings are originally inspired by Indian cuisine, I made a large use of different herbs and spices. These not only give lots of flavor to the dumplings but are also a great way to limit the amount of oil and salt needed in this recipe. A true whole-food plant-based (WFPB) meal idea!
Vegan Chickpea Dumplings: the basic ingredients!
The Chickpea Trio in the Chickpea Dumplings
It might sound like a tongue-twister, but these chickpea dumplings are made of a combination of chickpea (or garbanzo) flour, chickpeas (or garbanzo) beans, and aquafaba. The reason is that the canned chickpeas give a chunky yet soft texture to the dumplings. On the other hand, the bean-based flour increases the fiber and protein content of the dumplings.
Moreover, the aquafaba (i.e. the liquid extract from the beans) can act as a plant-based "egg". This is why it is great to bind the dumplings together.
What is even better is that the plant-based carbohydrates, proteins, and fats sourced from chickpeas keep the blood cholesterol levels maintained, help control the blood sugar levels, and aid in better digestion.
Want to know more about the amazing benefits of chickpeas? Here is an article for you! Dried Chickpeas vs Canned Chickpeas: main differences and nutritional benefits
Leafy Spinach: Eat your Greens!
Adding spinach to a meal is the easiest way to increase its iron content. This is especially true if you pair it with some vitamin C-rich foods (such as lemon juice). Moreover, the potassium and magnesium present in the spinach leaves are vital to prevent kidney stones, and muscle and bone degeneration. At the same time, folate, and manganese are essential in regulating enzymes and hormone production.
However, the reason that I loved to add spinach to most of my meals is its high fiber content, which helps with good digestion and regular bowel movements… if you know, you know 😂
Juicy Tomato!
Tomato is the king of the Mediterranean diet: abundant in phytonutrients, lycopene, and fiber. It is proven to prevent prostate and colon cancer, reduce inflammation, and improve heart health.
What is even more interesting is that when cooked, the cancer-fighting properties of tomatoes are boosted. The reason is that the heat substantially raises the levels of beneficial compounds called phytochemicals – another good reason to cook our dumplings in the tomato sauce!
Fiber-Rich Brown Rice
Indian food calls for… a side of steamed rice, obviously! Generally, I do prefer brown rice over other varieties of rice, as it is less processed and contains more fiber and essential micronutrients, such as folate, Vitamin B, Iron, Selenium, and magnesium.

Moreover, brown rice has a comparatively lower glycemic index than white rice, making it more appropriate for a carb-controlled diet.
Now, it's your turn! If you try this recipe, don't forget to tag my socials (you can find them down below), and let me know how you liked it! 🙂
Social Buzz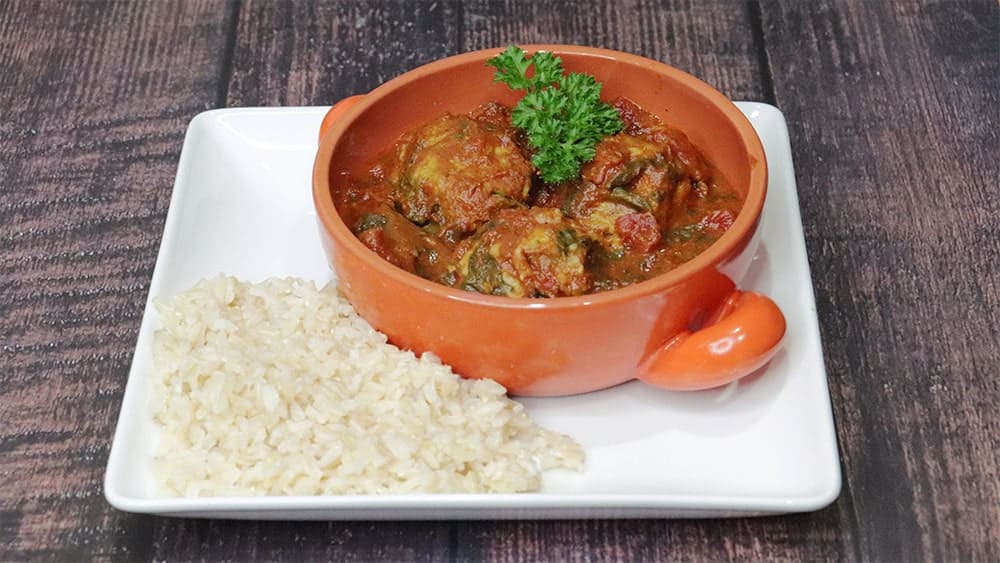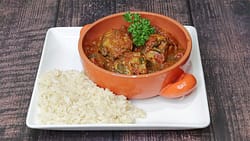 Vegan Chickpea Dumplings in Curried Tomato Sauce Over Brown Rice
Yum
These Indian-inspired vegan chickpea dumplings are macro-balanced, easy and delicious. A true comfort food for all the family!
Instructions
Make the brown rice according to package instructions.

Mix all of the seasonings, set aside.

Add to a food processor the chickpeas, the garbanzo flour, 1/2 cup of greens, 1/3 cup of aquafaba, the onion, the jalapeno, and about half of the seasoning mix. Process until everything is mixed and most of the chickpeas are broken down (don't blend too much, you want to aim for a chunky mixture).

Shape the mix into 12 small dumplings.

Heat the tomato sauce and the petite diced tomatoes (with their juice) in a large skillet on medium heat. Add the remaining seasonings and the remaining 3 1/2 cups of spinach. Bring to a simmer.

Nestle the dumplings into the sauce, cover and cook, turning the dumplings over and basting with the sauce occasionally, until firm, for about 20 min.

Serve three dumplings with some sauce over rice. Enjoy!
Nutrition
Nutrition Facts
Vegan Chickpea Dumplings in Curried Tomato Sauce Over Brown Rice
Amount per Serving
% Daily Value*
* Percent Daily Values are based on a 2000 calorie diet.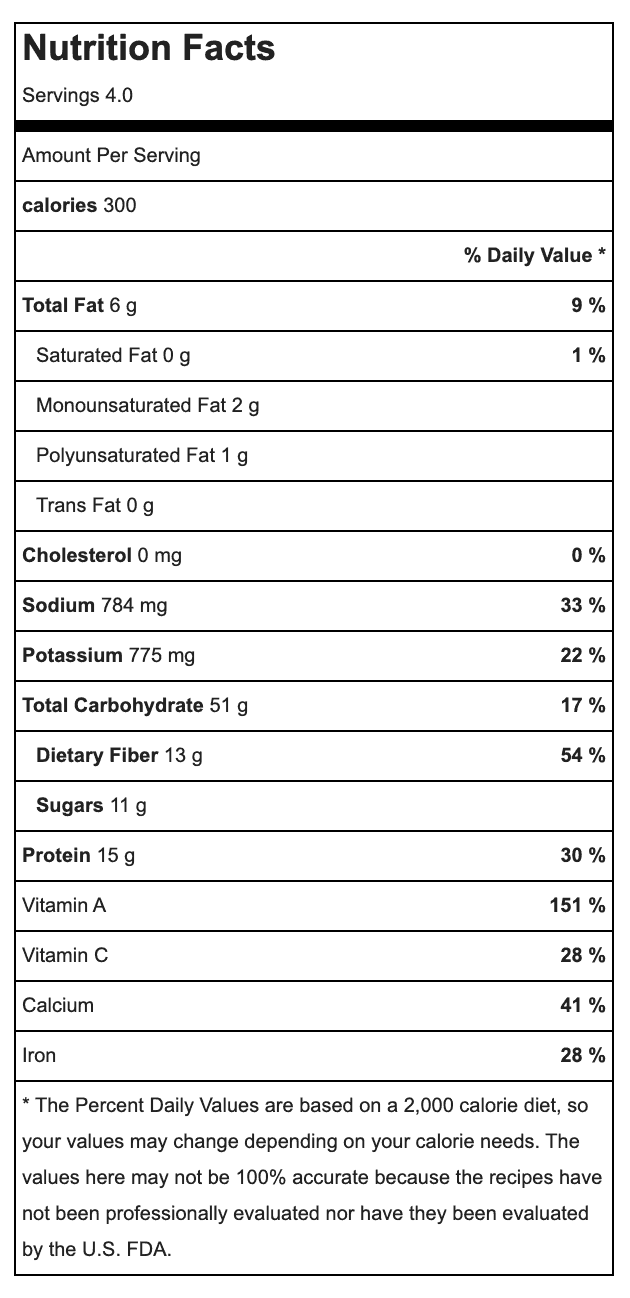 ❤️❤️Read About Me for details about my health journey; and, make sure you remember to sign up for my Newsletter and follow me on social❤️❤️!

Supporting me is appreciated as I create content to support your health journey.