Peanut Butter Banana Oatmeal: this high-protein and delicious vegan breakfast is part of my 5 Plant-Based Oatmeal Breakfasts plan.
For this recipe, I chose one of the most delicious and popular food combinations -peanut butter and banana- and made it healthier for you and your whole family!
Furthermore, this recipe is great for meal prep. In less than 15 minutes, you will have a nutritious breakfast, perfect to eat on the go, or even as a post-workout snack!
What makes this Peanut Butter Oat Banana THE perfect breakfast?
This Peanut Butter and Banana Oatmeal recipe is healthy and balanced in all macronutrients -protein, fats, and carbohydrates.
First, this oatmeal is rich in plant protein. Indeed, both peanut butter and flax seeds are great sources of this macronutrient. Proteins are crucial for keeping and growing our muscle mass. This is in turn essential for maintaining a healthy and functioning body. Besides, if you want to boost the protein content of this breakfast, you can add some vegan protein powder.
Second, are the healthy fats, which are mainly found in peanut butter. Fats play a vital role in numerous body functions, like cell growth and turnover, brain growth and development, and digestion. Moreover, healthy fats are responsible for keeping us full and satisfied for longer periods of time. This is why incorporating good, unsaturated fats into our breakfast is really important for our overall health. Consider checking this article if you would like to find out more about the benefits of peanut butter!
Last but not less important, are carbohydrates. These are essential for keeping us energized and functioning all throughout the day. What is great is that this recipe contains both simple and complex carbohydrates. The first ones are contained in the bananas and are perfect to give us immediate energy (click here for more information about the health benefits of bananas). The latter ones, found in the oats, are good to make us feel good and full for many hours (here is everything you need to know about oats)!
Social Buzz

Ingredient Selection Tips
Oats
Opt for unsweetened plain oats, as many packaged oats may contain unhealthy artificial or added sugars. Besides, prefer rolled oats to steel-cut oats, as they cook faster and absorb more water.
Dried Bananas
Perfectly dried bananas should be slightly sticky to the touch. Besides, always prefer unsweetened dried bananas without artificial flavor, as they are healthier for you.
Noteworthy Health Benefits
Oats
Oats are a naturally gluten-free grain, and a great source of vitamins, minerals, and fiber. Indeed, they are loaded with magnesium, copper, iron, phosphorus, zinc, vitamin B1, and B5. All of these nutrients are responsible for reducing blood sugar, and total cholesterol levels, and for increasing the growth of good bacteria in our digestive tract.
Dried Bananas
Dried bananas are rich in nutrients and vitamins, but they are also high in natural sugars and calories. This is why you should eat them in moderation if you want to avoid gaining weight.
Dried bananas contain vitamin C, A, B6, folic acid, potassium, iron, and phosphorus. The fibers contained in dried bananas help to keep our cholesterol levels low, as well as to prevent stomach problems like ulcers or diarrhea. Eating dried bananas may also benefit eye health and prevent high blood pressure.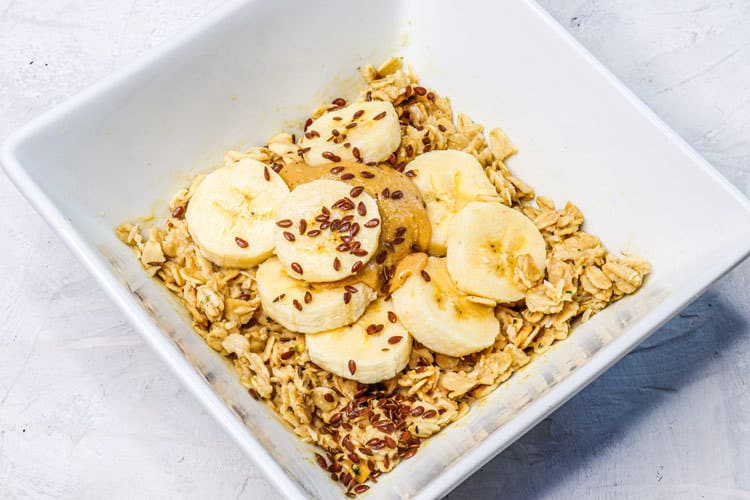 Peanut Butter Banana Oatmeal
Yum
Peanut Butter Banana Oatmeal: a high-protein and delicious vegan recipe. In less than 15 minutes, a nutritious and high-protein breakfast!
Instructions
Mix all the ingredients in a jar.

Add the lid and shake it.

When ready to eat, add milk and pop in the microwave for 1 minute, 30 seconds. Enjoy!
Notes


Nutrition
Nutrition Facts
Peanut Butter Banana Oatmeal
Amount per Serving
% Daily Value*
* Percent Daily Values are based on a 2000 calorie diet.
❤️❤️Read About Me for details about my health journey; and, make sure you remember to sign up for my Newsletter and follow me on social❤️❤️!

Supporting me is appreciated as I create content to support your health journey.