Pumpkins are extremely versatile in the kitchen! They are so good for our health that we should try to use them as much as possible in our diet. This Overnight Oats Parfait is an excellent healthy breakfast and great for weight loss! It is high in protein, healthy carbs, and healthy fats–and full of flavor!
Social Buzz

Ingredient Selection Tips
Pumpkin Puree

If you are buying canned pumpkin puree, make sure that they don't include any preservatives, sugar, or filler on the ingredient list. You can also make the puree yourself using this recipe linked here.
Pumpkin Pie Spice
You can find these kinds of spice mixtures in your local store, or online. You can also mix them yourself. All you need is cinnamon, nutmeg, and cloves, and if you like ginger and allspice, you can add these in too.
Old-Fashioned Oats
Always check the ingredient list, to ensure the only ingredient is whole-grain organic oats. Many oats contain additional sugar, flavors, and preservatives that we don't need.
Noteworthy Health Benefits
Pumpkin
Pumpkin is full of vitamins and minerals, and low in calories, and 94% of it is water.
It contains beta-carotene, which our body transforms into vitamin A.
Let's see what are the benefits of eating pumpkin:
It can reduce blood pressure
May reduce the risk of chronic diseases
Vitamins in it (A, C, E) may boost your immunity
They may protect eye health
Can promote weight loss
It may lower the risk of cancer
They can help heart health
May promote healthy skin
It can prevent and control diabetes
To know more about the amazing benefits of pumpkins, read the article Pumpkin Season is Coming! Discover All The Health Benefits of Pumpkins for Your Skin, Hair, and Immune system!
Oats
Oats are one of the healthiest grains. They are gluten-free; and are a substantial source of fiber and carbs, and they contain more protein and fat than most grains. Oats are also rich in many vitamins, minerals, and antioxidants.
Here are some health benefits of having them in our regular diet:
They can lower cholesterol levels
They can improve blood sugar control
Oats are filling, which can help with weight loss
May help with skincare
They are good for colon health
Learn more about oats here.
Chia Seeds
Chia seeds are rich in nutrients. They are full of fiber, iron, and calcium, rich in antioxidants, and a substantial source of omega-3 fatty acids.
Chia eggs mixed with water create a gel-like consistency which is called a "chia egg" and is a great replacement for cooking and baking eggs. This is a good option for a vegan diet, and they also contain some protein.
Health benefits:
Chia seeds may help to lose weight because of the fiber and protein
May lower risk of heart disease
They are good for bone health
May reduce blood sugar levels
May lower blood pressure
They can promote regularity for a healthy digestive tract
If you want to find out more about the amazing benefits of chia seeds, consider reading this article.
If you want to know more about the amazing benefits of cinnamon, here is an article for you! 5 Health Benefits of Cinnamon, The Most Loved Autumnal Spice!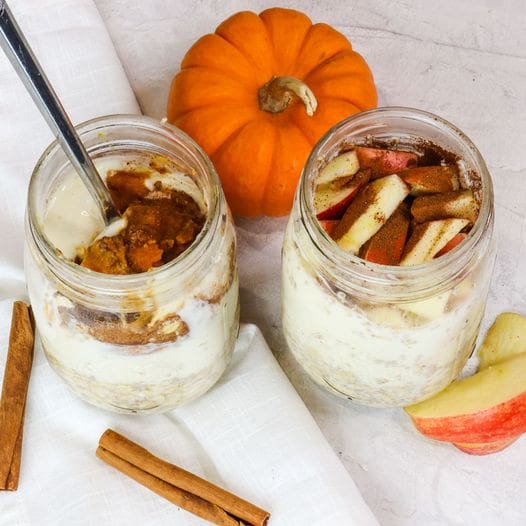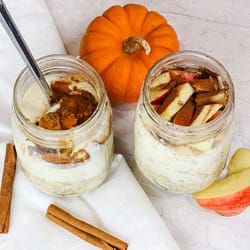 Pumpkin Spice Overnight Oat Parfait
Yum
These Overnight Oat Parfaits are an excellent healthy breakfast as well as great for weight loss! They are high in protein, healthy carbs, and healthy fats – and full of flavor!
Instructions
Add oats and chia seeds to a mason jar.

Add milk, cover, and shake to combine.

In a small bowl, add Greek yogurt and a scoop of vanilla protein powder. Mix until smooth.

Remove the lid from the mason jar, and layer in the yogurt and protein mixture.

Add the pumpkin puree and pumpkin pie spice on top of the yogurt mixture.

Seal mason jar with the lid, and place in the refrigerator overnight.

This Oat Parfait is ready to eat the next morning! Open the mason jar, stir everything up, and enjoy. Eat it up within a few days.
Nutrition
Nutrition Facts
Pumpkin Spice Overnight Oat Parfait
Amount per Serving
% Daily Value*
* Percent Daily Values are based on a 2000 calorie diet.
❤️❤️Read About Me for details about my health journey; and, make sure you remember to sign up for my Newsletter and follow me on social❤️❤️!

Supporting me is appreciated as I create content to support your health journey.


Enable Notifications
OK
No thanks