Earthy, comforting, and even super nourishing: this Lentil Sloppy Joe is the perfect comfort food for those colder winter days! Ready in less than 30 minutes, this instant pot lentil sloppy joe is a way healthier alternative than the traditional sloppy joe, which is typically quite high in saturated fats and calories.
Lentil Sloppy Joes: why you will love this instant pot recipe!
I know that I've said it before 😅, but this instant pot lentil sloppy joe is honestly one of the best recipes I've ever come up with! It's easy, quick to make, highly nutritious, and everybody loves it.… what more could you want from a meal?!
I am sure you will love this recipe as well… here is why:

Rich in plant protein and nutrients

My lentil sloppy joe is the "healthier version" of the traditional American sandwich. However, unlike the original version (generally made with meat stew and lots of different sauces), mine is extremely nourishing. Indeed, my vegan lentil sloppy joe is rich in plant protein and fiber, while being low in saturated fats, salt, and cholesterol. Last but not least, the whole wheat and seeded bun I used here is rich in good complex carbohydrates and fiber – certainly healthier than the store-bought ones!


Ideal also on a weight loss diet

With just 160 calories and little to no fats per serving (excluding the bun), this lentil sloppy joe can be easily inserted into any dietary plan or eating regime. In addition, due to the high amount of fiber contained in the lentils, this sandwich will keep you full and satisfied for longer, curbing any cravings for unhealthy, processed foods. And you know how important this is, especially if you have followed any diets in the past!


Quick and easy to make

This instant pot sloppy joe is ready in less than 40 minutes, of which just 10 are for the preparation of the ingredients. All you have to do is chop the veggies, add the ingredients and the sauce, and your instant pot will make the rest! Plus, this recipe calls for just 5 main ingredients (plus the oil and spices), all of which are easily available in your pantry!


Your kids will love it!

We all know how hard is to get our kids to eat some legumes… well, not anymore with this lentil sloppy joe recipe! It's so flavorful and mouthwatering that they won't even notice that there is no meat in it 😜


Great for meal prep or to eat as leftovers

This instant pot sloppy joe recipe is perfect to prep in batches and assemble throughout the week. You can even freeze it or eat it as leftovers… I personally love it even more than freshly made!
I hope you will love this recipe as much as I do! Please share it and tag me in your stories if you happen to try it 💗
But before that, I am sure you would love to find out a bit more about the nutritional benefits of the main ingredient of this recipe – lentils.
Lentils: nutrition and tips
Lentils are quite inexpensive and easy to find. This legume exists in different types: red, green, black, and brown, all of which are equally easy to prepare and delicious.
Nutrition facts:
Calories: 230
Fat: 0.8g
Sodium: 4mg
Carbohydrates: 40g
Fiber: 15.6g
Sugars: 3.6g
Protein:18g
As you can see, they are low in fat, calories, and carbs. On the other hand, they are packed with fiber and good complex carbohydrates. They are also rich in protein, but you'll need to combine them with whole grains or seeds in order to get a well-balanced and high-in-protein meal. In this recipe, I am matching Lentil Sloppy Joe with whole-seed buns, so you are good to go.
Finally, lentils are rich in minerals and vitamins such as thiamin, iron, potassium, copper, and manganese. They are also a good source of niacin, vitamin B6, magnesium, and zinc.
Health Benefits of Lentils
They have a low glycemic index, which makes them suitable for a diabetic diet
They are gluten-free
They can help improve heart health and reduce blood pressure levels
Lentils may help decrease bad (LDL) cholesterol levels
They might help in cancer prevention
Tips and tricks on how to store/consume the lentil sloppy joe:
I usually use brown lentils for this recipe
This meal is freezer-friendly, so you can prepare a larger portion
It is great for meal prep
I like serving it in a bun, but it is delicious in a bowl too
If you make a sandwich, pair it with veggies such as lettuce, onion, slaw, arugula, avocado, etc.
If you need more quick and delicious recipes with lentils, consider checking out these ones: Butternut Squash Lentil Soup (Instant pot recipe), Spicy Red Lentil Curry (Dahl), Curried Pumpkin Lentil Soup (plant-based recipe), and Lentil Beet Burgers.
Also, consider checking this article if you would like to find out more about the benefits of lentils!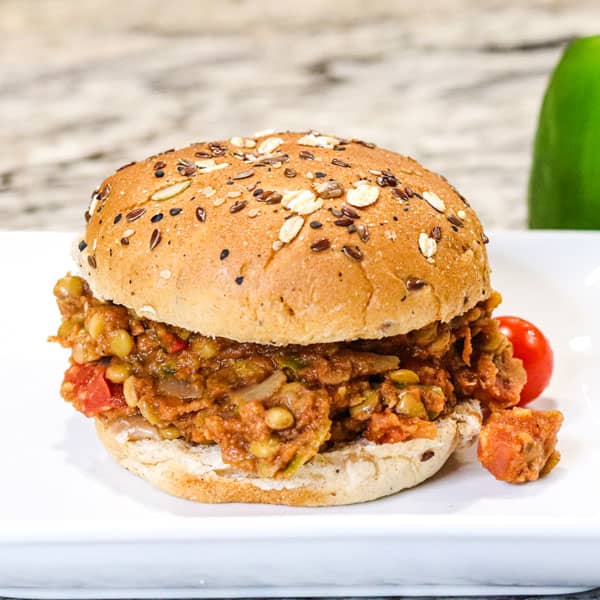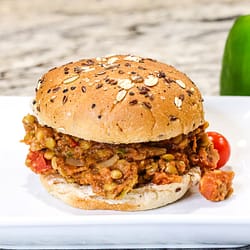 Instant Pot Lentil Sloppy Joe
Yum
Earthy, comforting, and even super nourishing: this Lentil Sloppy Joes is the perfect comfort food for those colder Winter days!
Instructions
Sauté onion, green pepper, and garlic (if fresh) in olive oil on the saute setting of the pressure cooker. Cook until onion begins to turn translucent, ~3 minutes.

Turn off sauté setting. Add lentils and broth. Do not add anything else yet! Salt will affect the ability for the lentils to cook.

Close pressure cooker and seal. Cook on high pressure for 13 minutes.

When finished, release pressure and remove lid. Switch to slow cook setting. Add all of the other ingredients and slow cook for at least ten minutes to bring out flavors.

Serve on whole wheat hamburger buns and enjoy!
Notes
Lentils without bun:


Nutrition
Nutrition Facts
Instant Pot Lentil Sloppy Joe
Amount per Serving
% Daily Value*
* Percent Daily Values are based on a 2000 calorie diet.
❤️❤️Read About Me for details about my health journey; and, make sure you remember to sign up for my Newsletter and follow me on social❤️❤️!

Supporting me is appreciated as I create content to support your health journey.