The summer season is here, so to celebrate this time of the year I have created this Lentil Beet Burgers recipe that is perfect on the grill and for cookouts! Let's see why I love this recipe so much!
Why are these Lentil Beet Burgers so great?
These burgers are rich in protein, full of fiber, and high in vitamin D. This recipe is also gluten-free, vegetarian, and can easily be made vegan. They are also very kid-friendly, and a great way to add more plant protein into our diet (click here for more plant-based recipes ideal for kids).
In this recipe, I have included lentils and mushrooms to give it a meaty texture, making it ideal for replacing beef burgers with a healthier and nutrient-dense alternative. I have also decided to add some arrowroot powder, which is not only a great natural thickener but also a highly-nutrient dense ingredient.
If you want to keep this recipe healthy and wholesome, you can buy sourdough or seeded whole wheat burger buns, instead of the classic white flour ones. You can then top this burger with some salad toppings, such as lettuce, red onion, and tomato, which will contribute as well to boosting the nutrition of this dish!
Social Media Channels

Ingredient Selection Tips
Arrowroot powder
I am using this one below, and it has proven to work well with this recipe.
Mustard
I like using spicy mustard, as it is less sweet and with a stronger taste. If it is too strong for you, you can always choose the regular yellow one. I recommend using good-quality mustard, as the difference is noticeable.
Noteworthy Health Benefits
Lentils
There are several types of legumes, with different colors: yellow, green, red, brown, and black. For this recipe, I used brown lentils, which have a mild earthy flavor. Here are some of their health benefits:
They are packed with B vitamins, iron, magnesium, potassium, and zinc.
Lentils are an excellent alternative to meat, as they are made up of over 25% protein.
This legume is rich in fiber, which promotes gut health and digestion.
They can help improve heart health and lower blood pressure.
Lentils contain a substantial amount of folate, a mineral that is essential for women during pregnancy, in particular for reducing the risk of gestational diabetes.
Consider checking this article if you would like to find out more about the benefits of lentils!
Arrowroot powder
Arrowroot is a starchy root vegetable similar to sweet potato. It is usually used as powder or flour.
This root is rich in complex carbs and essential minerals like iron, potassium, phosphorus, and folate.
Some of the potential benefits of consuming this interesting vegetable are:
This powder may help to fight diarrhea.
It can support the immune system.
Arrow powder is also gluten-free.
It may aid in losing weight.
Beet
Beet is a fantastic root vegetable. It is low in calories and fat, but very high in nutrients like folate, manganese, potassium, iron, vitamin C. It contains a bit of almost all the vitamins and minerals a human needs. There are a lots benefits to consuming beets for our health, and here are some of them:
They help to keep blood pressure in check.
They can improve athletic performance.
Beets are valuable to help fight inflammation.
Beets are good for digestion.
They may help to improve brain health.
Beets have also some anti-cancer properties.
If you want to find out more about the amazing benefits of beetroot powder, I have an interesting article for you! Beetroot Powder: A Natural Boost For Your Health and Fitness!
Diet Preference Tweaks
Vegan / Fully Plant-Based
For a fully vegan version, swap the honey in the recipe for agave syrup, which is almost identical in terms of texture, sweetness and taste.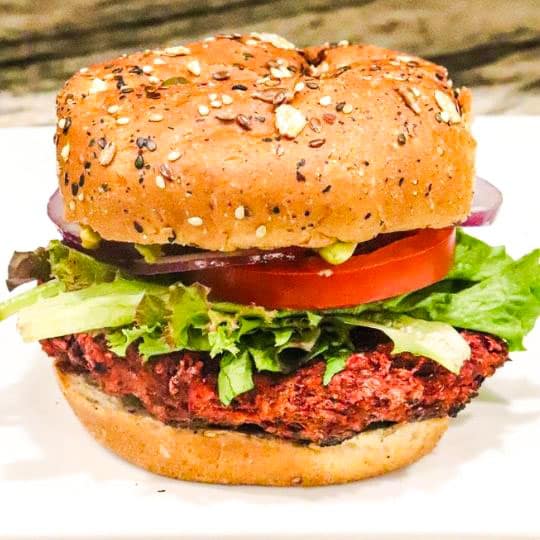 Lentil Beet Burger
Yum
These Lentil Beet Burgers are super nutritious and high in protein! This recipe is gluten-free, vegetarian, and can be easily made vegan!
Instructions
Preheat the grill on medium-high.

Process everything in a blender, except the arrowroot. Then mix in the arrowroot.

Shape into 4 giant patties or 6 smaller ones.

Brush some olive oil on the patties and/or the grill to prevent sticking. Carefully place patties on the grill. It's normal if you have to reshape them a bit with a metal spatula

Turn grill down to medium and cover.

Cook for about 10 min or until easy to flip. Flip and cook until the patty is easily removed from the grill and both sides are firm and golden.
Notes


Nutrition
Nutrition Facts
Lentil Beet Burger
Amount per Serving
% Daily Value*
* Percent Daily Values are based on a 2000 calorie diet.
❤️❤️Read About Me for details about my health journey; and, make sure you remember to sign up for my Newsletter and follow me on social❤️❤️!

Supporting me is appreciated as I create content to support your health journey.