Who is a fan of fried rice here? I sure am! 🙋‍♀️ However, most of the fried rice recipes out there are either too complicated or contain lots of oil and other unhealthy ingredients; and this year I am truly committed to accomplishing the 7 Self-Care Resolutions for a Thriving 2023! I talked about in my previous post – and, in particular, that of eating more whole and unprocessed foods. So, I came up with my own fried rice recipe! This fried rice with tofu and veggies 🍛 is not only very tasty but also packed with proteins, antioxidants, and lots of precious micronutrients. It's much healthier than Kobe hibachi fried rice!
But that's not all. This vegetarian fried rice is also a complete dish, containing a balanced mix of all the macros our body needs in order to thrive. It is a "healthified" version of the fried rice you can find at your favorite Hibachi restaurant! You truly have to give it a try! 😋
Plus, it's completely gluten-free (just make sure to use tamari instead), and super quick to make. You can even batch-cook the rice during the weekend and then use it during the week. Honestly, I prefer using pre-cooked rice for this fried rice recipe, as it is firmer and sticks together perfectly!
I also like to make double the quantity and eat this vegetarian fried rice as leftovers. But what I love even more about this fried rice with tofu and veggies is that this recipe is super affordable, which is always nice during these times! 💸
Last but not least, this vegetarian recipe can be easily made vegan by just omitting the eggs. And, if you desire to give a creamy touch to the dish, you can add 1-2 tablespoons of room-temperature vegan butter or plant-based ghee at the end of cooking. (I personally love this one from Nutiva). The result will be simply incredible! 👨‍🍳
How to Make a Healthy Fried Rice with Tofu and Veggies: my tips!
As I told you before, fried rice with tofu and veggies is among my favorite Asian dishes. However, I don't eat it very often when I'm out and about, as the fried rice you can find at the most popular restaurant chains is often excessively oil and salty.
Needless to say that I tried to replicate this recipe many and many times until I find THE ultimate tips for a super healthy and delicious veggie fried rice with tofu and eggs!
Use a wok or a good non-sticking pan.
Using a good wok (this one is amazing) or a non-sticking pan will help you in reducing the amount of oil needed to perfectly brown the ingredients of the fried rice. Plus, you will consume less time cleaning your pans, which is always a plus! 🤪
Opt for a low-sodium soy sauce.
We all know that the soy sauce you usually find at the supermarket is incredibly rich in salt. And that a diet rich in sodium can lead to several cardiovascular diseases, such as high blood pressure, heart disease, and stroke. This is why I always prefer to opt for low-sodium soy sauce or, alternatively, for coconut aminos.
Use lots of colorful veggies.
Using lots of colorful veggies (here I opted for a pea, carrot, and green bean blend) will allow you to cut the amount of rice needed in this recipe. This means you will eat more for fewer calories. In addition, you will get lots of fiber, precious antioxidants, and vitamins.
Brown rice > white rice.
Another great tip is, when possible, to swap your regular white rice with some brown rice. This is not only richer in fiber, which will help to curb blood sugar spikes and will allow you to feel fuller for longer after meals. But it is also richer in antioxidants and minerals, such as phenolic acid, flavonoids, and, anthocyanins.
Include a source of lean protein.
Including a source of good lean proteins in your fried rice (or in any meal for that matter) is essential for maintaining a good level of muscle mass. This is, in turn, key for your bone health, and can even help to speed up your metabolism! Here I used one package of extra-firm tofu. I don't even bother pressing it, as it doesn't make much of a difference.
Extra-virgin olive oil is your friend!
Whenever possible, use extra-virgin olive oil (EVOO) in your fried rice. Rich in polyphenols and vitamin E, this is one of the healthiest sources of fats out there. Alternatively, you can opt for sesame oil, which is also rich in precious omega-3 and 6 fatty acids.
Use a good blend of herbs and spices for a bomb flavor!
Spices and herbs are one of our biggest allies in the kitchen! Therefore, choose them wisely if you want to literally spice up the flavor of your dish. Here I opted for a blend of white pepper, minced garlic, and ground ginger.
I hope you will love this recipe as much as I do! For other great Asian-inspired recipes, check out these Asian Tofu Stir Fry, Banh Mi Sliders with Edamame Patties, and Vegan Pineapple Tofu Curry. And if you try any of them, don't forget to tag my socials. All the links are down below! 💗

Social Buzz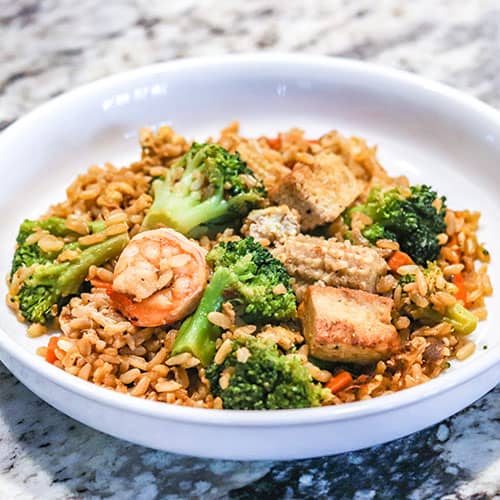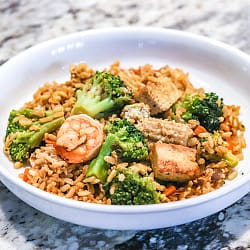 Fried Rice with Tofu and Veggies
Yum
This fried rice with tofu and veggies 🍛 is not only bloody tasty but also packed with proteins, antioxidants, and lots of precious micronutrients. You truly have to give it a try!
Instructions
Heat 2 tablespoons of oil -evenly distributed in a pan- over medium-high heat

Add the tofu. Brown on one side, and do not flip it until it is easy to flip. Use a metal spatula, as it sticks easily to the pan.

Once flipped, brown one of the other sides. You can keep browning all the sides, but it takes a while and you might need more oil!

I then simmer the tofu for a couple of minutes with 1-2 tbsp soy sauce, to give it some flavor.

Remove the tofu and set it aside.

Heat a wok (preferably) with 2 tbsp oil, over medium-high.

Add the garlic and cook until fragrant.

Evenly distribute the rice in the pan. Brown the rice for several minutes.

Add the remaining soy sauce, white pepper, and ginger. Mix well to combine.

Add the frozen vegetables to the pan, and mix them occasionally until they are slightly soft.

Meanwhile, scramble eggs in a small bowl. Once the rice is browned, move everything over to one side of the pan and add the eggs.

Cook the eggs halfway, and then begin to break them up with a spatula. Mix them with the veggies.

Once the eggs are well cooked, serve the fried rice with the tofu. Enjoy!
Notes

Nutrition
Nutrition Facts
Fried Rice with Tofu and Veggies
Amount per Serving
% Daily Value*
* Percent Daily Values are based on a 2000 calorie diet.
❤️❤️Read About Me for details about my health journey; and, make sure you remember to sign up for my Newsletter and follow me on social❤️❤️!

Supporting me is appreciated as I create content to support your health journey.


Enable Notifications
OK
No thanks