Say goodbye to your boring salads with this amazing honey ginger dressing! 🍯. Made in less than 5 minutes and with just 6 easily available ingredients, this healthy salad dressing is now a staple in my kitchen. Plus, it's lower in carbs and calories than your usual store-bought salad dressing. 🥗 It's much healthier than the ginger dressing at Kobe! Not only can you use it for salads, but you can also pour it all over a Tofu Stir Fry like this one -or any other Asian-inspired dish for that matter.
If you wonder how you can create a versatile dressing like mine in the comfort of your own home, the answer is all in choosing ingredients with different flavor profiles! Here, the sweet touch of the honey – or maple syrup for a completely vegan sauce – perfectly complements the umami flavor of the soy sauce. I used low-sodium soy sauce, but coconut aminos or Tamari will do as well. This is something I always try to take into account when prepping my dressings. (I will talk more in-depth about my magic dressing formula very soon…🤫).
And if you have read this post up to this point, you might also start to wonder why I swear so much about healthy salad dressings. Well, there are a couple of reasons… let's have a look at them!
Why Make Healthy Salad Dressings?
If you know me a little bit, I am a true believer in healthy dressings! I have now used them for years. All I can say is that they have truly helped me reach my weight loss and health goals. The reason is simple: dressings help me keep a more varied and flavorful diet. In turn, this enables me to stay consistent with healthy eating. And, as you might all know, consistency is key when it comes to reaching our goals!
But there are also a couple of other reasons why I think that dressings – more specifically, homemade dressings. They can genuinely make a difference in our daily eating habits.
Lower sugar and unhealthy fats than storebought dressings.
Using low-carb, homemade dressing like this honey ginger dressing allows me to enhance the flavor of my dishes without the need for excessive unhealthy oils and sugar. Many store-bought dressings contain cheaper oils like Canola oil, whereas mine are focused on healthy fats – like olive oil, avocado oil, or sesame oil. It goes without saying that this is true only if you opt for healthy dressings like mine! Plus, these are definitely cheaper than store-bought ones.
They are often made with functional ingredients.
Healthy, homemade dressings like this one are often jam-packed with functional ingredients – good for our overall health. For example, the ginger I used here is a great antioxidant and anti-inflammatory food. It can help fight off infections, relieve headaches, and ease other symptoms associated with common colds and the flu. This also applies to the vast majority of herbs and spices commonly used in homemade dressings.
They are easily customizable.
With just a few tweaks, you can literally change the mood of a dressing. But you will learn more about this very soon in a future article! For now, all I can say is that my dressing formula will change your life! 🤫
Dressings are kid-friendly as well!
Another reason why I swear so much about homemade healthy dressings is that they are a good way to get your kids to eat more veggies. In this case, opt for more delicate dressings, as this honey ginger has a pronounced taste that may not be appreciated by the little ones!

If you loved this honey ginger dressing, stay tuned for my magic dressing formula (check it out here)! In the meanwhile, you should try the following healthy dressings. Cranberry Pomegranate Sauce with Jalapeños, the Creamy Dressing used in this recipe, and this incredible Pomegranate Vinaigrette. And don't forget to tag my socials if you try any of them. All the links are down below! 💗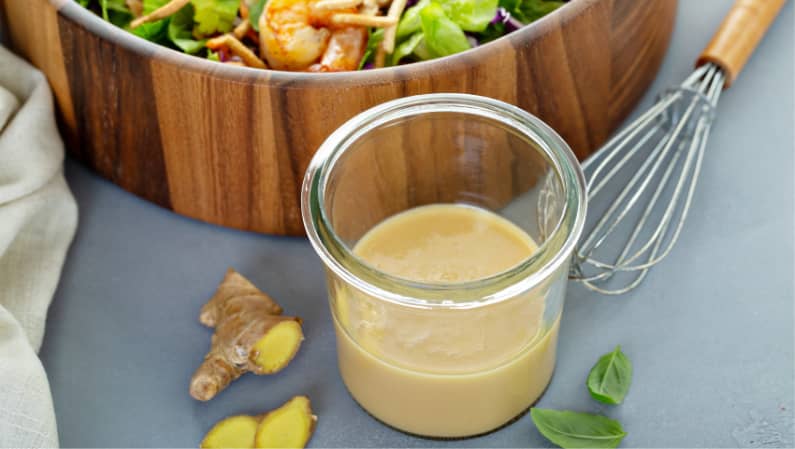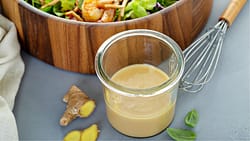 Honey Ginger Dressing
Yum
Say goodbye to your boring salads with this amazing honey ginger dressing! 🍯 Made in less than 5 minutes and with just 6 easily available ingredients, this healthy salad dressing is now a staple in my kitchen.
Instructions
Mix all the ingredients into a small bowl, until obtaining a smooth texture.

Pour the dressing over your salad, and enjoy!
Notes


Nutrition
Nutrition Facts
Honey Ginger Dressing
Amount per Serving
% Daily Value*
* Percent Daily Values are based on a 2000 calorie diet.
❤️❤️Read About Me for details about my health journey; and, make sure you remember to sign up for my Newsletter and follow me on social❤️❤️!

Supporting me is appreciated as I create content to support your health journey.