Okay, so no this is not a magical 'shroom gravy… I am so sorry to disappoint those of you that may have gotten excited to "trip balls" again like a 20-something at an EDM concert. However, this mushroom gravy is quite magical in it's savory umami taste and how wonderfully it compliments typically "boring" foods like rice and potatoes.
Mushroom Gravy – A Nutritious Comfort Food
For this Thanksgiving, I wanted to try something new and more nutritious than traditional turkey gravy. I absolutely love mushrooms, so I gave this recipe a try instead! This dish is a comfort food on cold winter days and at the same time is excellent for your body. It is effortlessly easy to make and is a great option for a family Sunday lunch or holiday table.
This Mushroom Gravy is full of rich, savory flavors, so you will need something more neutral to combine it with. It is delicious when served over mashed potatoes, or you can serve it over rice, brown rice, polenta, mashed cauliflower or maybe some whole grain pasta. If you add my Neatloaf, you will have a meal full of healthy plant-based proteins, that even meat eaters will love. Add some mixed greens with seeds, on the side, and enjoy your healthy meal!
Mushroom Nutrition Facts and Health Benefits
Now, let's talk about why mushrooms are so good for you.
Mushrooms belong to the funghi kingdom, and there are around 2000 edible varieties, but only a few are available on the American market:
white, or "button"
brown cremini
portobello
shiitake
oyster
wood ear
Mushrooms are an excellent food choice – low in calories, low carb, and full of fiber, vitamins and minerals. They are cholesterol-free, fat-free, and sodium-free. What else could we want!
Nutrition Facts:
Calories: 15
Fat: 0.2g
Sodium: 4mg
Carbohydrates: 2.3g
Fiber: 0.7g
Sugars: 1.4g
Protein: 2.2g
*The following nutrition information is provided by the USDA for 1 cup (70g) raw mushroom pieces or slices
In addition to this, they also contain high levels of some antioxidants (chemicals that help the body eliminate free radicals), and are rich in B vitamins such as B2, B9, B1, B5 and B3. B vitamins help the body get energy from food and form red blood cells.
Mushrooms are also the only vegan, nonfortified dietary source of vitamin D.
There are also several other minerals that may be difficult to obtain from a vegan diet — such as selenium, potassium, copper, iron, and phosphorus..
Mushrooms are very versatile. You can prepare them in so many different and interesting ways: like potage, salad, gravy, for stuffing, in egg dishes, grilled, roasted, etc. The possibilities are endless!
Check out my other mushroom recipes!
Balsamic Asparagus and Mushrooms with Lemon&Thyme
Savory Neatloaf with Lentils, Chickpeas, Mushrooms and Veggies
Shepherd's Pie Vegan Tofu Cauliflower Recipe
https://www.medicalnewstoday.com/articles/278858
https://www.healthline.com/health/food-nutrition/are-mushrooms-good-for-you
https://www.verywellfit.com/mushroom-nutrition-facts-calories-and-health-benefits-4117115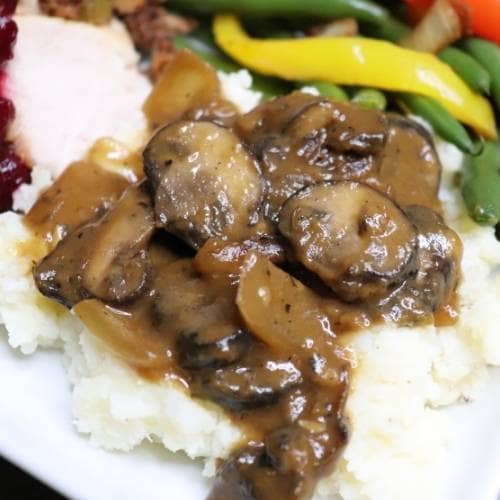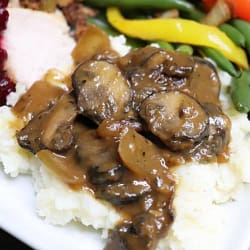 Mushroom Gravy
Yum
This delicious mushroom gravy is excellent on mashed potatoes, rice, chicken, or turkey! Completely plant-based, enjoy as an excellent, healthy vegan replacement for other gravies.
Instructions
Heat pan over medium heat.

Add one tablespoon of olive oil to pan.

When oil is shimmering (pan is hot), add sliced mushrooms, diced onions, and minced garlic.

Cook until mushrooms are al dente (no longer raw, but not mushy).

Deglaze the pan with white wine. This helps to bring out the flavor in the mushrooms!

Add vegetable broth to the pan, then add flour, thyme, and about a 1/4 teaspoon salt and pepper.

Bring to a simmer, then reduce heat to medium-low.

Stir frequently and cook until thickened, about 30 minutes.

Enjoy over potatoes, rice, chicken, or turkey!
Notes
*When choosing your mushrooms, make sure they feel firm, aren't moist to the touch, and are mold-free. They can be stored in the fridge for about five days.
*Some experts suggest that you're better off cooking mushrooms because cooking helps to release the vitamins and minerals. Certain varieties of raw mushrooms contain small amounts of toxins, including a compound that is considered carcinogenic, which is destroyed through cooking.
Nutrition
Nutrition Facts
Mushroom Gravy
Amount per Serving
% Daily Value*
* Percent Daily Values are based on a 2000 calorie diet.
❤️❤️Read About Me for details about my health journey; and, make sure you remember to sign up for my Newsletter and follow me on social❤️❤️!

Supporting me is appreciated as I create content to support your health journey.


Enable Notifications
OK
No thanks