I don't know about you, but I love my earthy and warming soups, especially as the days get shorter and colder. This is why I came up with this Butternut Squash Lentil Soup, a perfect mix of Fall veggies and protein-rich legumes!

Easy and quick to make (prep ingredients and the rest of the magic happens in the instant pot), this Butternut Squash and Lentil Soup recipe is also completely plant-based, gluten-free, and lactose-free. I was inspired by Panera's Autumn Squash Soup – but this one is 100x healthier! There's is also a little too sweet for my taste. This soup has a perfect balance between sweet and savory flavors.
Furthermore, this easy vegan lentil soup makes for a macro-balanced and complete dinner or lunch. All you have to do is add a source of carbs (ideally wild rice or a slice of sourdough bread), and ta-da. A satiating meal, rich in plant proteins, and full of precious minerals and vitamins. Ideal if your goal is to lose weight, but also if it's just to have a more wholesome and nutritious diet!
Last but not least, everybody will love this red lentil soup, from veggie lovers to picky eaters! And for those that don't trust me, here are some tips on how to enhance the soup's flavor.
Butternut Squash Lentil Soup: some tips for a mouthwatering dish!
Easy, delicious, and flavorful! Here are all the tips and tricks to enrich the taste of this instant pot lentil soup (but you can apply them also to any of your favorite soup recipes)!
1. Use more spices and herbs
Did you know that the right combination of spices and herbs can enhance and almost "turn upside down" the overall flavor of your dish, without adding any calories? However, the reality is often that finding the best blend of spices for each meal can be quite hard.

My suggestion here is to memorize some standard combinations that go well with any of our favorite ingredients and to combine fresh (when you can find them) and dried herbs and spices in the same recipes. For example, fresh coriander and cardamom and powdered paprika and pepper are perfect for this lentil butternut squash soup. Note: I used all dried spices here, but fresh herbs always tastes better if you have it!
2. Balance all the flavors and consistencies
Another very important point to remember when creating new recipes is to make sure that all the flavors and consistencies in a dish are well-balanced and harmonious.

For example, in this recipe, the sweetness of the butternut squash is counterbalanced by the earthiness of the lentils. Similarly, the tangy spices are matched by the sweet maple syrup.
3. Add lentils, for plant-based protein, to your butternut squash lentil soup
Adding some lentils into your soup (these need to be red lentils for the right consistency) will improve its taste and consistency, making it more "thick", creamy, and earthy. In addition, lentils have a lot more plant-based protein than many other legumes. Choosing to swap out at least some of your animal protein sources for plant-based proteins is good for your long-term health and the environment! (see how you can best eat animal proteins here)

Last but not least, this is a good way to fill up on plant protein. This is always good for our long-term health, the environment, and, of course, the animals!
Consider checking this article if you would like to find out more about the benefits of lentils!
4. The importance of a good veggie broth
Using a good-quality veggie broth is extremely important for the good success of any soup. I know that you might be tempted to add "just water" to thin out your soup. However, a good veggie stock not only enhances the overall flavor of the soup. It is also a good way to replace the richness and texture of the meat broth.
This is why you should always opt for a good quality veggie stock, made from fresh ingredients and without any preservatives or additives. Even better if you can make it yourself, starting from scraps for a zero-waste recipe!
5. The last touch: a drizzle of extra-virgin olive oil
Extra-virgin olive oil (EVOO) is one of the healthiest fat sources in the world. Rich in vitamin E and polyphenols, powerful antioxidants, extra-virgin olive oil will not only boost the nutrition of this easy red lentil soup but also enhance its overall flavor. Plus, adding the EVOO after cooking ("a freddo"), will help you better absorb all of its nutrients!
I hope you found these tips useful and cannot wait to hear yours in the comment section down below! In the meantime, here are other wholesome soup recipes I truly love: Tuscan Kale and Sausage Soup with Chickpeas, Curried Pumpkin Lentil Soup, and Indian Chickpea Lentil Soup.
Social Buzz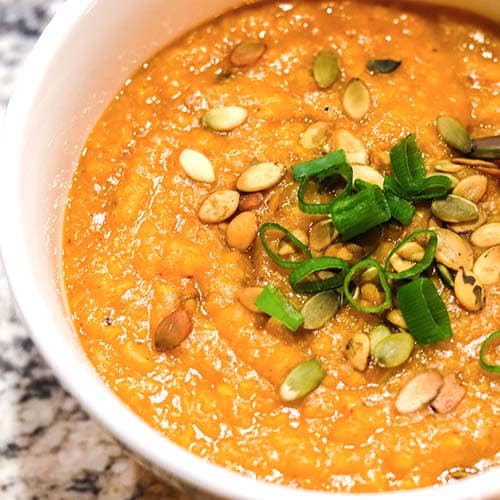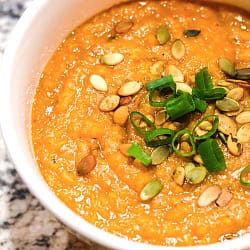 Butternut Squash Red Lentil Soup
Yum
I don't know about you, but I love my earthy and warming soups, especially as the days get shorter and colder. This is why I came up with this Butternut Squash Lentil Soup, a perfect mix of Fall veggies and protein-rich legumes!
Instructions
Add a tablespoon of olive oil to your Instant Pot and turn on the saute setting.

Add the garlic, celery, and onion. Saute until fragrant and the onion starts to become translucent.

Turn off the sauté setting.

Add all of the remaining ingredients. Stir well.

Put the lid on the Instant pot and set to "sealing".

Pressure cook on high for 8 minutes.

Let it depressurize naturally for a few minutes (if desired), and then release pressure.

Use a potato masher to mash up the soup. Alternatively, you can add the soup to a processor and process until smooth. I like it a bit chunky, and not having to dirty another dish!

Enjoy hot! This is great for storing in the fridge or freezer for meal prep.
Notes


Nutrition
Nutrition Facts
Butternut Squash Red Lentil Soup
Amount per Serving
% Daily Value*
* Percent Daily Values are based on a 2000 calorie diet.
❤️❤️Read About Me for details about my health journey; and, make sure you remember to sign up for my Newsletter and follow me on social❤️❤️!

Supporting me is appreciated as I create content to support your health journey.