Fall is here! 🍂 The days are getting shorter and colder, and what's better than a warm, comforting soup to cheer yourself up? Especially if it's as easy and delicious as my Tuscan Kale and Sausage Soup!
Creamy and simply delicious, this Italian Kale and Sausage Soup is also great to support your overall health and weight-loss goals! Indeed, my recipe is not only low in calories and fats but is also super rich in proteins, vitamins, and antioxidants, all precious in helping to kick start our natural detox processes.
Last but not least, this Tuscan Kale and Sausage Soup is budget-friendly too! After all, the origins of this creamy Tuscan soup are to be found in the rural areas of Italy, where all the ingredients used in this recipe (mainly kale, chickpeas, and lots of veggies) were abundant and relatively cheap!
N.B.: down below are all the substitutions to make a vegan Tuscan sausage and kale soup!
Tuscan Kale and Sausage Soup: promote your overall health with these ingredients!
As said above, this Italian sausage and kale soup can be a great ally in your journey towards weight loss and optimal health. Let's see why by having a look at the main properties of its amazing ingredients.
Superfood Kale
The first is kale! This leafy green veggie belongs to the Cruciferous family, along with cauliflower, collards, Brussels sprouts, and broccoli, and can be considered a true superfood.
Indeed, it contains several precious antioxidants, which are helpful in combating free radicals (responsible for causing inflammation in the body). Some of these antioxidants have also been found to have anti-cancer properties!
Besides, kale is rich in calcium, iron, vitamin C, and K, all of which can help support the immune system, and brain health, and can even kick start our natural detoxification processes. Last but not least, kale is a great source of fiber, which is essential for promoting good gut health and preventing bloating.
To know more about the amazing benefits of kale, consider checking this article The Top 5 Health Benefits of Kale, and Why You Should Eat it Every Day!
Chickpeas: a great source of plant-based proteins!
Chickpeas are a great source of plant proteins, which makes them great, especially for those who eat a plant-based focused diet or just want to reduce their intake of animal products. Besides, the high amount of protein and fiber contained in this legume can help you feel fuller for longer, which is always good if you are watching your weight.
But this is not all! Chickpeas are also full of minerals and vitamins, such as manganese, copper, iron, zinc, and folate (vitamin B9).
In particular, iron is essential in preventing and treating anemia, while folate is essential for producing red and white blood cells in bone marrow, producing DNA and RNA, and transforming carbohydrates into energy. This is why having an adequate amount of folate is particularly important during periods of rapid growth, such as pregnancy, infancy, and adolescence.
Want to know more about the amazing benefits of chickpeas? Here is an article for you! Dried Chickpeas vs Canned Chickpeas: main differences and nutritional benefits
Quinoa: a pseudo-cereal rich in proteins and anti-oxidants!
Although people generally look at quinoa as a whole grain, it technically is a pseudo-cereal, as the quinoa plant is very similar to spinach and beetroot. The other reason is that quinoa is not only rich in complex carbohydrates, but also in plant-based proteins.
Indeed, one cup of cooked quinoa (around 185 grams), provides 8.14 g of complete plant-based proteins, along with a wide range of amino acids, vital for supporting muscle development and immune activity.
In addition, unlike many other grains, it is also a great source of lysine. This is an essential amino acid, vital for the synthesis of proteins.
Last but not least, quinoa has a higher fiber content compared with other grains. Consuming enough fiber can help reduce the risk of several health conditions, including constipation, high cholesterol, and high blood pressure. In addition, a diet rich in fiber may also promote a healthy weight, as it helps feel fuller for longer, which in turn might reduce the overall food intake.
For a Fully Plant-Based Alternative
To make this Tuscan Kale and Sausage Soup recipe vegan, replace the turkey sausage with a plant-based one. I recommend tofu/veggie sausages as these are a healthier option than processed ones. In addition, swap the bone broth with veggie stock.

If you like this recipe, you might also want to try these amazing Creamy Kale Gnocchi with Mushrooms and Beans. And don't forget to comment and tag me if you try any of these recipes! 😉
Social Buzz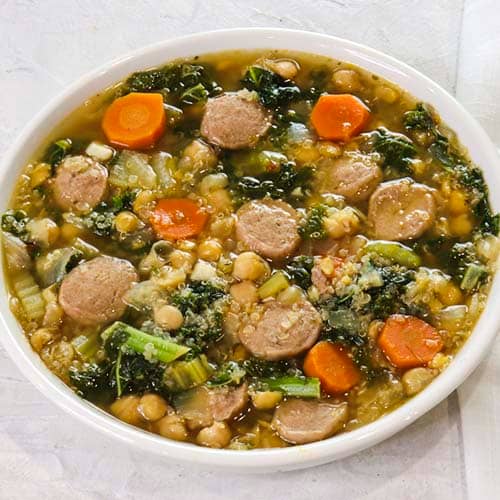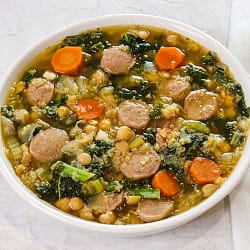 Italian Kale Chickpea Soup
Yum
Creamy, budget-friendly, and simply delicious, this Tuscan Kale and Sausage Soup is also great to promote overall health and weight loss!
Instructions
Heat a large pot with olive oil.

Add diced sausage and brown on both sides. Remove from the pot temporarily.

Add carrots, garlic, celery, and onion. Cook until the onion starts to become translucent.

Add broth, chickpeas, and seasonings. Bring to a simmer.

Simmer for ~15 minutes, adding kale and quinoa about halfway through.
Notes


Nutrition
Nutrition Facts
Italian Kale Chickpea Soup
Amount per Serving
% Daily Value*
* Percent Daily Values are based on a 2000 calorie diet.