Are you looking for a light and refreshing plant-based dressing for your Greek-themed dinners? Try my vegan tzatziki sauce, completely dairy-free, yet as creamy and aromatic as the original one!
---
Vegan Tzatziki Sauce: the 6 basic ingredients
These are the six ingredients you need to buy for prepping this easy vegan tzatziki sauce:
Plant-based Greek yogurt -my favorites are the unsweetened Forager Organic Dairy-Free Greek Style Yogurt (coconut and cashews-based), or the Kate Hill Greek yogurt (made from almond milk). If you don't have access to a nice and creamy plant-based Greek yogurt, you can try making it yourself. Two are the possible methods. First, you can strain regular plain vegan yogurt with a cheesecloth (click here for the exact instructions). Alternatively, you can make it from scratch by using some plant milk of choice, plus a vegan yogurt starter (probiotic). (Here are the instructions for prepping cultured vegan Greek yogurt).
Cucumber (remove the peel, as it can be overly bitter; finely shred it, cover it with a teaspoon of salt, and let it strain in a colander for at least 10-15 minutes).
The juice of one lemon (better if freshly squeezed).
Garlic powder (or, even better, finely minced garlic).
Fresh dill (you can omit it if you don't like the taste).
White vinegar (or apple cider vinegar for a more delicate taste).
Plus some basic ingredients we all already have in the pantry, namely salt, black pepper, and extra-virgin olive oil.
At this point, all you have to do is carefully mix all the ingredients, and leave the dairy-free tzatziki sauce in the fridge for a couple of hours before serving. It is delicious both served over some traditional Greek pita or gyros (as these grilled tofu gyros I've recently made) and as a light dressing for a rich and scrumptious Greek salad or pasta salad.

Vegan Tzatziki Sauce: the health benefits of the amazing ingredient in it
Did you know that this creamy, dairy-free tzatziki sauce is made with wholesome ingredients, packed with precious antioxidants and micronutrients? Let's briefly go over them!
1. Cucumbers for a boost of hydration 🥒
Made of more than 95% of water, cucumbers are a super-hydrating food, with countless benefits for our digestive system, skin, and hair health. As a matter of fact, this incredible veggie is rich in soluble fiber which prevents constipation and slows down our digestion, ensuring regular bowel movements. Moreover, they act as a coolant for our stomachs.
In addition, cucumbers are a great source of vitamin C. This vitamin is essential in the production of collagen, and silica – which is excellent for hair and nail care. These essential micro-nutrients help strengthen the nails, prevent them from becoming brittle, and promote "glowy" and plump skin.
Besides eating them, cucumbers can also be used topically for our skin and hair care! For example, you can prepare a face mask using cucumber pulp to hydrate your skin, or a DIY face toner to soothe burnt or damaged skin. Click here if you want to learn more about the health benefits of eating cucumber!
2. Lemon Juice, packed with antioxidants and vitamin C 🍋
Did you know that the vitamin C contained in lemons plays a vital role in iron absorption? Pairing food rich in vitamin C with iron-rich food accelerates the body's ability to absorb iron, thus preventing anemia (iron deficiency).
Moreover, the Vitamin C contained in lemons is also known for being a powerful antioxidant. As such, it plays a crucial role in the formation of collagen, which in turn supports the skin and prevents it from any damage. Adding some lemon juice to your recipes will therefore help to decrease wrinkles and blemishes. If, instead, you apply it directly to your scars, it will help fade them. Click here if you want to learn more about the amazing benefits of lemon juice.
3. Plant-based Greek Yogurt, a great source of calcium and probiotics 🥛
Plant-based yogurt -especially if cultured- is rich in probiotics, essential to maintain optimal digestive health, as they help feed the good bacteria in our gut. In addition, plant-based yogurt is a great source of calcium, a mineral that has a pivotal role in promoting bone health and preserving bone density.
In addition, plant-based Greek yogurt contains a decent amount of protein (around 7-9 grams per 100 grams of products). Not much of a difference compared to regular Greek yogurt! Proteins are essential for building and maintaining our muscle mass, and keeping a healthy and well-functioning metabolism.
4. Extra-virgin Olive Oil, a true elixir of youth! 🥗
Olive oil -and especially extra-virgin olive oil- is loaded with monounsaturated fatty acids, a type of healthy fat that can promote heart health, and can even prevent the insurgence of neurodegenerative diseases, such as dementia and Alzheimer's.
In addition, extra virgin olive oil also contains a good amount of vitamins E and K. While the first one is a powerful antioxidant, that can help protect our body from oxidative stress, the second plays a key role in promoting bone and heart health and preventing blood clotting.
I cannot wait for you to try my creamy and light vegan tzatziki sauce! If you do, please tag my socials (all the links are down below). 💗 And if you are looking for more light sauces, here are some recipes for you!
Light Cream Sauce, Cranberry Pomegranate Sauce with Jalapeños, and Easy Pesto Sauce.
Social Buzz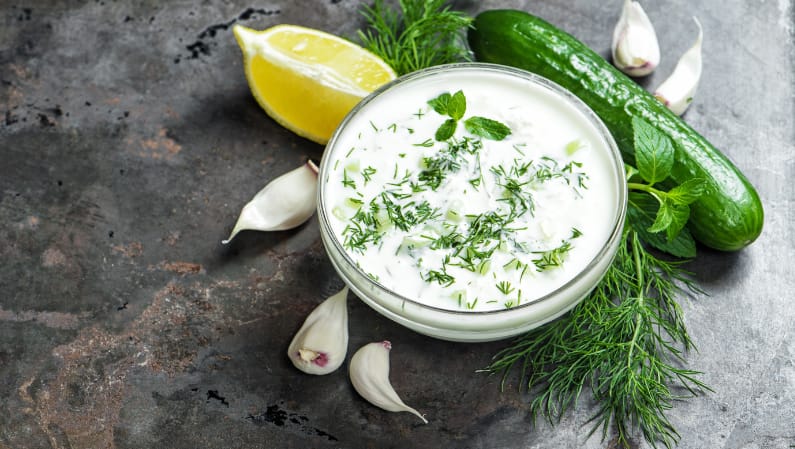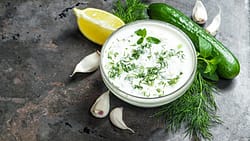 Vegan Tzatziki Sauce (dairy-free and creamy)
Yum
Try my vegan tzatziki sauce, completely dairy-free, yet creamy and aromatic as the original one! Perfect for your Greek-themed dinners!
Instructions
Finely shred the cucumber, add the salt, and let it drain in a colander for at least 10 minutes.

Mix together the Greek yogurt, oil, garlic powder, black pepper, lemon juice, salt, and white vinegar in a bowl.

Take the cucumber and squeeze out any more excess liquid using your hands or cheesecloth.

Add to the yogurt mixture, and stir very well. Add the fresh dill, and place the tzatziki in the fridge for a couple of minutes before serving.

You can use it both as a topping for a Greek salad or vegan gyros and directly served with some traditional Greek pita or sourdough bread!
Notes
*Nutrition facts are shown without French fries
*Nutrition facts are shown for fat free Greek yogurt
Nutrition
Nutrition Facts
Vegan Tzatziki Sauce (dairy-free and creamy)
Amount per Serving
% Daily Value*
* Percent Daily Values are based on a 2000 calorie diet.