Almost all the foods you love exist in a healthier variant, trust me! I bring you a recipe for another fantastic alternative -a high fiber and plant protein Garbanzo Bean Pie Crust!
This Garbanzo Bean Pie Crust is designed for something more savory, like a quiche. You MUST try my Tuscan Quiche with this pie crust. It's to die for! You are welcome to try it with a sweet dish like pie, though I have not tried this yet. Just make sure to see my notes on the recipe card for suggested amendments for this application.
This Garbanzo Bean Pie Crust is full of protein and fiber and is gluten-free. Let me tell you a little bit more about its fantastic healthy ingredients.
Garbanzo Beans (Chickpeas)
Chickpeas are a great source of plant proteins, especially when you combine them with some other healthy plant-protein abundant foods such as nuts (which are also contained in this recipe), as they are incomplete (don't contain all the essential amino acids). They are also a nutrient abundant food.
Garbanzo beans are loaded with iron and other important nutrients:
Calories: 356
Protein: 20 grams
Fat: 6 grams
Carbs: 53 grams
Fiber: 10 grams
Thiamine: 30% of the Reference Daily Intake (RDI)
Folate: 101% of the RDI
Iron: 25% of the RDI
Phosphorus: 29% of the RDI
Magnesium: 38% of the RDI
Copper: 42% of the RDI
Manganese: 74% of the RDI
*Per one cup(92gr)
Want to know more about the amazing benefits of chickpeas? Here is an article for you! Dried Chickpeas vs Canned Chickpeas: main differences and nutritional benefits
Health benefits of using Garbanzo bean flour
It has 25% fewer calories than a regular one, which is great if you are trying to lose some weight.
Chickpea flour is more filling than wheat flour, as legumes decrease hunger.
It has fewer carbs, which can be positive for decreasing blood sugar.
This flour is high in fiber, which can lead to improving blood fat levels.
Flour made of chickpeas is a wonderful ingredient for gluten-free baking. It gives a rich flavor to baked goods. I suggest mixing it with another type of flour though as it has an intense flavor. I used almond flour – it will keep your pie crust gluten-free.
Almond Flour
Almond flour is low on carbs and it is incredibly nutritious. It is particularly rich in vitamin E, and Magnesium, which is very important for our health. It has a low glycemic index (which means it is good for maintaining stable blood sugar). This flour is gluten-free and represents a great alternative to wheat-based flour.
Calories: 163
Fat: 14.2 grams (9 of which are monounsaturated)
Protein: 6.1 grams
Carbs: 5.6 grams
Dietary fiber: 3 grams
Vitamin E: 35% of the RDI
Manganese: 31% of the RDI
Magnesium: 19% of the RDI
Copper 16% of the RDI
Phosphorus 13% of the RDI
*Per ounce(28gr)
Stay tuned for some healthy and delicious filling recipes 😉
https://www.healthline.com/nutrition/almond-flour#TOC_TITLE_HDR_3
https://www.healthline.com/nutrition/chickpea-flour-benefits#TOC_TITLE_HDR_3
Please let me know how this recipe goes when you make it! Post a picture and tag one of the below social media accounts:
Processing…
Success! You're on the list.
Whoops! There was an error and we couldn't process your subscription. Please reload the page and try again.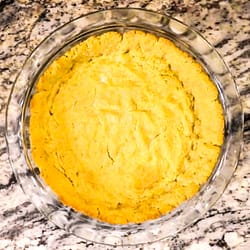 Garbanzo Bean Pie Crust
Yum
Almost all the foods you love exist in a healthier variant, trust me! I bring you a recipe for an excellent alternative – a savory Garbanzo Bean Pie Crust! It is full of protein and fiber, low-carb, and gluten-free! Excellent for a quiche! See notes for sweet pie amendments.
Instructions
Preheat oven to 375. Spray pie pan with oil and set aside.

In a small bowl, mix all garbanzo bean crust ingredients.

Press crust into pie pan, pressing up along edges an inch or two. Press around the pan until there is a uniform thickness of about a quarter inch.

Put the pie crust in the oven and bake for 15 minutes. Crust should be cooked and golden brown.
Notes
* I recommend my Tuscan Quiche recipe with this pie crust!
* This pie crust was made and tested with a quiche. I have not yet tried it with a sweet pie. I believe this would also be good with pie if you switch the olive oil for coconut oil, remove the garlic and pepper, and half the salt. Comment if you've tried this so we can know if this application works!
Nutrition
Calories:
110
kcal
Carbohydrates:
4.4
g
Protein:
2.3
g
Fat:
10
g
Saturated Fat:
1.2
g
Cholesterol:
135
mg
Sodium:
149
mg
Potassium:
69
mg
Fiber:
1.5
g
Sugar:
0.3
g
Calcium:
43
mg
❤️❤️Read About Me for details about my health journey; and, make sure you remember to sign up for my Newsletter and follow me on social❤️❤️!

Supporting me is appreciated as I create content to support your health journey.