Pride Month is still not over and I am always on the hunt for new, creative ways to celebrate love in all its forms and shapes! Some time ago, I came up with these incredible fruity rainbow pancakes, and I am buzzing to share the recipe with you all on this special occasion!
---
The rainbow pancakes are vegan, lactose-free, refined sugar-free and -above all died with 100% natural ingredients! I recently discovered the magic of using fruits and veggies to add color and flavor to my meals without the need for any nasty chemical ingredients or refined sugar, and I have been loving experimenting with this. And my kids do it too!
What's even better is that my colorful pancakes are not only beautiful to the eye -they are also packed with precious nutrients, vitamins, and minerals that can supercharge your overall well-being. The merit goes to the multitude of phytonutrients contained in colorful fruits and veggies.
These are non-other than the pigments responsible for the color of different fruits and veggies. But the best part is that each of these phytonutrients has a pivotal role in promoting our health by working as powerful antioxidants, as well as having distinct nutritional benefits. (Learn more about the benefits of phytonutrients. (Learn more about the main properties of different phytonutrients here).
Bring you to your table with these rainbow pancakes and let's celebrate Pride Month together!
No-Dye Rainbow Pancakes: discover the magic powers of colorful fruits and veggies!
This colorful tower of pancakes is dyed and flavored with simple whole-food ingredients. Among them are blackberries, blueberries, carrots, turmeric, pineapple, and strawberries.
More specifically, I obtained the vibrant colors you can see in the picture by replacing the milk in my go-to vegan pancakes recipe with the following ingredients:

RED is puréed 12oz strawberries & 1/2tsp of lovebeets beet powder
ORANGE is 1 cup Orange juice & 2 Carrots puréed
YELLOW is 1 cup Pineapple juice and 1/2 tsp Turmeric
GREEN is 1/4 cup Lime juice, 3/4 cup almond milk, & 1 1/2tsp Matcha powder
BLUE is 12oz Blueberries puréed & 1/2 cup almond milk
PURPLE is 6oz Blackberries puréed & 3/4 cup almond milk
In addition, I used honey instead of sugar to improve the nutritional profile of the pancakes. You're body still reacts to honey like it does sugar, but honey is more whole and nutritious. Alternatively, you can also use agave or maple syrup, or the healthy sweetener of your choice. I also used the minimum amount required to make these pancakes extremely tasty and wholesome! Make also sure to use high-quality unbleached all-purpose flour. This way, you will be able to bring out the vibrant color of the pureed fruits and veggies.
Of course, I never skip on my toppings, too! My favorite ones are whipped cream or -for a healthier kick- my chia berry maple syrup. All you need for this are three ingredients: chia seeds, berries, and maple syrup).
Beautiful to the eye and delicious to all the senses – try these pancakes out for your next special breakfast. Your kids will be happy you did!
If you loved this recipe, don't hesitate to share it with your family and friends, and keep spreading the love! And don't forget to check out the Rainbow Charcuterie Board I created to celebrate Pride Month 🌈💕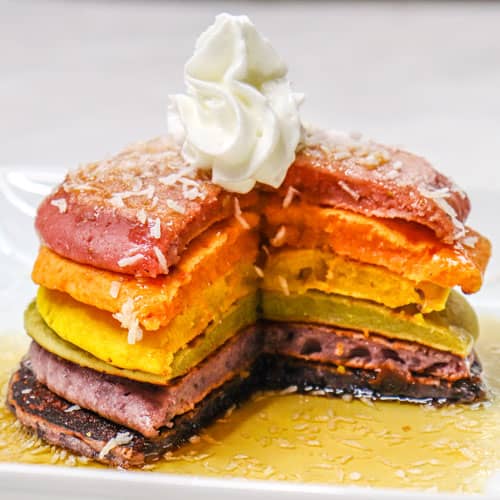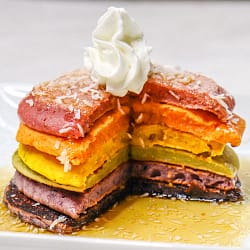 Rainbow No-Dye Pancakes
Yum
These fluffy vegan rainbow pancakes are dyed and flavored with only whole-food ingredients! This recipe is for ONE COLOR (i.e. 4 pancakes). Repeat for each color.
Ingredients
Instructions
Spray a skillet with oil and preheat to 300 degrees.

Mix the dry ingredients in a bowl.

Make a well in the flour to pour the wet ingredients or mix in a separate bowl. Mix the wet ingredients, then incorporate them with the dry ones.

Mix the pancake batter until smooth.

Pour about 1/4 of a cup of the batter at a time onto the skillet. Cook until the edges begin to brown and the batter is bubbling.

Flip the pancakes and cook until golden on both sides.
Nutrition
Nutrition Facts
Rainbow No-Dye Pancakes
Amount per Serving
% Daily Value*
* Percent Daily Values are based on a 2000 calorie diet.
❤️❤️Read About Me for details about my health journey; and, make sure you remember to sign up for my Newsletter and follow me on social❤️❤️!

Supporting me is appreciated as I create content to support your health journey.