Who likes fruit pancakes!? Rainbow pancakes, Dyed COMPLETELY with food ingredients – NO dye!
This colorful tower of pancakes are dyed and flavored with simple food ingredients such as blackberries, blueberries, carrots, and strawberries. The pancakes are further made healthier using honey instead of sugar. You're body still reacts to honey like it does sugar, but honey is more whole and nutritious. I also used the minimum amount required to make these pancakes extremely tasty! Beautiful to the eye and delicious to all the senses – try these pancakes out for your next special breakfast. Your kids will be happy you did!
Here is the vegan pancake recipe I followed with amendments. I followed this recipe with the changes and replacements noted below. I also reiterated the recipe in the recipe card below.
Notes:
I halved the recipe for each color
Used a quality unbleached all-purpose flour (didn't want to muddy the color with wheat)
Used honey instead of date sweetener (either works though)
I replaced milk in the recipe with the following:
RED is puréed 12oz strawberries & 1/2tsp @lovebeets beet powder
ORANGE is 1 cup Orange juice & 2 Carrots puréed
YELLOW is 1 cup Pineapple juice and 1/2 tsp Turmeric
GREEN is 1/4 cup Lime juice, 3/4 cup almond milk, & 1 1/2tsp Matcha powder
BLUE is 12oz Blueberries puréed & 1/2 cup almond milk
PURPLE is 6oz Blackberries puréed & 3/4 cup almond milk
Honey Nutrition
Raw honey is the most natural sweetener possible, known to humans for thousands of years. It is used in traditional medicine, and has plenty of health benefits. Coming straight from a beehive, honey is a powerful antioxidant, containing healthful bee pollen and bee propolis. Raw honey also contains niacin, riboflavin, calcium, magnesium, manganese, phosphorus, zinc, and more.
Nutrition facts:
Calories: 64
Fat: 0g
Sodium: 0mg
Carbohydrates: 17g
Fiber: 0g
Sugars: 17g
Protein: 0g
Health benefit:
Honey is a naturally antibacterial and antimicrobial agent.
Wounds healing
Relieves coughs
Treats diarrhea
Protects the brain
Supports reproductive health
Reduces risk of cancer
If you want to find out more about the amazing benefits of beetroot powder, I have an interesting article for you! Beetroot Powder: A Natural Boost For Your Health and Fitness!
https://www.medicalnewstoday.com/articles/324997#nutrition
https://www.verywellfit.com/honey-nutrition-facts-and-calories-4164274
Please let me know how this recipe goes when you make it! Post a picture and tag one of the below social media accounts:
Processing…
Success! You're on the list.
Whoops! There was an error and we couldn't process your subscription. Please reload the page and try again.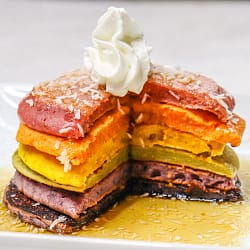 Rainbow No-Dye Pancakes
Yum
These fluffy vegan pancakes are dyed and flavored with whole food ingredients, no dye! This recipe is for ONE COLOR (4 pancakes). Repeat for each color.
Ingredients
Instructions
Spray a skillet with oil and preheat to 300 degrees.

Mix dry ingredients in a bowl.

Make a well in the flour to pour the wet ingredients or mix in a seperate bowl. Mix wet ingredients then incorporate with dry.

Mix pancake batter until smooth.

Pour about a 1/4 cup of batter at a time onto the skillet. Cook until edges begin to brown and batter is bubbling.

Flip pancakes and cook until golden on both sides.

Enjoy with my chia berry maple syrup recipe or whipped cream!
❤️❤️Read About Me for details about my health journey; and, make sure you remember to sign up for my Newsletter and follow me on social❤️❤️!

Supporting me is appreciated as I create content to support your health journey.