Are you looking for a creative and cheerful way to celebrate Pride Month? My vegetarian Rainbow Charcuterie Board is everything you need to add more color and joy to your diet and to share the love with your family and friends! I really had fun creating this colorful charcuterie board with my kids: what better occasion to teach them the importance to celebrate love in all its forms and shapes? 💗
---
Are you ready to create a tasty and wholesome charcuterie board that will really impress your guests, all in less than 30 minutes? I hope yes! All you need are lots of colorful fruits and veggies (in this recipe I used more than 20 different varieties, you can find them below), and some patience. The more tedious part of the recipe is washing and cutting each of them. Once you do that, everything will be a smooth sail and you will have lots of fun arranging them in a joyful rainbow shape!
Of course, there is no sun (and rainbow) without clouds! Therefore, I had the idea to recreate them using some cute small white bowls, which I have then filled with nourishing -and, most of all, scrumptious- ingredients. Here I decided to use cashews, white cheddar, brie, rice crackers, and a mouthwatering onion Greek yogurt dip, but you can use whatever ingredients you feel like or have at hand that day. For example, I love to swap the brie with some vegan feta and use a plant-based Greek yogurt for a fully vegan charcuterie board!
Are you ready to unleash your creativity and prepare a joyful, yet extremely nourishing meal? Before jumping directly to the recipe, I would like to share with you something that I have learned throughout my nutrition studies, and that I am sure you will all find interesting, which is why it is so important to have a color-rich diet. After all, what better recipe to talk about this topic than a rainbow charcuterie bowl? 🌈
Eat the Rainbow – The Benefits of Having a Colorful Diet!
A fantastic feature of this rainbow charcuterie board is that it includes fruits and vegetables from all the colors of the rainbow. Each of them provides a wide variety of phytonutrients that can help support our optimal health and make us feel more energetic and alive!
This is why our daily goal should be to include at least five portions of fruits and veggies each day -if possible each of them with a different color. But why it is so important to eat as many colors of plant foods as possible?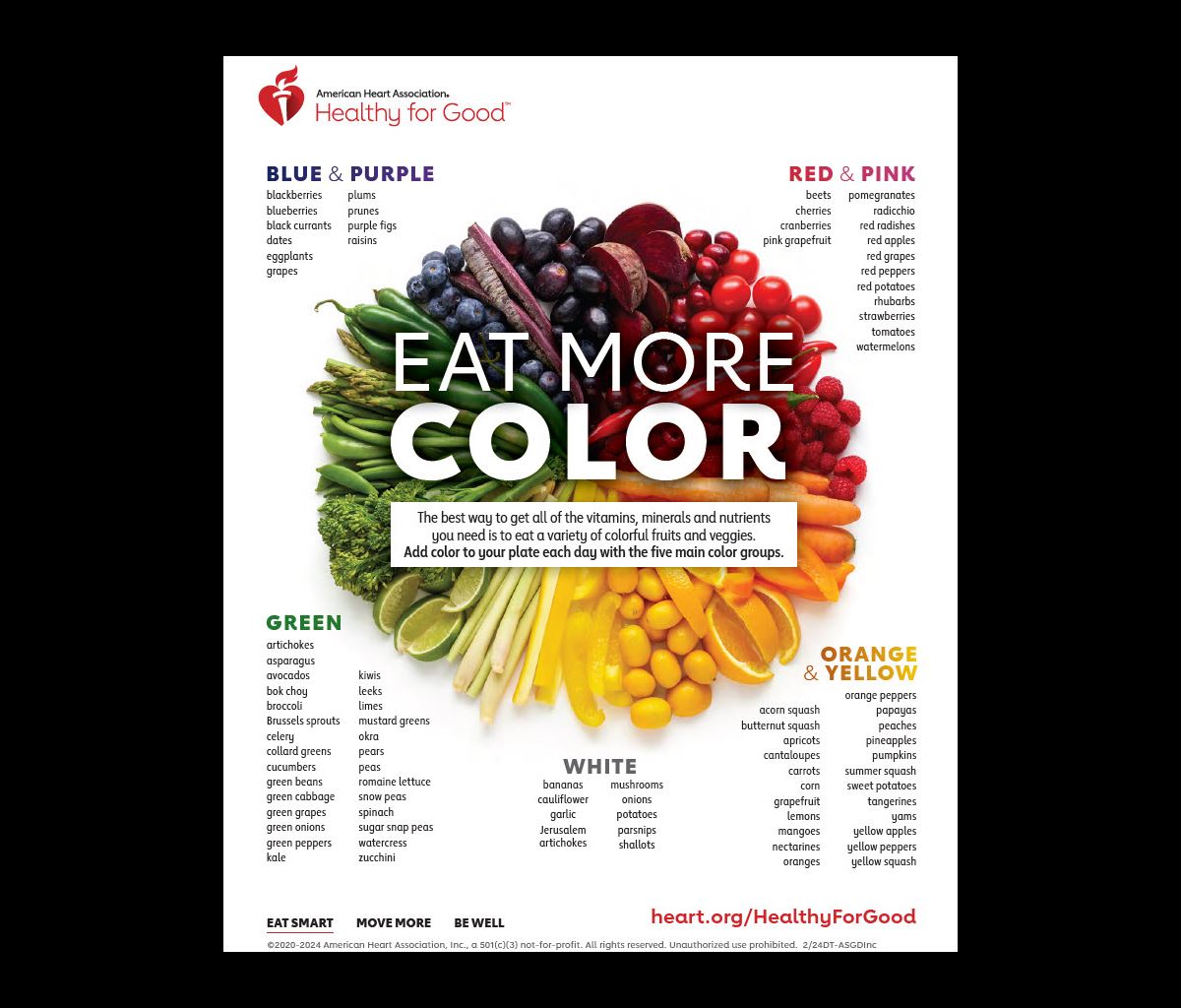 The answer lies in the content of different phytonutrients. These are non-other than the pigments responsible for the color of different fruits and veggies. But the best part is that each of these phytonutrients has a pivotal role in promoting our health by working as powerful antioxidants, as well as having distinct nutritional benefits. Let's have a look at the main phytonutrients and their main properties, divided by color.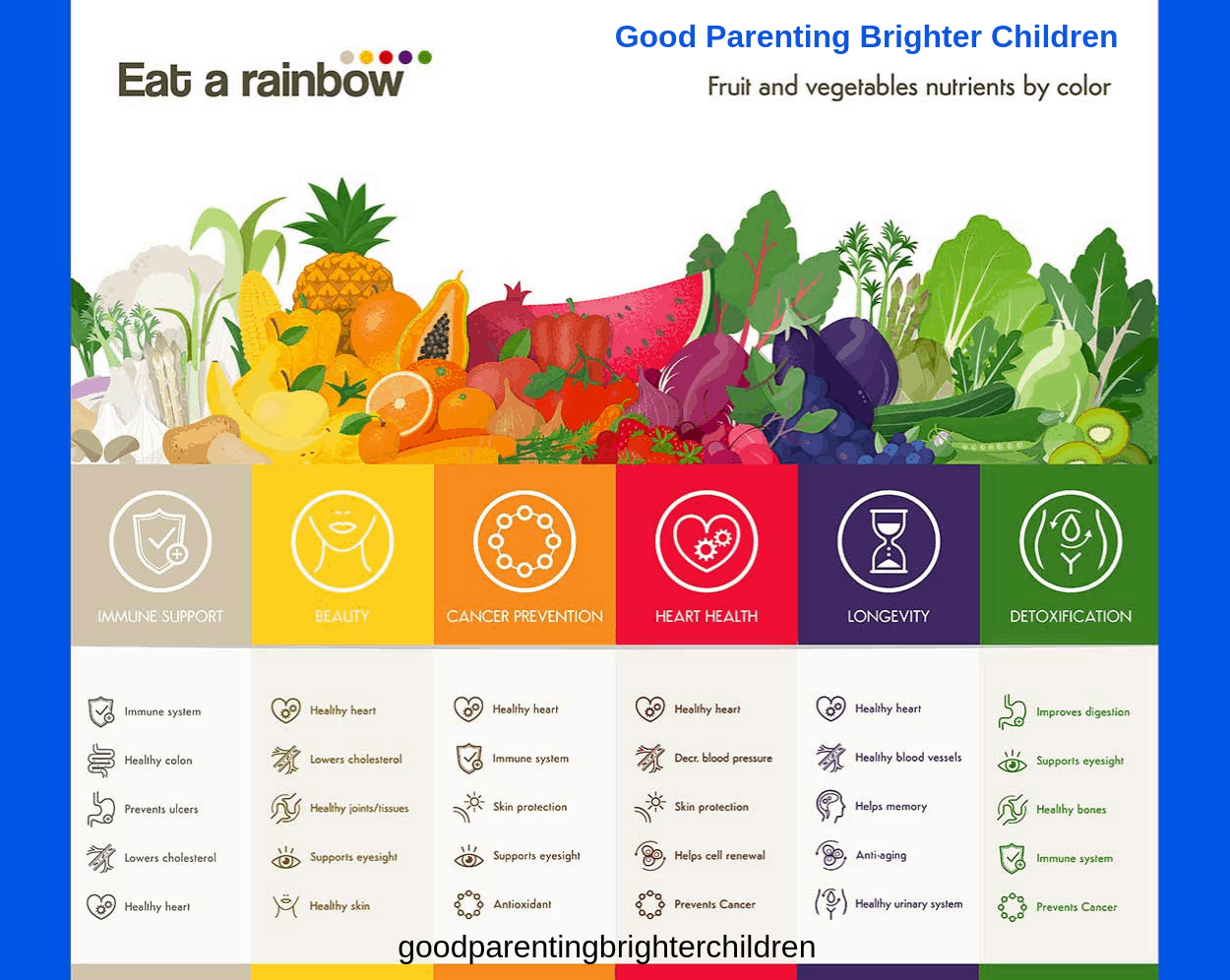 Note: I am not a doctor and you should see your doctor if you are looking to treat existing ailments. I found this information across the next at the most reliable sources. References below.
Red Plant Foods
Red plant foods may contain any of the following phytonutrients:
Betacyanins

prevents premature aging
cancer preventing antioxidant

Capsaicin

aid in weight loss
reduce inflammation
reduce pain

Ellagic Acid

Cancer prevention
anti-inflammatory
obesity prevention

Lycopene

protects against oxidative stress that prevents chronic diseases, cancer, diabetes, and more
may protect against cancers of the prostate, lungs, breasts, and kidneys
may improve cholesterol levels, preventing heart disease
helps prevent damage caused by UV rays

Nitrate

improve athletic performance
regulate blood pressure
breathing and circulation
Yellow / Orange Plant Foods
Yellow and orange plant foods may contain any of the following phytonutrients:
Beta Carotene

Immune System
Vision
Skin Health
Bone Health

Beta Cryptoxanthin

converted to Vitamin A in the body
skin and bone health
immunity
reduce the risk of arthritis

Betaxanthins

prevents premature aging
cancer preventing antioxidant

Bromelain

anti-inflammatory and analgesic treatment for Osteoarthritis
prevents or treats (in high amounts, like a supplement) asthma, Chronic sinusitis, colitis, burns, and cancer

Curcumin

powerful anti-inflammatory and antioxidant
increases the growth of new neurons and fights various degenerative processes in your brain
lowers the risk of heart disease
help prevent and perhaps even treat cancer
prevention of Alzheimer's disease
reduce joint inflammation in those with arthritis
antidepressant

Flavones

anti-inflammatory
uplifting overall health

Flavanones

potent antioxidant and anti-inflammatory
weight management
cholesterol management
promoting cardiovascular health
soothe the nervous system
Green Plant Foods
Green plant foods may contain any of the following phytonutrients:
Chlorophyll

anti-aging
treats hemoglobin deficiency disorders, such as anemia
reduces body odors
helps heal surgical wounds and prevent infections
slows cancer growth

Isoflavones

hormonal balance
lower the risk of breast, endometrial, and prostate cancers
regulate the menstrual cycle

Isothiocyanates

prominent role in cancer prevention

Lutein & Zeaxanthin

improve or reduce the progression of many eye conditions
antioxidants in the skin that prevent sun damage, help to improve skin tone, and to slow down aging

Myrosinase (an enzyme that activates Sulforaphane, which has these benefits)

prevent cancer cell growth
supports heart health
regulate blood sugar levels, preventing diabetes
helps with digestion
improved symptoms of autism-like social interaction and verbal communication
potential to improve recovery and reduce mental decline after a brain injury
protect against ultraviolet (UV) skin damage caused by the sun

Phytocannabinoids (also found in CBD)

treatment and prevention of malignant brain tumors
treatment and prevention of Parkinson's disease (PD)
treatment and prevention of Alzheimer's disease (AD)
treatment and prevention of multiple sclerosis (MS)
treatment and prevention of neuropathic pain
treatment and prevention of childhood seizure disorders
Blue / Purple Plant Foods
Blue and purple plant foods may contain any of the following phytonutrients:
Anthocyanidins

prevents heart disease by improving cholesterol levels and blood sugar metabolism
prevents breast cancer

Procyanidins

protect the body from sun damage
improve vision
improve flexibility in joints, arteries, and body tissues such as the heart
improve blood circulation by strengthening capillaries, arteries, and veins

Resveratrol

lower blood pressure by increasing the production of nitric oxide
lengthened lifespan in animal studies
protects brain cells from damage
helps develop better insulin sensitivity
relieve joint pain
inhibit cancer cell growth
Black Plant Foods
Black plant foods may contain any of the following phytonutrients:
Phytocannabinoids (also found in CBD)treatment and prevention of malignant brain tumors

treatment and prevention of Parkinson's disease (PD)
treatment and prevention of Alzheimer's disease (AD)
therapy and prevention of multiple sclerosis (MS)
treatment and prevention of neuropathic pain
treatment and prevention of childhood seizure disorders

Saponins

promote cardiovascular health
normalize blood sugar, which could help with weight management
boosts immune system
reduces the risk of cancer

Tannins

first, they help reduce inflammation and protects against cellular damage and certain chronic illnesses, such as heart disease and cancer
various types of tannins prevent disease and provide antioxidant and anti-inflammatory benefits
antibacterial effects may stop the growth of Staphylococcus bacteria, Candida albicans, and Campylobacter jejuni
slow the progression of neurodegenerative disorders like Parkinson's disease and Alzheimer's
balance blood sugar levels
Brown Plant Foods
Brown plant foods may contain any of the following phytonutrients:
Beta Glucans

boosts heart health
regulates blood sugar
stimulates immune system

Lignans

lowered risk of heart disease
reduces menopausal symptoms
lowered risk of osteoporosis
decreased risk of breast cancer

Resistant Starch

feeds the friendly bacteria in your intestine
increases the production of short-chain fatty acids like butyrate, which feeds the cells of your colon and leads to various improvements in the function of your digestive system
improves insulin sensitivity and lowers blood sugar levels
increase feelings of fullness and help people eat less

Theobromine

protects your heart
increases energy, similar to caffeine
short-term boost in brain function
strengthens tooth enamel, promoting healthy teeth
increases airflow to the lungs, potential cough suppressant
potent anti-inflammatory

Other Fibers
White Plant Foods
On the other hand, white plant foods may contain any of the following phytonutrients:
Allicin

lower cholesterol levels
regulate blood pressure
alleviate exercise-related muscle damage

Flavanols

lower blood pressure by improving nitric oxide levels and blood vessel function
supports neuron production, and brain function and improves blood flow and supply to brain tissue
maintain healthy blood sugar levels
has promising anti-cancer properties

Phenolic Acids

promote the anti-inflammation capacity of human beings
Do you see why it is so important to eat the rainbow? If you are just starting to incorporate more color into your diet, check out the color-sorted grocery list I have in my article, Plant-based Grocery List. Now onto the recipe!
References
Social Buzz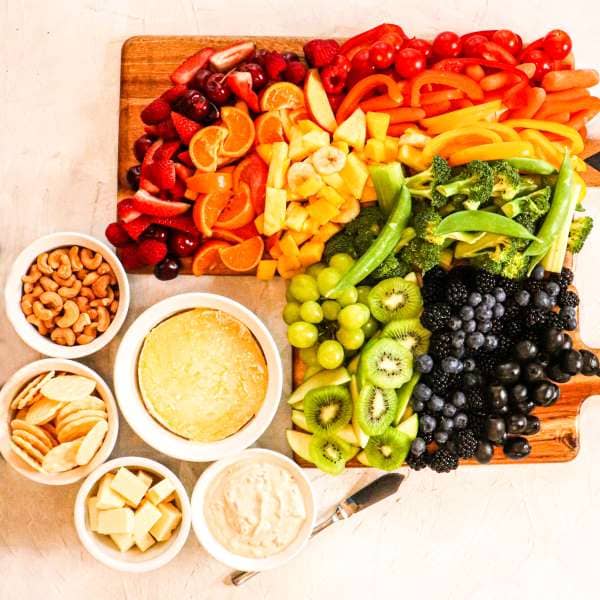 Rainbow Vegetarian Charcuterie
Yum
Let's celebrate pride month with this vegetarian rainbow charcuterie board, made with vibrant fruits and veggies and wholesome ingredients! 🏳‍🌈💕
Instructions
Prep all the produce, separated by fruit or vegetable and color. You can do this all at once or one at a time.

If not consumed right away, the cut fruits need to be rinsed with diluted lime juice to prevent browning.

Progressing one color at a time, add the vegetables in a stripe-like shape, and then the fruits of the same color bowing downward. Stack them as high as you can. Red vegetables go first, then red fruits. The following colors are orange, yellow, green, and blue/purple (combined).

Mix the Greek yogurt and the Onion dip mix in a small bowl. Add to one of the small white serving dishes.

Dice the white cheddar cheese and put it in separate small white bowls.

Do the same with the cashews and crackers.

Place the wheel of brie in a white bowl. Heat in the microwave in 30-second increments until they reach the desired consistency, and stir only when ready to serve.

Arrange the white bowls together to look like a "cloud" at the end of the rainbow.

Cover until you are ready to serve the charcuterie board. And don't forget to place a cheese knife for the brie next to it. Enjoy!
Nutrition
Nutrition Facts
Rainbow Vegetarian Charcuterie
Amount per Serving
% Daily Value*
* Percent Daily Values are based on a 2000 calorie diet.
If you loved this recipe, don't hesitate to share it with your family and friends, and keep spreading the love! 🌈💕
❤️❤️Read About Me for details about my health journey; and, make sure you remember to sign up for my Newsletter and follow me on social❤️❤️!

Supporting me is appreciated as I create content to support your health journey.