One of my favorite Indian-inspired recipes, but with a healthy kick: let me allow you to introduce my Sweet Potato Lentil Curry! 🍠
---
If you have followed me for a while, you would know that I love experimenting with different curry recipes. I think that this is such an earthy, comforting dish, yet it is packed with precious micro and macronutrients, including a good dose of antioxidants, dietary fiber, and plant protein! For a complete and balanced meal, I suggest pairing it with some brown rice or with naan.

In addition, you can personalize the "basic" lentil curry recipe with whatever ingredients you have at hand. For example, this Sweet Potato Lentil Curry is a revisitation of my Spicy Red Lentil Curry. The ingredients and instructions are quite similar, but the result is a way sweeter, smokier lentil curry. I am always amazed by the fact that, with a couple of tweaks, you can obtain two dishes with completely different tastes and vibes!
But what is even better is that this Sweet Potato Lentil Curry recipe is very easy and quick to make, too! By using an instant pot you can prep an amazing dish, with little to no effort. And it will take you less than 20 minutes (including both preparation of the ingredients and cooking time)! Here is the instant pot I generally use and love, but you can totally prep this recipe even in a large pan. The only difference is that the cooking time will be almost fourfold.
Finally, this sweet potato lentil curry recipe is the perfect demonstration that you don't have to spend hours hustling in the kitchen if you want to eat healthier. Simple, but scrumptious meals like this will allow you to keep a clean and varied diet all year round, and you won't have more excuses for ordering unhealthy, ultra-processed take out foods!
Now that you have discovered how I manage to stay in shape and cook wholesome meals for all my family, let's have a quick look at some tips for cooking an elite lentil curry using the instant pot (or a slow cooker).
5 Tips for an Elite Sweet Potato Lentil Curry
Here are a couple of tricks I picked up after cooking countless curry recipes. The aim of all of them is to help you bring out as much as possible the flavor of all the ingredients so that you can obtain a rich, aromatic curry.
Never skip the sautee.
Start with sauteeing the onion and carrot in some olive oil -better if extra-virgin. This allows for creating a richer base for your curry, and will later help to bring out the flavors of all the herbs and spices in it.
Toast the seeds.
Toasting the Fenugreek and mustard seeds is equally important. Indeed, by doing that you will be able to bring out all the different nuances in their flavor profile. Just be careful to turn the pan down to a medium-low, otherwise, the seeds will pop all over the kitchen!
Use vegetable broth instead of water.
Using some good vegetable broth is key for naturally adding flavor and consistency to the sweet potato lentil curry. Even better if it is homemade!
Use only high-quality spices.
Good quality spices are what make the difference in these kinds of recipes. Whenever possible, opt for whole pepper and cumin spices, and ground them yourself just before adding them to the pan. Equally, prefer fresh ginger and garlic over dried, powdered ones.
Add the salt only at the end.
This might come to you as a surprise, but salt actually slows down the cooking process of the lentils. Therefore, I suggest adding it only after the lentils are done cooking! In this way, you will also be able to better adjust its quantity, and avoid eating an overly-salty curry.

Did you already know any of these tips? Let me know in the comments down below! If you are looking to learn more about the Top 5 Health Benefits of Lentils, this article is for you. I also have an interesting text about Turmeric, find it here! And here are other two awesome curry recipes. Spicy Red Lentil Curry (Dahl), Vegan Pineapple Tofu Curry, and Top 5 Health Benefits of Lentils. 💗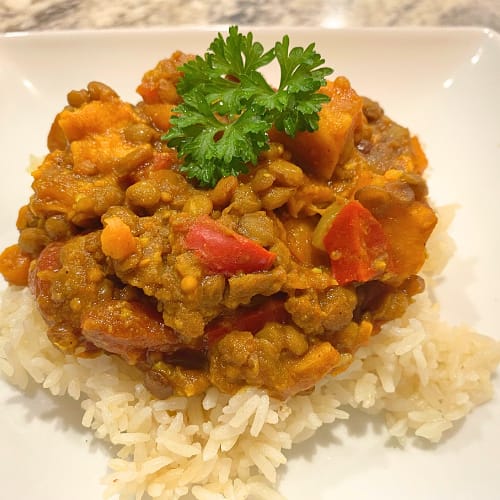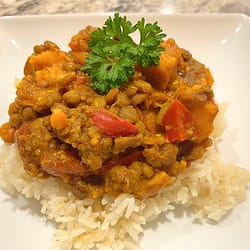 Sweet Potato Lentil Curry 🍠
Yum
One of my favorite Indian-inspired recipes, but with a healthy kick: let me allow you to introduce my Sweet Potato Lentil Curry! 🍠An earthy, comforting dish, yet it is packed with precious plant proteins and fibers.
Instructions
Heat the oil in an instant pot.

Add the diced onions, garlic, and red pepper to the pan. Cook until fragrant, ~2 minutes.

Turn the instant pot down to medium-low, and allow it to cool slightly.

Add the fenugreek and mustard seeds – this is why we turned the pan down to a medium-low. The seeds will pop all over the kitchen!

Cook the seeds for a few minutes.

Cover the vegetables with the broth and add all of the rest of the ingredients and seasonings, except for the salt. (Do not add salt until the lentils are done cooking! The salt slows down the cooking process of the lentils).

Bring to a simmer and cover the instant pot with the lid. Cook for about 10 minutes or until the lentils are soft.

Remove the pan from the burner and add salt to taste (I added around 1 ½ tsp of salt).

Serve over brown rice or with naan!
Nutrition
Nutrition Facts
Sweet Potato Lentil Curry 🍠
Amount per Serving
% Daily Value*
* Percent Daily Values are based on a 2000 calorie diet.