The Summer heat is here, and what better way to beat it than with my energizing Spirulina Smoothie!
I've been experimenting with a lot of different powders and supplements to help energize me and manage my anxiety. Finally, I came up with THE PERFECT energizing beverage recipe!
The Spirulina, the star of this Spirulina Smoothie recipe, is a type of algae that is considered a superfood. Indeed, it can help transport excess heavy metals out of the body. This in turn can improve brain and nervous system health.
Mango, banana, coconut, and pineapple are the other main characters of this green spirulina smoothie. Mixed together, these are perfect to give the smoothie a yummy tropical flavor!
There's nothing like a Tropical Smoothie reminiscent of a day at the beach to calm your nerves as well! 🏝
Spirulina Smoothie: an elixir for better mental health
I became interested in trying Spirulina when one of the doctors who spoke at the 2020 Food Revolution Summit mentioned how toxic heavy metals could contribute to anxiety and other mental disorders.
The North American Journal of Medical Sciences cites similar research in this study – the role of lead and cadmium in psychiatry. In addition, the ground flax in this recipe is abundant in Omega-3 fatty acids. These do also contribute to better mental health, according to the article – "Effects of Omega-3 Fatty Acids on Mental Health".
What Does Spirulina Taste Like?
Unfortunately, since Spirulina is a seaweed, it can taste quite funny if you don't mix it with the right ingredients! You won't taste the Spirulina and spinach in this Tropical Smoothie at all!
Throw a drink umbrella in it, lay back, and take a moment to relax and be mindful of the positive impact a healthy Spirulina Smoothie 🍍 can have on your health!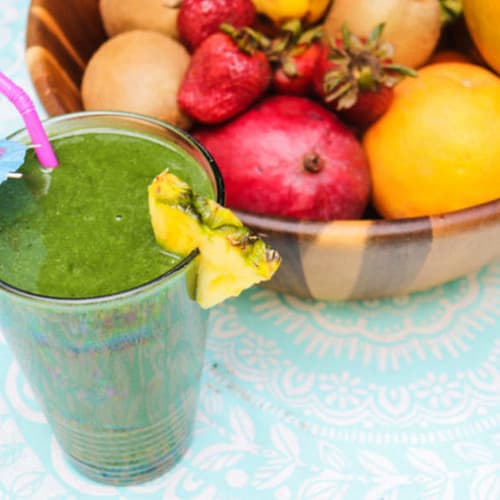 Looking for more useful information – and some delicious recipes – about coconut? Here is something for you! And to learn why bananas are good if you are trying to lose weight, click here.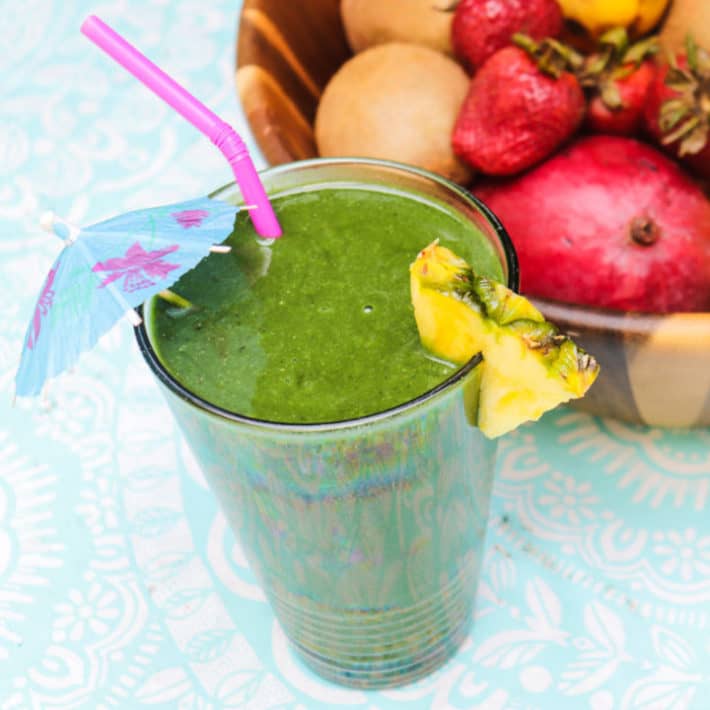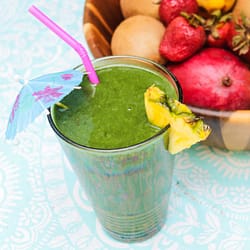 Tropical Spirulina Smoothie
Yum
A delicious tropical spirulina smoothie reminscent of a day at the beach with ingredients to calm your mind, body, and spirit!
Instructions
Combine all of the ingredients in a blender and blend on high or smoothie mode until smooth.

Optionally: top with coconut flakes* and a drink umbrella!
Notes
I highly recommend your banana and/or other fruit in this smoothie is frozen. If none of the fruit is frozen, you can add ice. I prefer the texture of a frozen banana blended in my smoothies! I usually have some bananas that I peeled and threw in a bag to freeze when they were super ripe and about to go bad.
Coconut flakes don't ground up very well in smoothies, so mix it in or top it off if you don't mind this fact.
Nutrition
Nutrition Facts
Tropical Spirulina Smoothie
Amount per Serving
% Daily Value*
* Percent Daily Values are based on a 2000 calorie diet.
❤️❤️Read About Me for details about my health journey; and, make sure you remember to sign up for my Newsletter and follow me on social❤️❤️!

Supporting me is appreciated as I create content to support your health journey.