Who's grilling this weekend? 🙋‍♀️ Summer is finally here, let's make the most of it! Even though I love to keep my BBQ dinners as healthy and nourishing as possible, I certainly don't skimp on my delicious sauces! This Hickory Smoked BBQ Sauce is way healthier than its store-bought counterparts, but it certainly does not lack in flavor and spice! Plus, it contains no refined sugar or trans-fats and is low in carbs and calories. Believe it or not, one serving contains less than 40 calories!
---
Thick, flavorful, and the perfect balance of sweet and tangy: this sounds like THE perfect BBQ sauce to me! Making my Hickory Smoked BBQ Sauce is extremely easy and takes less than 10 minutes: all you have to do is mix all the ingredients listed below in a bowl…et voilà! The dream of all grill lovers has finally come true!
I love to pair this Hickory Smoked BBQ Sauce with both grilled veggies, tofu, or tempeh, as well as meat dishes, as it has such a layered flavor profile that it is almost impossible to not love it on them! Although the recipe down below is vegetarian, you can easily turn it fully vegan with just a couple of easy swaps. Just use some maple or agave syrup in place of honey and opt for a vegan Worcestershire sauce. (You can also make it yourself following this recipe from Karissa's vegan kitchen).
On the other hand, if you are following a keto diet or just want to keep your blood sugar levels in check, you can just omit the honey, or replace it with a monk fruit sweetener. This has a lower glycemic index, which makes it suitable also for diabetic people.
The Ingredients in My Healthy BBQ Sauce Recipe
Ten are the basic ingredients in my healthy BBQ Sauce Recipe (plus salt and pepper).
Tomato sauce
Honey (or agave/maple syrup)
Worcestershire sauce
White vinegar
Liquid smoke
Garlic powder
Onion powder
Smoked paprika
Tomato paste
Chili powder
I bet you already have them in your kitchen! If not, run to buy them and be ready to turn your life upside down with this gravy! 🍗
Finally, here is a breakdown of the main ingredients and their properties, as well as some ingredient selection tips.
Ingredient Selection Tips
Honey
Used from ancient times as a medicine, honey is especially healthy if used in its raw, unprocessed form.
Tomato Sauce
Try to find tomato sauce that is low in sodium. Since tomatoes are on the Dirty Dozen list, you should buy tomato sauce organic.
Noteworthy Health Benefits
Honey
High-quality raw honey is rich in antioxidants, including organic acids and flavonoids. Antioxidants are improving cell health, reduce the risk of heart attack, promote eye health, and lowering blood pressure. Moreover, honey is also used for healing wounds and burns. Last but not least, it contains trace amounts of vitamin C, vitamin B, amino acids, and enzymes.
Tomato Sauce
Here are some health benefits that we get every time we consume tomato sauce:
It is loaded with vitamins and minerals, like Vitamin A, K, B1, B3, B5, B6, B7, and Vitamin C. In addition, it contains potassium, folate, iron, magnesium, chromium, choline, zinc, and phosphorus.
It prevents cancer as it is full of antioxidants like lycopene.
Regulates blood sugar
Reduces chronic pain
Reduces risk of heart disease
It is beneficial for skin health
If you loved this recipe, make sure to share it with your family and friends! And for more BBQ recipe inspiration, have a look at my Father's Day BBQ Ideas – 15 Incredible Recipes to Celebrate All Dads!
Social Buzz
Discover the joy of grilling with our homemade BBQ sauce recipe, an easy BBQ sauce recipe that's both quick to make and delightful on the palate. This no ketchup BBQ sauce recipe is a healthier choice, embodying a low sugar BBQ sauce ethos. Opt for low sodium ingredients, and you have a low sodium BBQ sauce recipe on your hands. This southern BBQ sauce recipe is also a gluten free BBQ sauce recipe, making it a versatile choice for various dietary needs. Want a spicy kick? Add a bit more cayenne for a spicy BBQ sauce recipe. Moreover, it's a refined sugar free BBQ sauce recipe, aligning with a healthier, joyful grilling experience!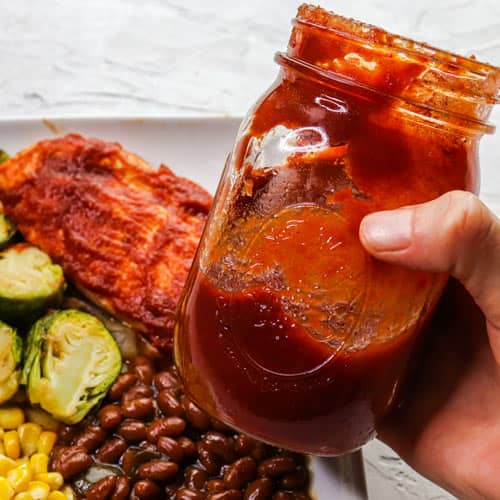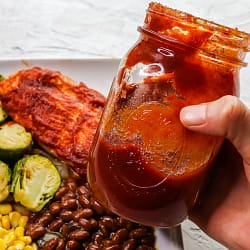 Hickory Smoked BBQ Sauce Recipe
Yum
Who's grilling this weekend? Try my Hickory Smoked BBQ sauce! Lower in calories and overall healthier than the store-bought ones!
Instructions
Mix all the ingredients in a bowl, making sure everything is well combined

Enjoy the sauce as a marinade or a dip for your BBQ nights!
Notes


Nutrition
Nutrition Facts
Hickory Smoked BBQ Sauce Recipe
Amount per Serving
% Daily Value*
* Percent Daily Values are based on a 2000 calorie diet.