Who's grilling this weekend!? 🙋‍♀️ Summer is coming to an end, so let's make most of it! Better and healthier than store-bought Hickory Smoked BBQ sauce. This recipe is clean, has no refined sugar, and is low carb.
Let me know in the comments below if you like it! Check my other BBQ recipes, too!
Social Buzz

Ingredient Selection Tips
Honey
From ancient times mankind has used honey in its diet also as a medicine. It is especially healthy if we use it raw, unprocessed instead of sugar.
Tomato Sauce
Try to find tomato sauce that is low sodium. Since tomatoes are on the Dirty Dozen list, you should buy tomato sauce organic.
Noteworthy Health Benefits
Honey
High-quality raw honey is rich in antioxidants, including organic acids and flavonoids. Antioxidants are improving cell health, reducing the risk of heart attack, promoting eye health, lowering blood pressure. Honey is also being used for healing wounds and burns. Honey contains trace amounts of vitamin C, vitamin B, amino acids, and enzymes.
Tomato Sauce
Here are some health benefits that we get every time we consume tomato sauce:
It is loaded with vitamins and minerals, like Vitamin A, K, B1, B3, B5, B6, B7 and Vitamin C. It also contains potassium, folate, iron, magnesium, chromium, choline, zinc and phosphorus.
It prevents cancer as it is full of antioxidants like lycopene.
Regulates blood sugar
Reduces chronic pain
Reduces risk of heart diseas
It is beneficial for skin health
Balanced Plate for Performance Goals
While any food can fit into your menu for performance goals, some recipes can contribute to a better strategized menu than others. Below you can see how this recipe can fit into your goal. If this recipe has unique benefits, it is best cut out for the goal(s) with a star next to it.
The chart below changes dynamically based off the goal you have selected.
Goal:
| | | | |
| --- | --- | --- | --- |
| LEAN PROTEIN | HEALTHY FAT | HEALTHY CARBS | VEGGIES |
| | | | |
| --- | --- | --- | --- |
| 1-2 palms | 1-2 thumbs | 1-2 cupped handfuls | 1-2 fists |
More Info
However, everyone is different! Use the Precision nutrition calculator I use with my clients to calculate suggested macros custom for you. For more information on using this hand estimation system, click here.
For more info on types of foods for proteins, fats, carbs, and veggies, read my article Formula for the Perfect Healthy Meal. This article will also help you figure out what foods to eat more and less of.
Protein: Need to Supplement
You will need to add a protein. This BBQ sauce is an excellent marinade for any protein! Try it with chicken or tempeh! It would also make an excellent dip for some air fried chicken tenders.
Fat: Need to Supplement
There isn't a notable amount of fat in this BBQ sauce recipe. You could add fat to your plate by cooking with olive oil.
Carbs: Need to Supplement
There is a negligible amount of carbohydrates in this BBQ sauce from the honey. You will want to balance your plate with a complex carbohydrate. I suggest brown rice or beans!
Veggies: Need to Supplement
While there is tomato sauce, tomato paste, and nutritious herbs in this recipe, there isn't a significant amount. Make sure to balance out your plate with a vegetable such as brussel sprouts or green beans!
Additional Meal Tips for Weight Loss
This BBQ sauce is excellent for weight loss because it is lower in calories and sugars than most store bought BBQ sauces. Make sure to pair with a high volume of vegetables, a lean protein like chicken, and a small amount of fat such as olive oil to feel more satiated.
Additional Meal Tips for Endurance
Feel free to add lots of carbs for performance, such as rice, to your plate as well as some protein, such as chicken, for muscle recovery!
Additional Meal Tips for Building Muscle
Double up on your lean protein, such as chicken, to support muscle growth.
Additional Meal Tips for Improving Health
Make sure to pair with lots of vegetables and aim to get your protein from lean sources (such as chicken or fish) and fat from healthy sources (such as olive oil).
Diet Preference Tweaks
Vegan / Fully Plant-Based
You can easily turn this BBQ Sauce into a delicious vegan sauce, replacing the honey with maple syrup or agave syrup. This sauce would be an excellent marinade for grilled tempeh!
Keto
For keto diets, omit the honey in this recipe. You could optionally replace the honey with a monk fruit sweetener which is much lower in sugar and has a lower glycemic index.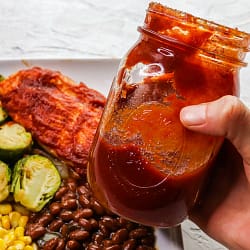 BBQ Sauce Recipe
Yum
Who's grilling this weekend!? Better and healthier than store-bought BBQ sauce. This recipe is clean, has no refined sugar, and is low carb.
Instructions
Enjoy as a marinade or dip!
Notes

Nutrition
Calories:
40
kcal
Carbohydrates:
9
g
Protein:
1
g
Sodium:
218
mg
Potassium:
54
mg
Fiber:
1
g
Sugar:
7
g
❤️❤️Read About Me for details about my health journey; and, make sure you remember to sign up for my Newsletter and follow me on social❤️❤️!

Supporting me is appreciated as I create content to support your health journey.